By Sonja Elmquist and Joe Deaux
An obscure metal used to make steel has become this year's worst-performing commodity, after China's stumbling economy and a collapse in the energy industry drove outsized losses.
Molybdenum -- that's mo.lyb.de.numfor the uninitiated -- is used in many steel building materials and to help harden the drills used to extract oil and natural gas from deep underground. Prices plunged 49 percent, the most among 79 raw materials tracked by Bloomberg, as the white metal was undermined by the flagging demand and oversupply that plagued global commodity markets throughout 2015.
Use of the metal tumbled 5.1 percent this year, the biggest contraction since 2009, driven by a slowdown in China, the world's biggest metals and energy consumer, according to Macquarie Group Ltd. Prices have dropped for eight straight months, the longest slump since 2011, weighing on returns for mining companies including Freeport-McMoRan Inc., the world's top producer.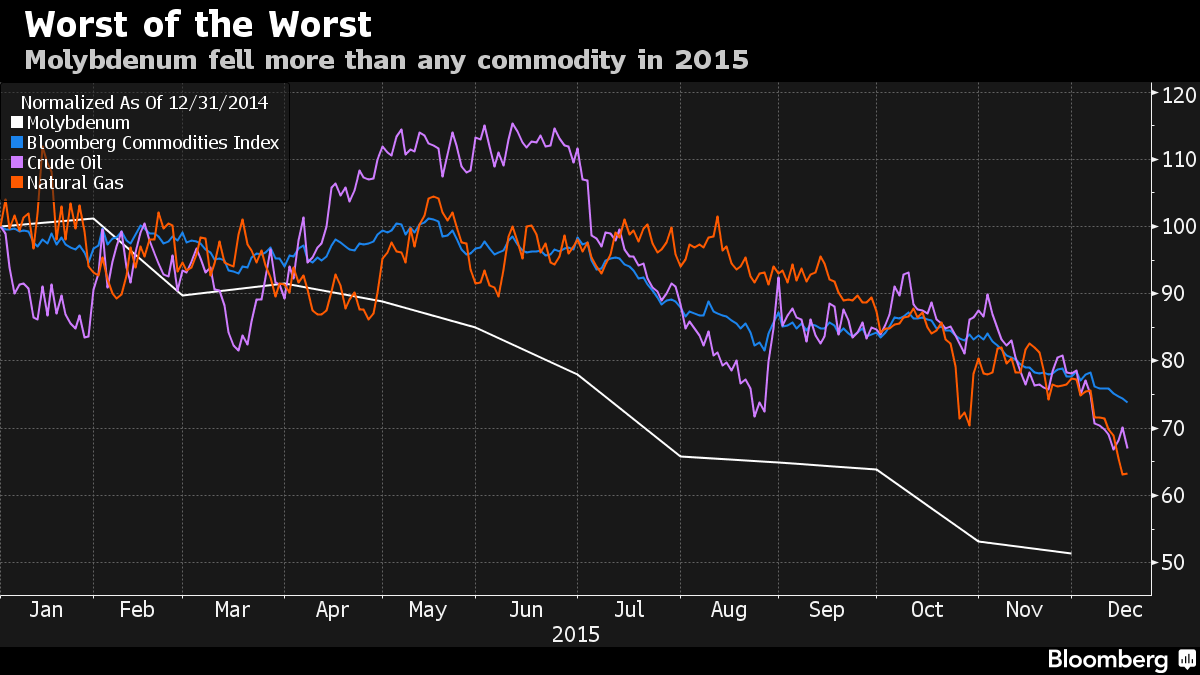 "It's like a poster child for the commodity bear market," said Paul Christopher, a St. Louis-based head global market strategist for Wells Fargo Investment Institute, which oversees $1.7 trillion. "We don't have a positive outlook on metals, including molybdenum, because they've been overproduced. They will continue to do the worst, not just because China's demand is slipping still, but also because there's not been enough supply adjustment."
12-Year Low
Prices for molybdenum oxide tumbled to a 12-year low of $4.616 a pound in November, according to monthly data from Metal Bulletin. The drop exceeded the 34 percent decline for crude oil and the 26 percent slide in the Bloomberg Commodity Index, a gauge of returns from 22 items that is headed for its biggest annual decline since the recession in 2008. Molybdenum for immediate delivery traded on the London Metal Exchange slumped 41 percent this year to $12,000 a metric ton ($5.44 a pound).
About half of molybdenum is produced as a byproduct of extracting other metals, mainly copper. Because it makes up a small portion of revenue for mining companies, suppliers are slower to respond with output cuts when prices tumble, said Mu Li, an analyst at commodity researcher CPM Group in New York. Production topped demand by 40.9 million pounds in 2015, the biggest surplus since at least 2002, according to Bank of America Corp. The market will remain oversupplied through 2020, the bank estimates.
Source: This Year's Worst Commodity is One You Probably Can't Pronounce - Bloomberg