By Anna Kitanaka & Toshiro Hasegawa at Bloomberg
Japanese stocks fell for a sixth day, capping the worst start to a year on record, as markets reopened after a public holiday. Energy explorers led declines as crude oil prices tumbled.
The Topix index tumbled 3.1 percent to 1,401.95 in Tokyo, the lowest closing level in more than three months and erasing gains from 2015. The Nikkei 225 Stock Average dropped 2.7 percent to 17,218.96 to cap its longest losing streak since August amid turmoil in Chinese equity and currency markets. The yen traded at 117.52 per dollar, from 118.29 when Japan's stock market closed on Friday.
"Investors are questioning when the weak yuan and the fall in Chinese shares will stop and concerns over the Chinese economy is worsening market sentiment," Toshihiko Matsuno, chief strategist at SMBC Friend Securities Co. in Tokyo, said by phone. "Japanese stocks are oversold from a valuation perspective."
The Topix's 14-day relative strength index fell to 24.4 on Tuesday, below the level of 30 which some traders say indicates that shares will rise. The stock index is down 9.4 percent this year.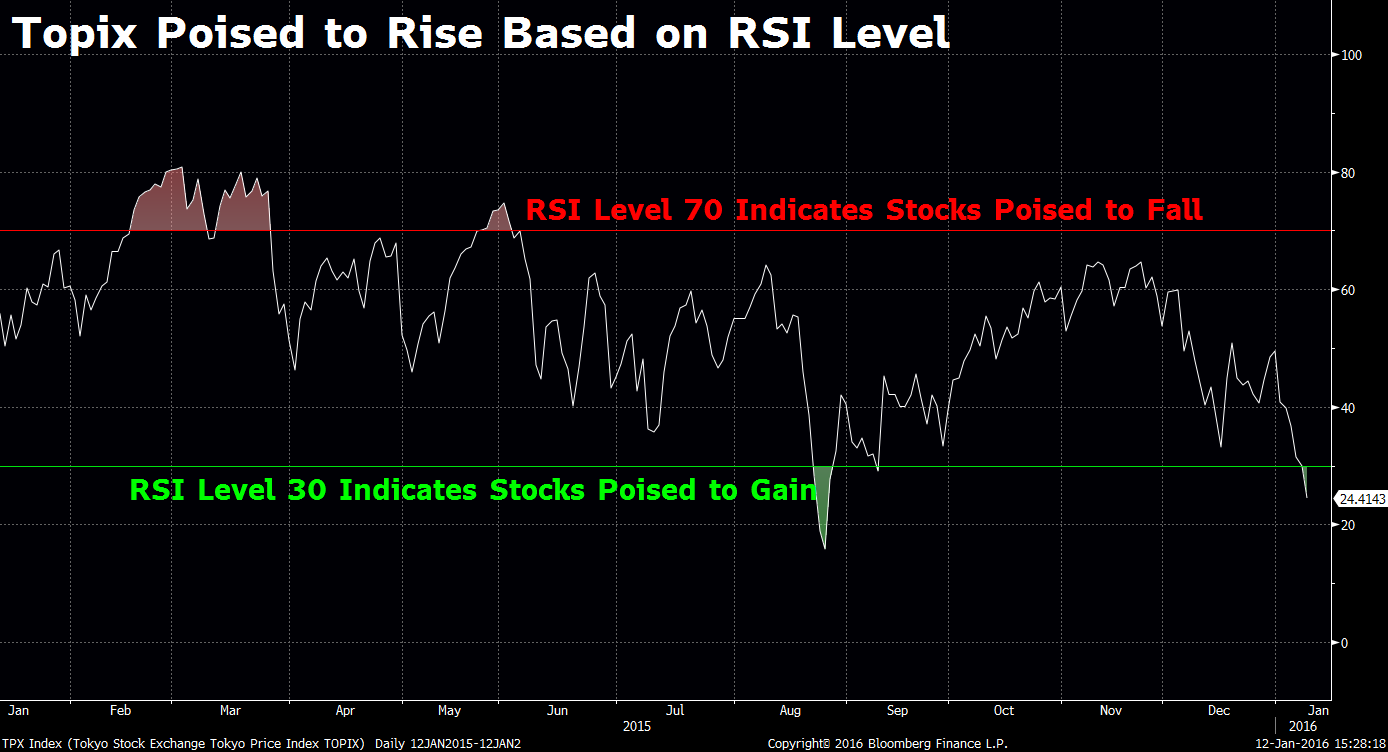 Sharp Corp. reversed gains of as much as 7.9 percent to close 1.8 percent lower after the Nikkei newspaper reported it's considering spinning off its liquid crystal display business and have a public-private fund take a majority stake in the remaining company. Sharp said nothing has been decided at this time.
JX Holdings Inc. tumbled 5.6 percent after the oil explorer said earnings may miss forecasts due to crude prices. Aeon Co. retreated 10 percent, the most since 2008, after posting a third-quarter loss.
Global Rout
Global equity markets have been lambasted in 2016 as concern over China's management of its economic slowdown sours sentiment and damps demand for riskier assets. Shares in Shanghai fluctuated near the lowest closing level since Sept. 15. China on Tuesday kept the yuan's reference rate stable for the third day in a row, seeking to reassure markets spooked by last week's run of weaker fixings.
E-mini futures on the Standard & Poor's 500 Index fell 0.7 percent after the underlying measure added 0.1 percent on Monday, following a late-afternoon rebound paced by Apple Inc. and Intel Corp. that offset a selloff in commodity shares driven by anxiety that China's slowdown will spread.
West Texas Intermediate crude oil dropped to $30.54 a barrel, taking its decline this year to 18 percent.
Japan posted a current account surplus for the 17th straight month in November, providing support for Prime Minister Shinzo Abe's efforts to boost the world's third-largest economy. The excess in the widest measure of the nation's trade was 1.14 trillion yen ($9.7 billion) in November, up from 440.2 billion a year earlier, the Finance Ministry said Tuesday in Tokyo.
Stocks across Asia dropped 2 percent on Monday when Japan was closed for a holiday.
Source: Japan's Topix Falls Sixth Day for Worst Start to Year on Record - Bloomberg