By Connor Cislo 
Japan's poor exports performance continued in August, with shipments falling for an 11th straight month as a strong yen and tepid global economy undercut demand.
Key Points
Exports dropped 9.6 percent in August from a year earlier, the Ministry of Finance said on Wednesday.
The median estimate of economists surveyed by Bloomberg pointed to a 4.7 percent decline.
Imports fell 17.3 percent, resulting in a trade deficit of 18.7 billion yen ($184 million).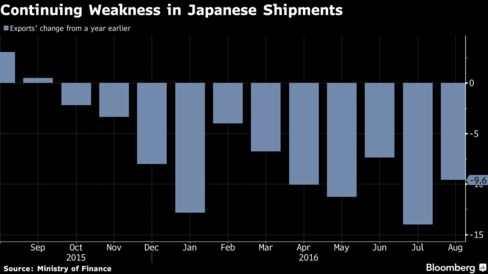 Big Picture
The trade data came just hours before the results of a highly anticipated Bank of Japan policy meeting. Any signal to the market that the BOJ's resolve to keep increasing stimulus is waning could cause the yen to strengthen, further undermining exporters. The yen has been one of the biggest gainers among major currencies this year, appreciating about 18 percent. The weakness in exports has also made businesses more hesitant to invest in domestic production.
Economist Takeaways
Masaki Kuwahara, senior economist at Nomura Securities Co., was optimistic that the numbers would be revised upward. "The strong yen isn't affecting export volumes very much," he said.
"Production is picking up in other parts of Asia, and the financial environment is getting better, so I think exports will pick up," he said.
The Details
Exports to the U.S. dropped 14.5 percent from a year earlier.
Those to the EU fell 0.7 percent.
Exports to China, Japan's largest trading partner, slid 8.9 percent.
Export numbers often fall in August as more workers vacation and factories close for the Bon holiday, according to the Ministry of Finance.
Source: Japanese Exports Decline for 11th Straight Month in August