By Tracy Alloway at Bloomberg
Wah-wah.*
Commercial and industrial lending, the engine of banks' loan book growth in recent years, is showing signs of cracking, thanks to the dramatic fall in the price of oil and weakness in non-consumer-related things. On Tuesday, Deutsche Bank analysts cautioned that losses on C&I portfolios could end up as high as 90 basis points in 2016, more than the 20bps loss-rate currently expected by the Wall Street bank, and far more than the 15bps loss rate reported for last year.
"Credit concerns are rising given continued pressure on oil prices (and commodities more broadly) as well as mixed U.S. economic data. If credit does weaken more than expected, many think it will show up in C&I given strong growth (+57 percent at large banks since 2010 vs. total loans +30 percent), loosening of underwriting standards and the risk liquidity declines for certain borrowers," Deutsche Bank analysts led by Matt O'Connor said in a note published on Tuesday.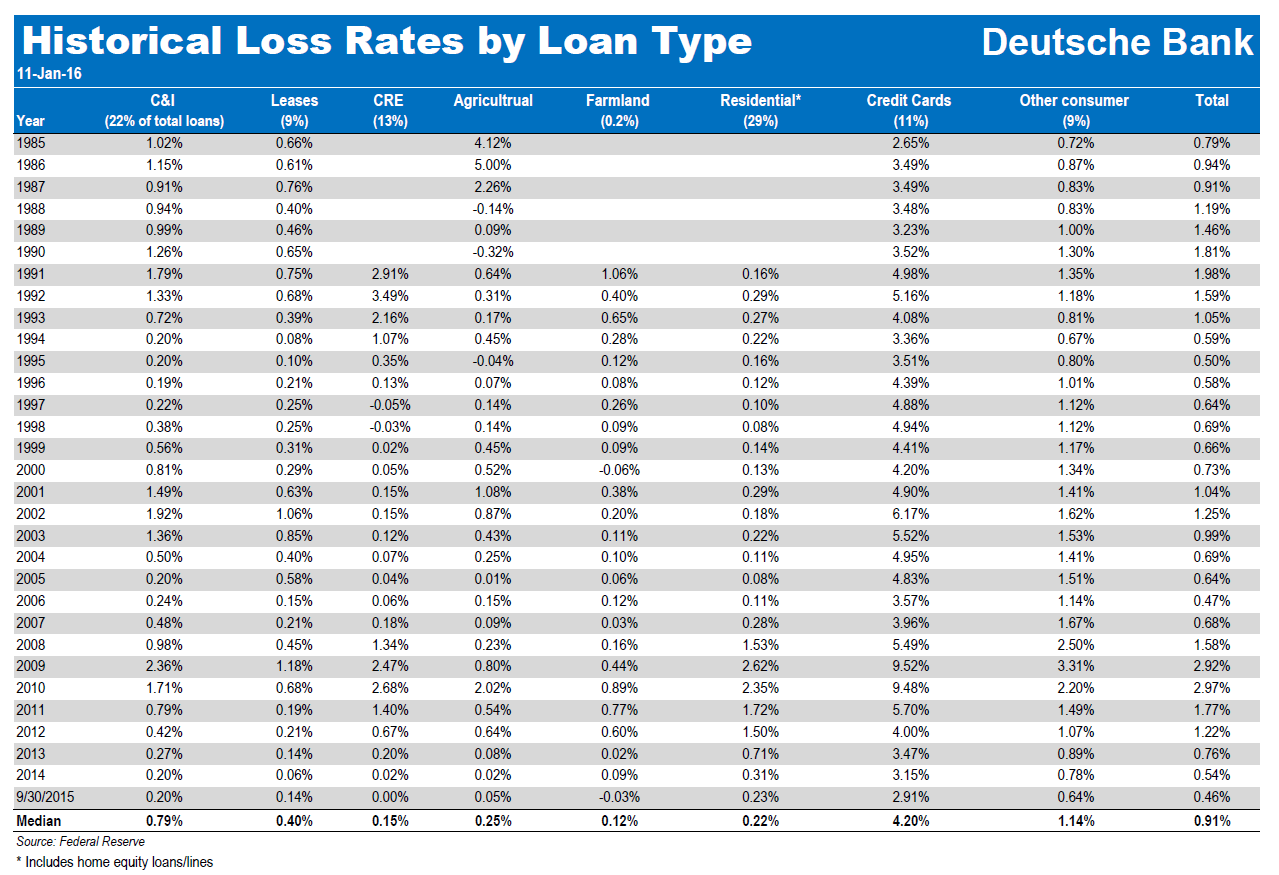 A 90bps loss-rate is still a far cry from the 239bps reported in 2009, during the aftermath of the financial crisis, but it would be a pronounced turnaround from recent years, when easy money and a plethora of willing investors helped keep default and loss rates suppressed. Building up portfolios of C&I loans was a relatively easy way for banks to boost profit margins in the aftermath of a revenue-crimping crisis, but they often had to compete with bond markets and with each other to do it, lowering standards and rates on the associated loans to an extent that has worried U.S. regulators.
Signs of trouble already abound. Late last week, Associated Banc-Corp said it would be increasing the money it sets aside to cover potential loan losses by $13 million because of "the continuing decline in the market price for oil." The buildup of so-called loan loss reserves would further hit banking revenues this year, noted Deutsche Bank.
"If C&I losses peak at the 200bps level reached in previous recessions, this would increase overall charge-offs by 40bps vs. our estimate and reduce our 2016 estimate by 16 percent," the analysts concluded in their note. "Loan loss reserve build would likely further hit EPS beyond the 16 percent and in this macro environment there would likely be other sources of downside (such as lower [net interest margins], weaker fee revenue, slower loan growth, etc)."
Expect to see much more color on C&I books as bank earnings season begins this week.
*Wah-wah is a technical term used in financial markets to describe the petering out of a once-booming business.**
**Not really.
Source: All That Commercial Lending by Banks Suddenly Isn't Looking So Hot - Bloomberg