By Bloomberg
Warnings are stacking up fast after China's eye-popping steel rally. Fitch Ratings Inc. said prices lifted in part by heightened speculation are destined to slump, while a bank in Singapore flagged the risk of a boom-bust cycle reminiscent of China's equity market.
The rapid advance isn't sustainable as mills are expected to bring back idled capacity, raising supply, Fitch said in a report on Monday. Price gains have been driven by a seasonal recovery in activity that's been exacerbated by increased speculation in the futures market, according to analyst Laura Zhai.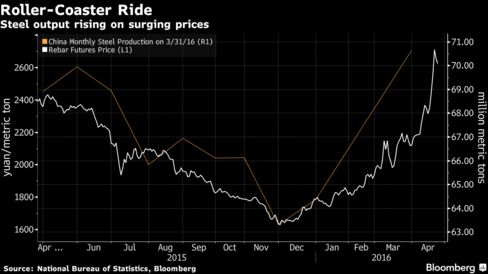 Steel prices have surged in 2016, with reinforcement bar up 48 percent, after policy makers in China talked up growth and added stimulus, helping to lift property prices and ignite a speculative frenzy. The gains have helped to restore mills' profitability, boosting their incentive to increase output. Singapore-based Oversea-Chinese Banking Corp. warned on Monday that there may be parallels between the sudden jump in steel trading and last year's performance in equities, citing the potential for a boom-bust scenario.
"The rapid increase in Chinese steel prices so far this year is not sustainable, as it is largely due to a seasonal pick-up in construction and elevated speculation in the steel futures market," Fitch said. "With prices now surging, many of the suspended plants have resumed production."
Surging Futures
Futures for rebar extended gains on Monday, ending 0.9 percent higher at 2,643 yuan ($407) a metric ton on the Shanghai Futures Exchange. The price of the product used to strengthen concrete advanced for an 11th week through Friday, adding 14 percent.
Steel output in the world's largest supplier may see a further increase this month as more furnaces are fired up, according to Fitch. Production in March rose 2.9 percent to a record 70.65 million tons from a year earlier, according to figures from the National Bureau of Statistics.
To cool the spike in trading, the SHFE last week increased transaction fees, while the Dalian Commodity Exchange, which has an iron ore contract, raised margin requirements. The bourse in Dalian also tightened rules on what it called abnormal trading, which now includes frequent submission and withdrawal of orders.
Rebar Holdings
The surge in prices, which also included hot-rolled coil, has unfolded against a backdrop of lower-than-usual inventories after mills cut output last year. China's rebar inventory shrank 7.3 percent last week to 4.32 million tons as of April 22, according to Shanghai Steelhome Information Technology Co. This time last year, it was at 6.66 million tons.
Goldman Sachs Group Inc. said on Friday that while rebar has been "leading the charge" in commodities this year, there isn't yet a sustainable shift in the fundamentals. It also forecast losses in iron ore, used to make steel, seeing a drop to $35 a ton by year-end. The benchmark price for 62 percent content ore delivered to Qingdao was at $66.07 a dry ton on Monday after falling 0.4 percent, according to Metal Bulletin Ltd.
"The recent broad-based rally in commodity futures was the result of two factors, including increasing belief that China will continue to rely on infrastructure and property sectors to support the growth as well as ample liquidity," OCBC said. The risk of a correction can't be ruled out, it warned.
Source: Warnings Flash for China's Red-Hot Steel Market on 47% Surge - Bloomberg