By Anto Antony & George Smith Alexander at Bloomberg
The day of reckoning is coming: The Reserve Bank of India is due to complete its audit of all 50 of the country's banks by the end of this month, forcing them to lay bare their hidden non-performing loans, stop making new loans to deadbeat borrowers just to pay the interest on their already-bad ones, and set aside more cash to cover their write-offs.
That means India's already-ugly bad loan situation is set to get even worse. The banks so far have been willing to disclose that $131 billion, or about 14 percent of their total lending, has gone bad since the RBI stepped up pressure on them last year. Another $36 billion may yet be added to that total, bringing total non-performing loans to 18 percent, when the audit finishes on March 31, according to Credit Suisse Group AG.
"Full recognition of stressed loans is yet to happen," analysts including Ashish Guptawrote last month, noting that while only 10 percent to 20 percent of loans to the struggling steel industry have been classified as impaired, the borrowers are unlikely to become profitable even if steel prices recover significantly. "Almost 86 percent of steel sector debt is with companies under a high degree of stress."
Indian bank shares have been among the worst performers in Asia outside Japan over the past year, with State Bank of India declining 33 percent and ICICI Bank Ltd. down 32 percent. Eleven banks in India reported losses in the quarter that ended in December due to surging bad loans after the RBI began the audit, known as the asset quality review, on Oct. 1.
"Such huge losses are happening for the first time," said Vibha Batra, group head for financial sector ratings in New Delhi at Moody's Investors Service's local unit, ICRA Ltd. "RBI's audit is bringing out the hidden stress on banks' balance sheets."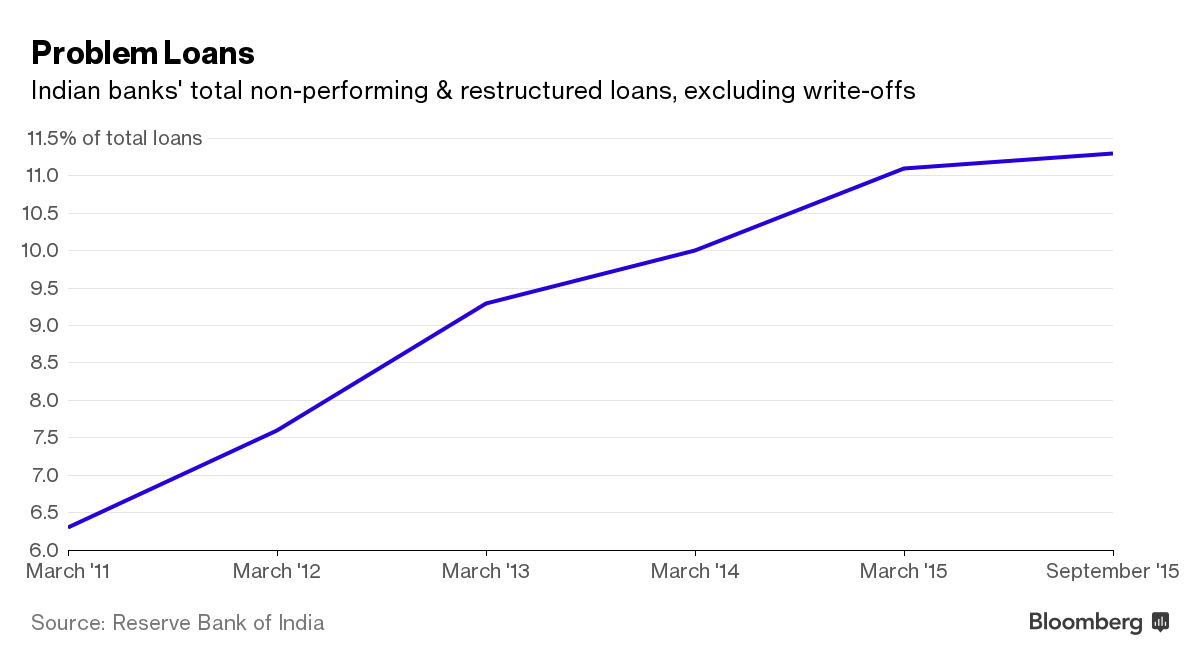 RBI Governor Raghuram Rajan has continually warned about hidden bad loans on Indian banks' books. At a bankers' conference last month, he said banks were continuing to offer "fresh lending to keep the original loan current," in other words allowing borrowers with bad loans to take new loans to make their interest payments. In the meantime, the borrower does little to address its underlying problems that prevent it from paying its loans back in the first place, he said.
"You can put lipstick on a pig, but it doesn't become a princess," Rajan had told bankers soon after he took over as chief regulator in 2013. "So dressing up a loan and showing it as restructured, and not provisioning for it when it stops paying, is an issue. Anything which postpones a problem rather than recognizing it is to be avoided."
Banks are still trying to recover as much as $1.36 billion of debt owed by Kingfisher Airlines Ltd.'s founder Vijay Mallya. High taxes and fuel prices grounded the airline in 2012. Mallya has been seeking a "one-time settlement" with lenders, he said in a March 6 statement.
"The asset quality problems have been long known, but it is now out of the closet, and banks have to address it," S. Sriniwasan, chief executive officer at Kotak Special Situations Credit Fund, said in an interview Tuesday, a day after the Canada Pension Plan Investment Board announced plans to invest as much as $450 million in his fund to buy stressed assets from the lenders.
The scale of the problems started becoming apparent almost a year ago, when a usual quarterly audit of Bank of India forced the Mumbai-based lender to increase provisions on loans to Essar Steel India Ltd. A number of Indian lenders subsequently were forcedto acknowledge that loans to the steel manufacturer totaling $6.5 billion may be tough to recover, people with knowledge of the matter said, asking not to be identified as the information is private. An Essar spokesman said the number wasn't "fully correct," while declining to provide a total, and noted that Essar Steel's financial situation is significantly improving.
Bullet Biting
Bank of Baroda, India's third-largest lender by assets, is the only bank that expects an improvement in profits for the quarter ending in March after reporting record losses in the quarter before. The 108-year-old lender found it "sensible to bite the bullet, show the losses and move on," Chief Executive Officer P.S. Jayakumar said after reporting losses of 33 billion rupees in the three months to Dec. 31 and providing for all its stressed loans at once.
Others including State Bank of India, ICICI and Punjab National Bank have said they're spreading out the pain, providing guidance that indicates another quarter of surging bad-loan provisioning when the RBI's audit is finished.
"The surgery is not over yet," Usha Ananthasubramanian, chief executive officer of Punjab National Bank told reporters last month after reporting a 92 percent slump in profits from the previous year on surging bad loan provisions. "We have to clean up thoroughly."
Capital buffers at the lenders will stay above the levels prescribed by the so-called Basel III norms as the country's government and central bank take steps to bolster the capital adequacy ratios. India's government has already announced plans to invest at least 250 billion rupees in the lenders they control to boost capital ratios in the year that starts on April 1.
The central bank also eased rules allowing lenders to consider reserves associated with property revaluations and foreign-currency translations as common-equity Tier 1 capital, which according to CLSA Ltd.'s estimates could free up as much as $8 billion in capital for state-run banks. Analysts continue to express concerns regarding banks' ability to recover bad loans due to India's lack of a legal system that offers quick resolution of disputes regarding recovery of assets.
Gross bad debt in India's banking system stood at 5.1 percent as of Sept. 30, more than three times the bad-debt ratio at Chinese banks, data compiled by the RBI show. The 14 percent bad loan figure includes restructured and written-off loans.
"India's banks have a higher bad-debt ratio and its regulatory system is less prepared for a financial crisis than that of China," Bloomberg Intelligence analyst Alex Gardner said in a note. "Bad debts and weak laws may lead to the higher chance of a banking crisis."
Source: India's Ugly Bad-Loans Situation is About to Get Even Worse - Bloomberg