By Megan Durisin at Bloomberg
Overflowing grain bins prompted money managers to expand their wagers on lower crop prices by almost ten times in the space of a week.
Global inventories of corn, wheat and soybeans will each rise to all-time highs before next year's North American harvests, the U.S. government forecasts. While grain prices have already dropped to five-year lows, hedge funds are predicting more losses as stockpiles expand. The funds are holding the biggest bearish bet on the crops since June.
Supplies are rising after record prices in 2008 spurred farmers worldwide to increase plantings, while favorable weather in the past few seasons helped spur bigger yields. Even with a slowdown in acreage growth in recent years, gains for global consumption are also easing. A stronger dollar is also cutting the appeal of exports from the U.S., the world's largest seller.
"We're negative on the grains right now," said Paul Christopher, St. Louis-based head global market strategist for Wells Fargo Investment Institute, which oversees $1.7 trillion. "It's a combination of negative factors including weak foreign demand, record production in some places, and global supplies that are at worst, adequate, and at best, more than adequate.''
USDA Forecasts
The combined net-short position, or bets on price declines, across corn, wheat and soybeans totaled 131,650 futures and options in the week ended Nov. 10, according to U.S. Commodity Futures Trading Commission data released Monday. The figures, which were delayed after a U.S public holiday, compare with 13,952 the prior week.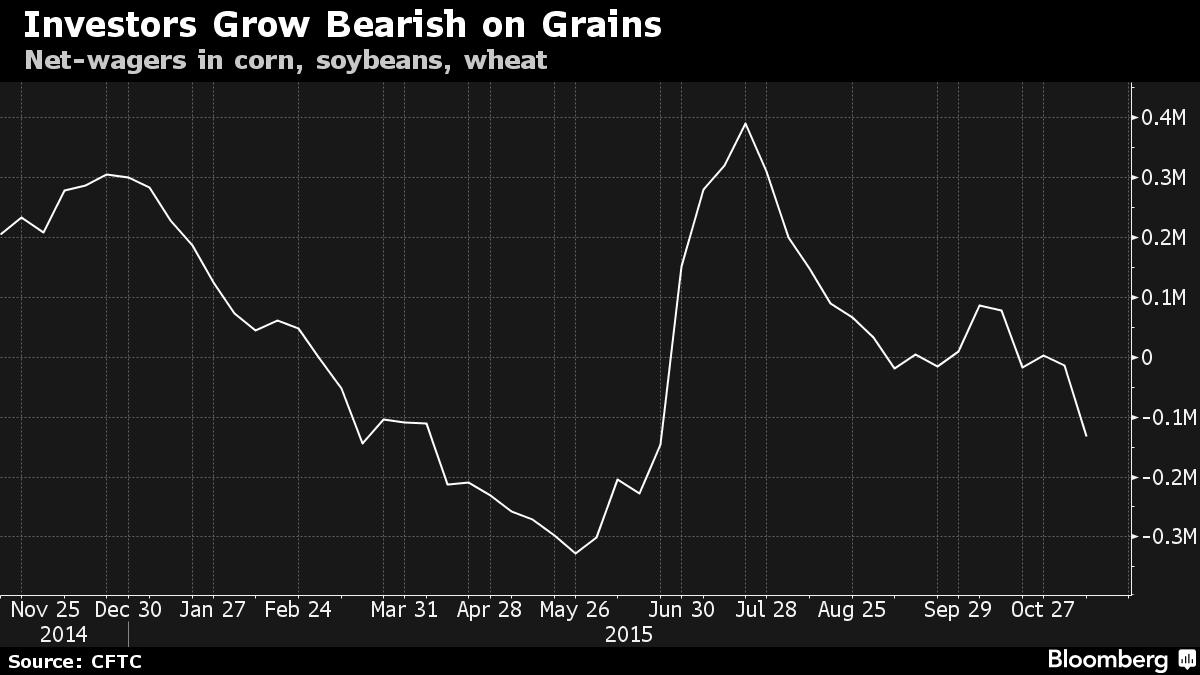 The Bloomberg Grains Subindex, a measure of returns, touched a five-year low last week and is heading for a third straight annual loss, the longest slide since 2001. Corn futures have dropped 7.3 percent this year on the Chicago Board of Trade, while soybeans fell 16 percent, and wheat lost 17 percent.
World inventories of soybeans are expected to climb for a fourth year to a record 82.9 million metric tons, as crops rise to the biggest ever in the U.S. and Brazil, the U.S. Department of Agriculture said Nov. 10. Global stockpiles of corn are seen reaching an all-time after the USDA cut its outlook for Chinese consumption, and wheat supplies are also estimated to rise to a peak. The combined stocks-to-use ratio of all three crops is forecast at the highest in 14 years, signaling that supply is outstripping demand.
Money managers boosted their net-short wagers in hard, red winter wheat to the biggest since the data begins in 2006. Rains across the U.S. Great Plains this week should ease dryness in grain areas, and precipitation is expected to aid the crop in the Black Sea region during the next 10 days, Commodity Weather Group said in a Monday report.
'Robust Supply'
At the same time, farmers in Brazil have sold 45 percent of next year's corn harvest, a record for this time of year as producers take advantage of a weaker real, according to CGG Trading. That's increasing competition for supplies from the U.S., as a stronger dollar means that American shipments are already trailing last year's pace.
"We need to see that pickup in demand to offset really the robust supply that we have right now to see any movement on the upside," said Lara Magnusen, a La Jolla, California-based portfolio manager at Altegris Investments Inc., which oversees $2.65 billion.
South America
Crops in South America are just being planted, and unexpected weather could change whether corn and soybean output will be as ample as expected.
Brazil had 60 percent of its soybeans planted, below the five-year average for 71 percent, crop forecaster AgRural said in a Nov. 13 report. Rains through the rest of November in Brazil should remain "very active," reducing dry spots to less than a tenth of the corn and soybean regions, Commodity Weather Group said.
"As we always do through our winter, we look at South America and see what it's impact is going to be," said Ed Cowling, the St. Paul-based director of specialty assets for U.S. Bank Wealth Management, which oversees $126 billion. "We're going to continue to watch weather, and that may have an impact on prices here."
Source: Swelling Global Grain Glut Spurs Largest Bearish Bet Since June - Bloomberg