By Constantine Courcoulas at Bloomberg
The ailments afflicting Turkey's economy that have triggered a surge in bad loans look poised to get worse before they get better.
Non-performing loans at the nation's lenders climbed to 3.18 percent of total credit in January, the sixth straight monthly increase and the highest proportion in almost five years, according to data this week from the Ankara-based Banking Regulation and Supervision Agency. Bank of America Merrill Lynch and Commerzbank AG said in February corporate distress is deepening in Turkey, making it harder for companies to pay down debts.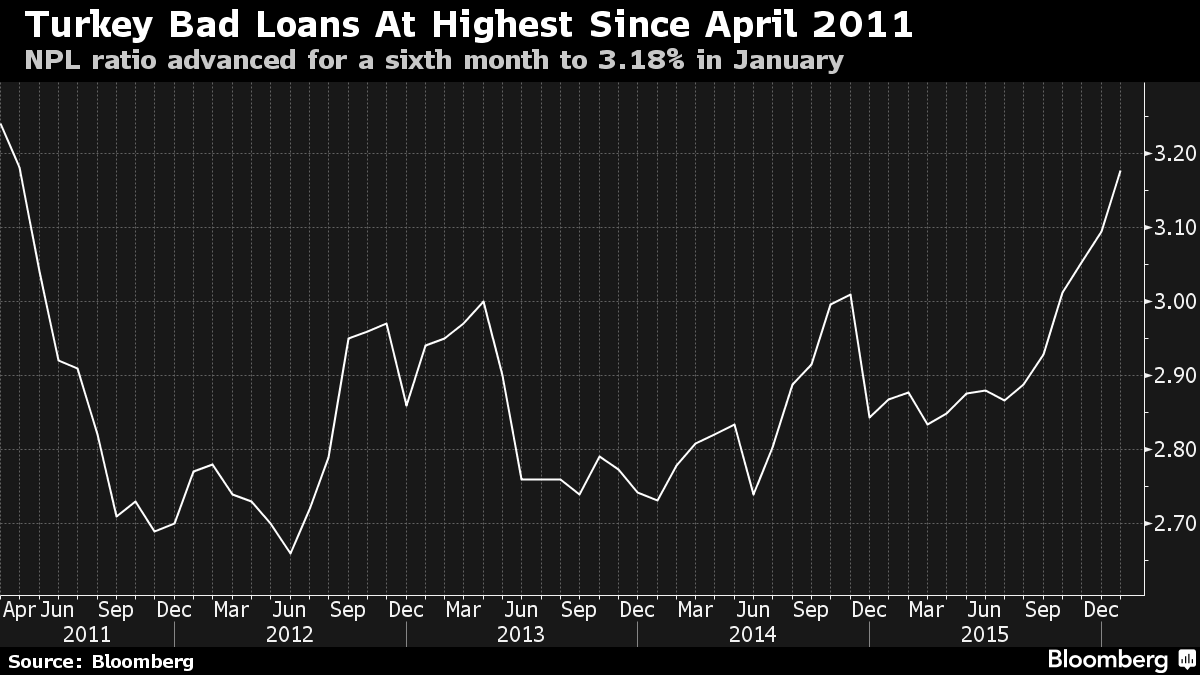 The rise in bad loans is compounding the challenges for Turkey's $814 billion banking industry as a combination of currency depreciation, Russian sanctions and waning tourist visits amid a spate of terrorist attacks weigh on the economy. As the central bank limits funding to tame inflation, the highest borrowing costs in four years and a slow down in loan growth are piling pressure on indebted businesses.
"The trend is likely to increase and intensify," said Apostolos Bantis, a Commerzbank credit analyst in Dubai, who said loans and lira-denominated bonds would be exposed. "While I don't see the situation running out of control, the impact of Russian sanctions, the blow to the tourism industry, higher funding costs and the weaker currency will all take a toll on the corporate sector," he said before the data.
Concerns over credit quality have exerted pressure on Turkish bank shares in the past 12 months, with a gauge of 11 lenders dropping 16 percent versus a decline of 6.7 percent for the benchmark Borsa Istanbul 100 Index. Turkiye Halk Bankasi AS and Turkiye IS Bankasi, known as Isbank, slid at least 24 percent.
Tourism Slowdown
Isbank, the nation's largest listed lender by assets, last month said a single bad loan from a company in the tourism industry contributed the most to an increase its NPL ratio to 2 percent in the fourth quarter. Since that statement on Feb. 1, yields on the lender's $400 million of bonds due in December 2023 have climbed 96 basis points, to 7.54 percent at 4:53 p.m. in Istanbul.
The banking index has staged a rebound since valuations fell to a seven-year low in January. It's up 6.2 percent in 2016, almost in line with the Borsa Istanbul's performance.
The increasing pressure on bank loan quality prompted the government to propose a plan to help tourism companies restructure bank debt, proposing on Feb. 22 to allow them to postpone repayment of 288 million liras ($99 million) of credit and give some operators access to benefits currently available only to exporters.
Still, the worst may not be over for the industry as tourism companies will contribute to a deepening of the bad-loan quandary, according to Cagdas Dogan, an analyst at BGC Partners in Istanbul.
The average inflow of NPLs in the first two months of 2016 climbed to 1.5 billion liras ($514 million), a 60 percent increase from the year earlier, according to banking regulator data. That acceleration could exert new pressure on bank shares, according to Sadrettin Bagci, an analyst at Istanbul-based Deniz Yatirim. Dogan of BGC projects the NPL ratio will climb by 40 to 50 basis points in 2016.
"Such a deterioration should be mostly in market expectations," Dogan said. "If non-performing loan inflows continue at a higher-than-expected rate in the early months of 2016, it would of course impact sentiment negatively."
Source: Ballooning Bad Loans in Turkey Seen Worsening as Tourists Flee - Bloomberg