By Saijel Kishan & Dominic Lau at Bloomberg
Hong Kong dollar forwards sank to their weakest level this century, interbank loan rates jumped the most in seven years and the Hang Seng Index tumbled as China's market turmoil fueled speculation the city's 32-year-old currency peg will end.
Contracts to buy the currency in 12 months fell as much as 0.5 percent to HK$7.9056 versus the greenback, beyond the HK$7.75-HK$7.85 range that it can trade within under the existing exchange-rate system. The Hong Kong dollar spot rate dropped as low as HK$7.8243, within 0.33 percent of the weak end of its band, and a benchmark rate for three-month loans rose eight basis points to 0.55 percent.
The city's government bonds tumbled, pushing the 10-year yield to the highest level in 15 months and Hong Kong's Hang Seng Index of shares dropped the most since Aug. 24 and as rising local borrowing costs threaten to further brake an economy reeling from a collapse in Chinese shares and the slowest growth in the mainland in 25 years. The yuan's slide to a five-year low in the first week of January triggered weakness in emerging Asian currencies this month, led by a 3.4 percent drop in South Korea's won.
"It's like an attack all fronts on Hong Kong," said Nordine Naam, global macro strategist at Natixis in Paris. "Investors are getting more and more risk adverse, especially with regards to China and so they're getting out of the region. For the time
being, Hong Kong has lost its safe haven status."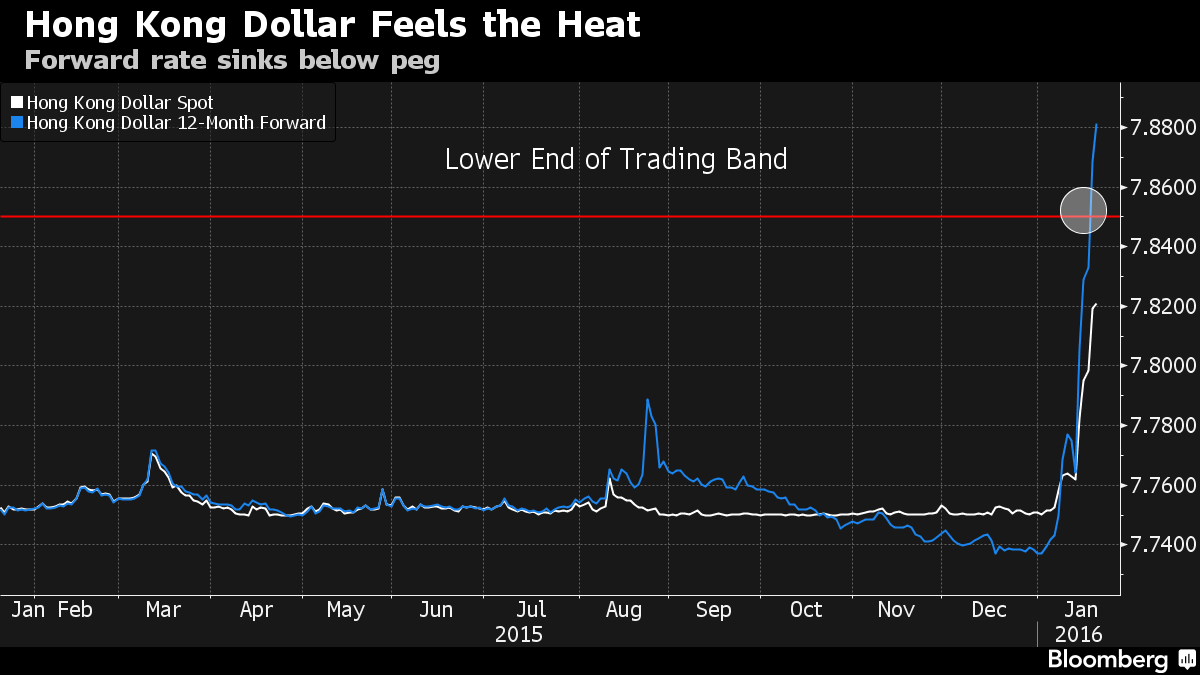 Hong Kong Monetary Authority Chief Executive Norman Chan said Monday he expects the local currency to decline to the lower limit and reiterated his commitment to keeping the linked exchange-rate system. It had traded at the strong end of the range as recently as Jan. 4. He said Wednesday that the International Monetary Fund is also a supporter of the mechanism.
Hong Kong brought in the peg in 1983 after a 30 percent plunge in the local dollar's value led to panic buying of rice and other staples. Former HKMA chief Joseph Yam in 2012 called for a review of the peg, having in 1998 conducted $15 billion of stock purchases to fend off speculative attacks on Hong Kong's equity and currency markets.
"The Hong Kong dollar is a victim of all the risk aversion across global markets given what's happening with China," said Tommy Ong, managing director for treasury and markets at DBS Hong Kong Ltd. "Dollar pegs across the globe are under pressure but I trust that the Hong Kong peg will stay in place because there are no better alternatives given the volatility we've seen with the yuan."
In Saudi Arabia, bets for a devaluation of the riyal reached their highest in almost two decades this month, driving 12-month forward contracts for the currency to their highest since at least December 1996. China's currency has weakened 5.6 percent versus the dollar in Shanghai since a surprise devaluation in August, even as the central bank burnt through $321 billion of reserves supporting the exchange rate over the last five months.
Options prices indicate a 48 percent chance the Hong Kong dollar will depreciate beyond the limit of its peg this year, up from 9.5 percent on Dec. 31, Bloomberg data show. The currency traded at HK$7.8230 per U.S. dollar as of 5:35 p.m. local time, little changed from late Tuesday in New York. Twelve-month forwards fell 0.3 percent to HK$7.8908.
"There's a lot of focus on the peg amid weaker market sentiment but we don't think it will break," said Irene Cheung, a currency strategist at Australia & New Zealand Banking Group Ltd. in Singapore. "The market is trying to test levels for a just-in-case scenario."
Interest Rates
Goldman Sachs Group Inc. said on Monday the weak end of the currency band is likely to be reached and there is scope for some HK$300 billion ($38.4 billion) of outflows before a significant increase in borrowing costs. The HKMA's aggregate balance, the level of interbank liquidity that rises or falls when the authority intervenes in the currency market, was HK$377.4 billion as of Monday, having more than doubled in the last two years as a resurgent U.S. dollar fueled demand for the city's pegged currency and money poured into Hong Kong property.
The Hong Kong Interbank Offered Rate for three-month loans of 0.55 percent is the highest since June 2010 and compares with a level of around 0.4 percent for the past four years. It climbed to a record 16.57 percent in 1998, when speculative bets against the peg surged during the Asian financial crisis.
The yield on notes due February 2026 jumped 40 basis points to 1.96 percent. The HKMA said it sold HK$1 billion ($128 million) of debt due January 2026 at an average accepted yield of 2.08 percent, less than the $1.8 billion it planned to issue.
Cheung Kong Property Holdings Ltd. led shares of developers lower, slumping as much as 6.7 percent. Credit Suisse Group AG wrote in a report Wednesday that with 85 percent of new and secondary home mortgages since 2009 tied to Hibor, demand from homeowners and investors "will likely shrink further."
The rout in mainland stocks and volatility in the yuan, combined with concerns about the economic outlook on both sides of the China-Hong Kong border, dragged the Hang Seng Index 13.5 percent lower this year. The People's Bank of China had been intervening in the offshore yuan market to deter speculators betting on depreciation, limiting supplies of the currency in the city.
"There's tighter liquidity across the board," said Andy Ji, a Singapore-based foreign-exchange strategist at Commonwealth Bank of Australia. "People are conscious of recent government action that has resulted in reduced supplies in the Hong Kong markets."
Source: Hong Kong Dollar Forwards Sink to Weakest Since '99 on Peg Bets - Bloomberg