By Bloomberg
For iron ore, if April was a party then May's been the aftermath. Benchmark prices are headed for the biggest monthly loss since August 2012 as a rally driven by a speculative frenzy in China segued straight into a back-to-reality slump when the fervor faded.
Ore with 62 percent content has lost 24 percent in May to unwind April's 23 percent rally, when prices posted a third monthly gain, according to data from Metal Bulletin Ltd. The raw material has collapsed 29 percent since peaking at more than $70 on April 21, and last week dipped below the $50 level.
The commodity's boom turned to a bust as regulators in China moved to prevent the frenzy from getting out of hand and signs emerged of increased supply, including higher port stockpiles. Steel-product prices that soared in April, lifting mills' margins and encouraging output, have since retraced, denting iron ore demand. Goldman Sachs Group Inc. warned last week iron ore will probably extend its drop in the second half amid a rising global surplus.
"We've had a roller-coaster ride," Dang Man, an analyst at Maike Futures Co., said from Xi'an, adding while April's gain had its roots in fundamentals, speculation soon took over as hot money poured in. "The turning point came when regulators and exchanges began to curb excessive speculation."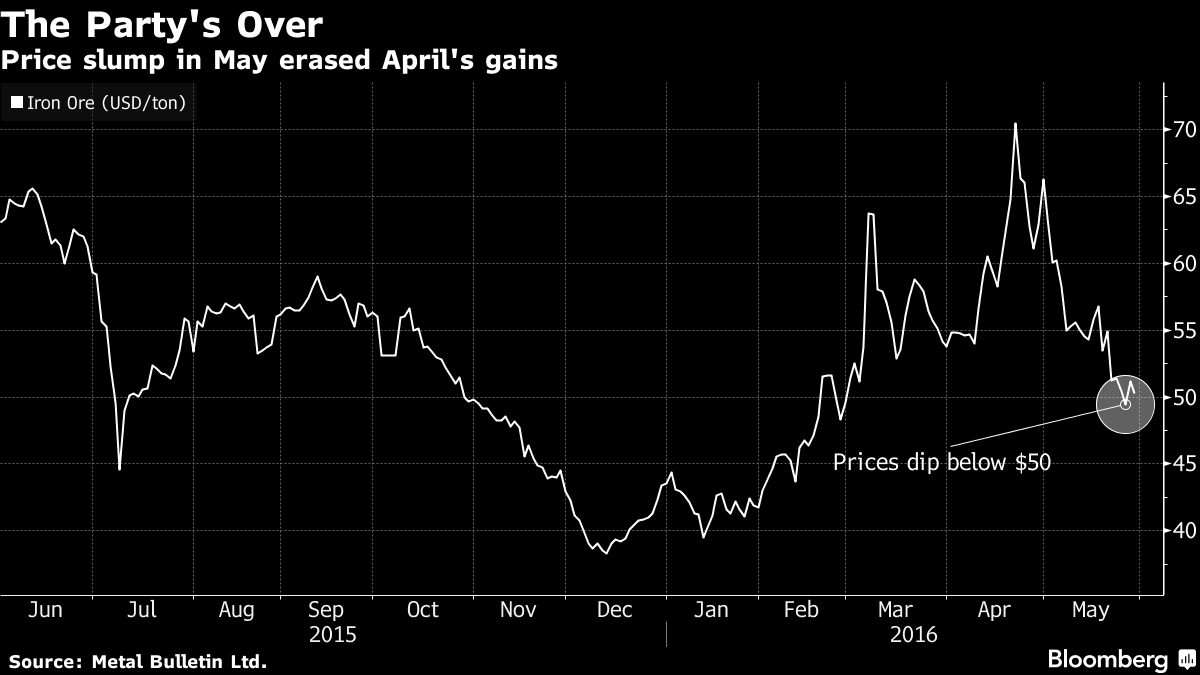 The ore price dropped 0.2 percent to $50.15 a ton on Tuesday after dropping for four of the past five weeks, according to Metal Bulletin. Goldman Sachs predicted that prices may retreat from $55 a ton this quarter to $45 in the July-to-September period and $38 in the final three months. In China, iron-ore futures in Dalian posted a record loss this month.
Brazil's Vale SA, the largest producer, warned at a conference in May there was a need to prepare for tougher times, and that the company was set to compete at any price as it brought on additional low-cost output from its S11D project. Citigroup Inc. said in a report it remained bearish, forecasting persistent oversupply on rising production from the top miners as well as Gina Rinehart's Roy Hill project in Australia's Pilbara.
Port inventories in China increased 0.2 percent to 100.65 million tons last week, the highest level since December 2014, according to data from Shanghai Steelhome Information Technology Co. They're up 8.1 percent this year after China's steel mills increased daily production to a record last month.
The switchback ride in prices has swung miners' shares. In Sydney, Fortescue Metals Group Ltd. lost 13 percent this month after rallying 34 percent in April, while Rio Tinto Group was also 13 percent weaker in May after a 21 percent jump. BHP Billiton Ltd. surged last month, then dropped in May.
China's top market regulator has said its clampdown on speculation in raw materials futures reined in the frenzy. "We supervised the exchanges to take measures, which have seen a notable effect," Fang Xinghai, vice chairman of China Securities Regulatory Commission, said in Shanghai earlier this month.
Source: From Awesome in April to Gutted in May, Iron Ore Sinks Back Down - Bloomberg