By David Biller at Bloomberg
Brazil's industrial production fell more than all analyst forecasts in November, underscoring the challenge that policy makers face in pulling Latin America's largest economy out of its worst slump in decades.
Output in November decreased 2.4 percent from the previous month after a revised 0.6 percent decline in October, the national statistics agency said Thursday. The biggest slip since December 2013 was more than twice than the median 1 percent drop in a Bloomberg survey of analysts. From a year earlier, industrial production fell 12.4 percent, and hasn't registered year-on-year growth since the first half of 2014.
"This adds to evidence that the recession deepened in the fourth quarter," said Edward Glossop, emerging market economist at Capital Economics.
Industry output was one of the weakest areas of the Brazilian economy last year, as falling business confidence and surging prices offset the benefits a weaker currency had on exports. Policy makers are said to be discussing strategies to revive businesses such as automakers and builders in order to prevent the recession from worsening in 2016.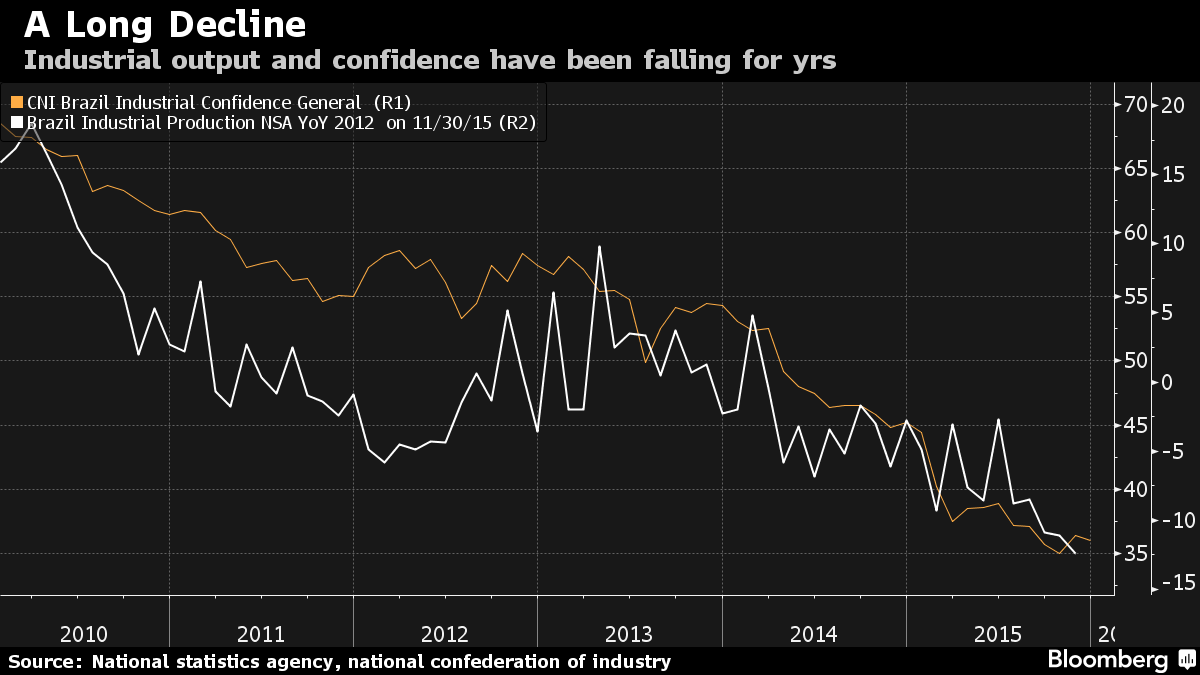 Interest-rate swaps on the contract due in January 2017 fell 9 basis points to 15.44 percent in mid-morning trading, as investors bet policy makers will ease up on monetary tightening amid the economic slowdown. The real, which weakened 33 percent last year, depreciated 0.8 percent to 4.0605 per dollar on concerns that China's growth is moderating more than previously expected.
Output of Brazil's capital goods in November, a barometer of investment, fell 1.6 percent, the statistics institute said. Production fell in 14 of the 24 industries surveyed by the institute, including a 10.9 percent drop in extractive industries as an oil-workers' strike and a mining accident in Minas Gerais state crimped output.
"Even if we didn't have these two events, industrial production would likely have dropped," said Luciano Rostagno, chief strategist at Banco Mizuho do Brasil. "Demand is weak due to the increase in unemployment, tough credit conditions, and gloomy sentiment, so the sector should be a big drag on growth in the fourth quarter."
Source: Brazil Industry Drop Signals Recession Deepened at Year-End - Bloomberg