By Alan Crawford, Ian Wishart and Marine Strauss
Throughout the Cold War, Bratislava stood on the front line of the ideological divide between east and west. Now the Slovak capital situated a stone's throw from the Austrian border is again at the crux of European history.
European Union leaders will gather in the city straddling the Danube River in September, after a summer of "political reflection," to hammer out a way forward for the bloc in the shock of the post-Brexit world.
Soon to be shorn of the bloc's second-largest economy and buffeted by a rising tide of anti-EU sentiment from Paris to Warsaw, the 27 national leaders will meet knowing that Britain's vote to leave forces them to weigh change to win back citizens' support. They just can't agree on what that should look like.
"The dividing lines have been between different actors on different issues -- north and south on financial and economic issues, east and west on asylum and migration," Sandro Gozi, undersecretary for European affairs in Italian Prime Minister Matteo Renzi's government, said in a phone interview. "The last thing we need is new dividing lines."
From German insistence on fiscal rigidity and the legacy of austerity, to economic sanctions on Russia, relations with Turkey and the biggest refugee crisis since World War II, Europe's political fault lines run deep and tension has been building for years. Rival camps and further flashpoints on the horizon mean the struggle to reset the European Union could get messy.
For more on how Brussels is already changing after the Brexit vote, click here
The outcome is not just academic. It affects a market of 500 million people with an economy of some $15 trillion, including the U.K. With elections next year in the Netherlands, France and then Germany, economies together representing more than half the euro-zone output, leaders don't have the luxury of time on their side.
Markets are also showing signs of unease. While the European Central Bank's unlimited bond purchases are keeping a lid on spreads for now, bank shares have plunged amid concerns about the EU's ability to contain a new crisis emanating from Italy. The Bloomberg Europe 500 Banks and Financial Services Index fell to the lowest since the depths of the region's debt crisis in 2011 and the cost for European banks to fund in dollars through the foreign-exchange swaps market rose to the highest since 2012.
It's "a highly volatile macro environment," David Folkerts-Landau, chief economist at Deutsche Bank AG, said in a Bloomberg Television interview on Wednesday. "All you need is one additional shock -- and we've got three or four lined up: French elections, the Italian senate referendum -- and you could have a very serious situation on your hands."
Hollande on Tour
Francois Hollande, facing the National Front led by Marine Le Pen who wants a French referendum on EU membership, has said that France's presidential elections next spring will hinge on Europe. He plans to tour European capitals including Lisbon, Dublin and Prague over the summer to rally support for his proposals, which include more integration in the 19-nation euro area, according to a government official with knowledge of his strategy.
French officials will meet on Friday to start preparing for the Bratislava summit, including identifying the pitfalls ahead, said the person, who asked not to be named discussing internal deliberations.
"Populists no longer just want to change Europe, they want the end of it," Hollande said after last week's EU summit in Brussels, David Cameron's last. Voter alienation will "continue inexorably" unless member states "build a program or an initiative that's strong enough to protect them, give them more prosperity and more hope to the youth."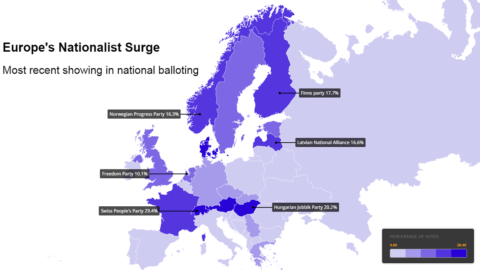 In Germany, Chancellor Angela Merkel's overriding goal is to avoid the EU from splintering further after Cameron, a fellow supporter of budget austerity, imploded. Deprived too of an ally against the more dirigiste French, her party wants to steer the focus away from the euro area, where Hollande and Renzi are pushing for stimulus spending, and from EU-wide rulemaking by officials in Brussels, whose power was vilified by U.K. "Leave" supporters.
"This isn't the time for visions," Finance Minister Wolfgang Schaeuble told the Welt am Sonntag newspaper.
Merkel's 'Long Game'
Instead, Merkel says she wants to focus on challenges that impact people's everyday lives, citing terrorism, controlling refugee flows, boosting economic competitiveness to reduce unemployment and promoting the digital economy. Germany also floated a push for joint defense projects with France and any other countries that want to take part.
"Merkel's game here is no longer a short game, it's a long game," Ian Bremmer, head of consulting firm Eurasia Group, said in a Bloomberg Television interview. "There's all these historic moments. Every geopolitical risk in the world right now of size is pointed directly at the heart of Europe -- and that means Angela Merkel."
For the generation that didn't witness wars ripping the continent to shreds, it's more difficult to see the EU's relevance than it was for their forefathers. What 60 years ago was essentially a peace project has become the world's largest free-trade area, a multinational club with shared standards in areas as diverse as food hygiene, corporate mergers and financial services and, increasingly, a player with ambitions in security and defense that extend far beyond its borders. Some say it's evolved too far, others that it needs to keep growing.
The U.K.'s vote to split from the bloc it joined 43 years ago looks like the moment that dilemma will be confronted. After Bratislava -- itself a national capital only since the dissolution of Czechoslovakia in the 1990s -- leaders will announce action probably in March in Italy, where they'll convene to mark 60 years since six nations signed the bloc's founding Treaty of Rome. In the interim, they'll face a referendum on refugee quotas in Hungary and a rerun of the Austrian presidential election that will pit far-right populists against a pro-EU candidate.
Poland Assertive
Tension over the best way forward is as old as the union itself, focused on the balance of power between national capitals and Brussels.
Prime Minister Beata Szydlo signaled last week that Poland will be seeking reform to give member states a bigger role, most likely at the expense of the European Commission -- the EU's all-in-one executive that proposes laws, polices their implementation, negotiates trade pacts and rules on antitrust cases.
Poland wants the EU "to change into a union of nations," Jaroslaw Kaczynski, who heads the ruling party, said this weekend.
As commission president, Jean-Claude Juncker represents the opposing camp. A former prime minister of Luxembourg, one of the six founding nations, he is from the wing that believes the bloc will progress only when countries give up more sovereignty. Government officials in Poland and the Czech Republic took little time in calling for him to go after the Brexit vote, demands he has rejected.
Whereas Renzi hailed the "extraordinary, beautiful, positive window" for the EU that opened as a result of Brexit, Juncker is less enthusiastic about grasping the opportunity.
"I will not say that nothing has to change," Juncker told reporters in Bratislava last week, as Slovakia assumed the EU's rotating six-month presidency. "But things moving in the right direction will not change."
There is the capacity to surprise. Just as euro-area finance ministers closed ranks when challenged by Greece last year, the EU's 27 leaders have so far demonstrated unity toward the U.K. in the face of its vote for the exit.
Yet differences within governments as well as between them mean the chances of a grand project to bind the EU together are slim, according to Janis Emmanouilidis, director of studies at the European Policy Centre in Brussels. Instead, the greatest outcome could be to avoid Bratislava turning into a public brawl.
Simply defending signature EU achievements such as the euro, open borders and freedom of movement would represent a success, Emmanouilidis said by phone. He added: "I don't think that we have the political energy and willingness at this present point in time to make huge progress."
Source: Brexit Trauma Stalks EU as Leaders Brace for More Shocks to Come