By Bloomberg
China's leading Communist Party mouthpiece acknowledged the risks of a build-up of debt that is worrying the world and said the nation needed to face up to its nonperforming loans.
High leverage is the "original sin" that leads to risks in the foreign-exchange market, stocks, bonds, real estate and bank credit, the People's Daily said in a full-page interview with an unnamed "authoritative person" starting on page one and filling thesecond page on Monday.
China should put deleveraging ahead of short-term growth and drop the "fantasy" of stimulating the economy through monetary easing, the person was cited as saying. The nation needs to be proactive in dealing with rising bad loans, rather than delaying or hiding them, the report said.
"Overall, the report suggests to us that future policy easing may be more cautious and that the government may try to hasten the pace of reform," said Zhao Yang, chief China economist at Nomura Holdings Inc. in Hong Kong. Similar commentaries have had a "large impact" in the past, the analyst said in a note.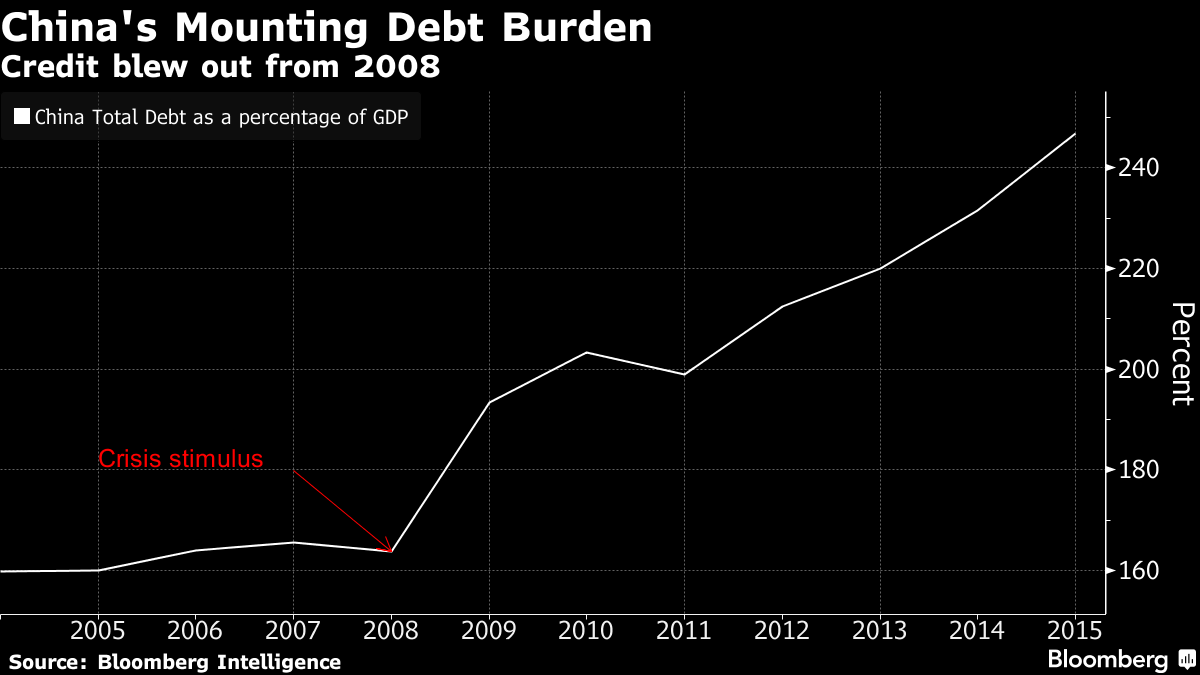 The pace of China's accumulation of debt and dwindling economic returns on each unit of credit have fueled concern that the nation is set for either a financial crisis or a Japanese-style growth slump. Strong growth in mortgage lending means that banks could be exposed to significant losses should property prices drop sharply, Fitch Ratings said in a statement dated Sunday.
Sounding Warnings
The Bank for International Settlements warned late last year of an increased risk of a banking crisis in China in coming years. On Friday, brokerage CLSA Ltd. sounded an alarm, saying that the nation's true level of nonperforming loans may be at least nine times higher than the official numbers, suggesting potential losses of at least $1 trillion. Fitch said official data showing a 1.67 percent NPL ratio was understated -- a common view among analysts.
"A tree cannot grow up to the sky -- high leverage will definitely lead to high risks," the person was cited as saying. "Any mishandling will lead to systemic financial risks, negative economic growth, or even have households' savings evaporate. That's deadly."
Piling Up
China's accumulation of debt has been the fastest of Group of 20 members over the past decade, according to Tom Orlik, an economist for Bloomberg Intelligence. Debt has climbed to 247 percent of gross domestic product, Bloomberg Intelligence estimates.
Volatility in stocks and the foreign-exchange market early this year had partly reflected the vulnerability of the financial system, the article said.
The newspaper piece touched on the topic raised by Premier Li Keqiang of banks swapping debt for equity to cut excess borrowing by Chinese firms.
While bankruptcies should generally be avoided, "zombie" companies beyond salvage should be allowed to fail because debt-to-equity swaps would be costly and self-deceiving, the commentary said.
Supply-side reform will remain the focus of economic policies for the near future, the article said. While the economy can grow sufficiently without stimulus, its performance will be "L-shaped," not a "U" or a "V," for quite some time, rather than just a year or two, the commentary said.
Source: Even China's Party Mouthpiece is Warning About Debt - Bloomberg