By Bloomberg
China's foreign-exchange reserves, already at a three-year low, are poised to post a second consecutive record monthly drop as policy makers intervene to support the yuan.
The central bank will say Sunday that the currency hoard fell by $118 billion to $3.2 trillion in January, according to economists' estimates in a Bloomberg survey. That would exceed a record $108 billion decline in December, which brought last year's total draw-down to more than half a trillion dollars and capped the first annual decrease in the reserves since 1992.
Policy makers are burning through billions of dollars to hold up a weakening currency amid flagging growth and $1 trillion in capital outflows last year. The yuan sank to a five-year low last month as the People's Bank of China set the reference rate at an unexpectedly weak level, a signal that it's more tolerant of depreciation as growth slows.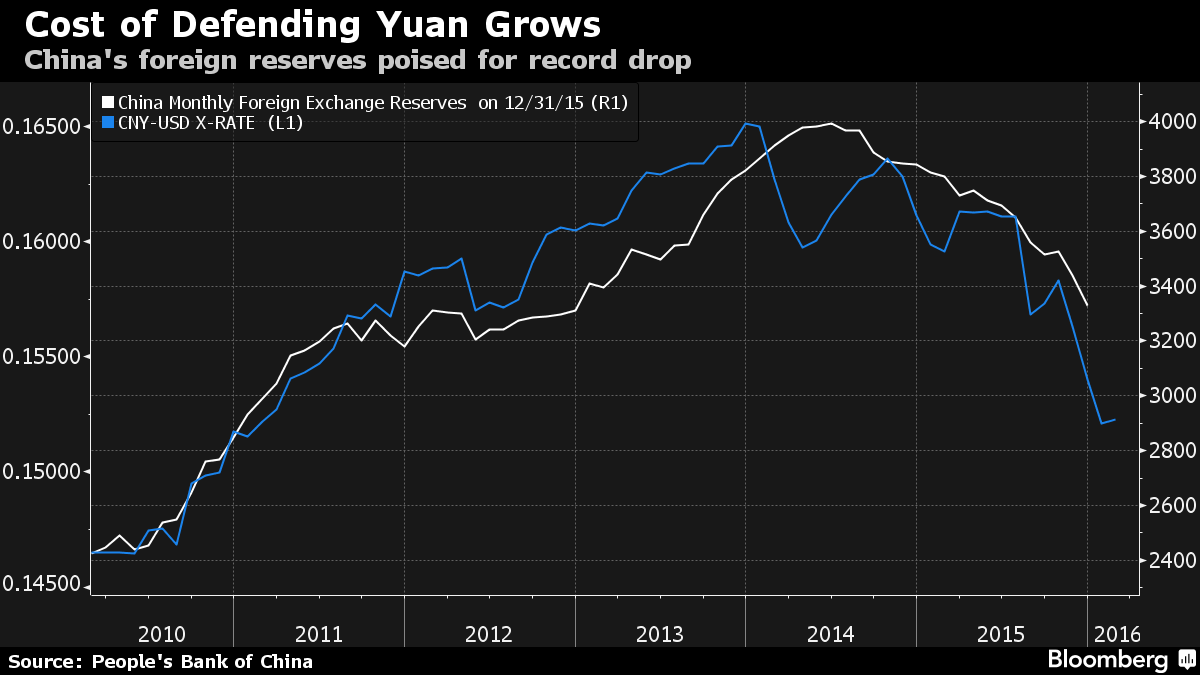 "China is facing a significant capital outflow problem," said Krishna Memani, who helps oversee $217 billion as chief investment officer at Oppenheimer Funds Inc. in New York. "It's an astounding reduction in their capital account position. This is an issue they've been aware of, and they have to find a way of managing it. The economy itself cannot turn this around."
The draw-down has accelerated since the central bank's surprise devaluation of the currency in August. Reserves tumbled $94 billion that month, a record at the time. Another cut to the yuan's reference rate last month spurred a stock sell-off that has helped push the Shanghai Composite Index down 21 percent this year and into a bear market.
Stocks and the yuan both rebounded before the week-long Lunar New Year holiday, when Chinese exchanges will be closed. Shares in Shanghai climbed 1 percent for the week. The yuan recorded the longest stretch of weekly gains since October 2014, with authorities intensifying verbal support and tightening capital controls.
Forex Reserves Total and Monthly Change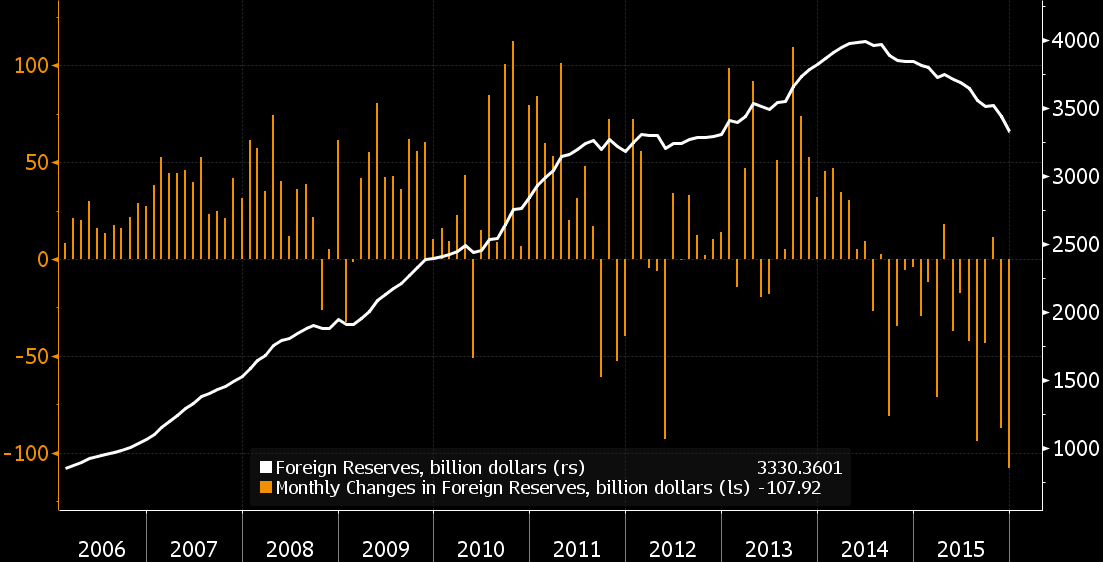 Beijing's foreign-exchange reserves surged almost 200-fold from $21.2 billion in 1993 to a peak of almost $4 trillion in 2014. Even after falling 17 percent since then, the reserves remain the world's largest and are almost triple the level held by No. 2 Japan.
Jian Chang, chief China economist at Barclays Plc in Hong Kong, forecasts a drop of $140 billion, one of the biggest projected decreases in the survey of economists. Commerzbank AG's Zhou Hao and two others estimate an $80 billion reduction, the smallest in the poll.
"China has enforced many measures to limit capital outflows and plug the leaks in its capital account, which may have reduced the reserves drawdown," Chang wrote in a report this week. "Nonetheless, we think the bias remains for capital to flow out of the country" and in turn for a weaker yuan, he said.
China's top economic planner said this week that the growth objective for this year is for an expansion in the range of 6.5 percent to 7 percent. The 6.9 percent expansion in 2015 was the slowest in 25 years. Economists forecast 6.5 percent growth this year.
"China is under pressure," Chris Leung, a senior economist at DBS Bank Hong Kong Ltd, wrote in a recent report. "Amid increasing uncertainties and market volatilities, the speed of reserves depletion will likely accelerate in the short term."
Source: China Foreign Reserves Head for Record Drop on Yuan Defense - Bloomberg