By Bloomberg News
China's attempts to slow runaway home-price growth in major cities are showing little sign of success, stoking the threat of a housing bubble that could destabilize the economy.
New home prices rose the most in six years in August, jumping 1.2 percent from July, according to Bloomberg calculations based on government data. Home prices rose in 64 of 70 cities tracked by the government, up from 51 the previous month. Shanghai prices surged a record 4.4 percent for a year-on-year gain of 31 percent, while Beijing's climbed 24 percent from a year earlier.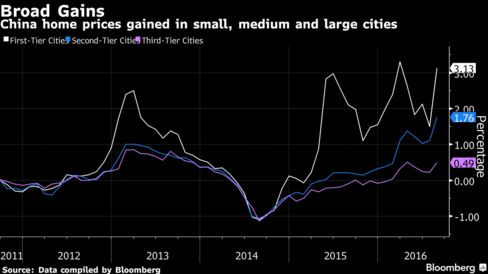 The gains suggest moves by city governments to cool surging home prices over the past six months are doing little to damp demand from investors looking for alternatives to stocks and overseas property. That may prove to be a challenge for central government policy makers on how to respond without choking off growth in the world's second-largest economy by squeezing credit.
"The more immediate risk of a sudden and steep downturn in the economy comes from the threatened bursting of the property market bubble," Pauline Loong, managing director at research firm Asia-analytica in Hong Kong, wrote in a Sept. 14 report. "And bubble it is. The real question for investors is when and what will pop the bubble?"
Policy Dilemma
Ma Jun, chief economist of the People's Bank of China's research bureau, has warnedabout unsustainable valuations in the real estate market and the potential consequences. "Measures should be taken to put a brake on the excessive bubble expansion in the property sector, and we should curb excessive financing into the real estate sector," Ma said in an interview with China Business News last week.
The Financial News, a newspaper published by the PBOC, wrote on Tuesday that surging property prices in first-tier and some second-tier cities are the result of inefficient regulation by local governments, and that cities should effectively control local property markets to prevent bubbles.
Risks aside, property has given the economy a boost that's helped the expansion continue prove doubters wrong and offset weakness in exports and other areas. Gross domestic product rose 6.7 percent in the second quarter from a year earlier, beating estimates and dimming expectations that the PBOC would unleash new stimulus after holding the benchmark rate at a record low since October.
Expanding Credit
The broadest measure of new credit exceeded estimates in August as property fueled near-term growth, even as it adds to longer-term worries about the expansion's sustainability. The Financial News said in a commentary Monday that the better-than-expected credit data shows the economy is stable and on upward trend.
Still, economists surveyed by Bloomberg project another rate cut by year-end. Such further monetary easing may complicate efforts to curb asset bubbles, a mission China's top leaders pledged in July amid a renewed focus on financial stability after a Politburo meeting led by President Xi Jinping. The rate cut cycle has been accompanied by a buildup in borrowing that's boosted debt to 247 percent of GDP, Bloomberg Intelligence data show.
Property prices that are still rising rapidly pose a dilemma for policy makers, Zhou Hao, an economist at Commerzbank AG in Singapore, wrote in a note Monday. "The overall monetary policy should remain accommodative as inflation remains subdued and growth is still trending down. However, concern about an asset bubble will limit room for further easing."
Broad Rally
More regional hubs joined the foray to kick off new curbs, following the home-buying restrictions unveiled in Shanghai and Shenzhen in March. Hangzhou, Zhejiang's provincial capital, on Sunday halted home sales to some non-local residents, adding to similar bars introduced last month in nearby Suzhou and the southern port city Xiamen. More second-tier hubs, including Jiangsu's provincial capital Nanjing and Hubei's Wuhan increased down-payment requirements in bid to dent demand from speculators.
That's not enough to chill the market, data showed Monday. Values rose 2.1 percent on month in Shenzhen and 2.4 percent in Guangzhou, both faster than a month earlier. "Price growth accelerated in cities all of tiers," the statistics bureau said in a statement with the data. Almost half of the cities where prices increased had larger gains than in July, it said.
Analysts expect local governments to announce more tightening after home prices climbed the fastest in regional hubs where authorities haven't introduced curbs. A tightening cycle in China's property market has now become a "certainty" after a raft of stimulus starting late 2014, including six cuts to the benchmark interest rate, Nicole Wong, head of property research at CLSA Ltd., said at a conference in Hong Kong on Tuesday.
Zhengzhou, the provincial capital of central Henan province, led gains with a 5.5 percent increase, up from a 2 percent gain in July. Prices in Wuxi, a manufacturing base in southern Jiangsu province, followed with a 4.9 percent gain, compared with 2.7 percent a month earlier.
Mortgage Surge
However, local tightening measures, even in a larger scope, are unlikely to rein in prices as long as credit remains easily attainable, said Jeffrey Gao, a Hong Kong-based property analyst at Nomura Holdings Inc. "We may not see any turning point in home prices unless the government moves to tighten credit and add a lot more land supply," Gao said.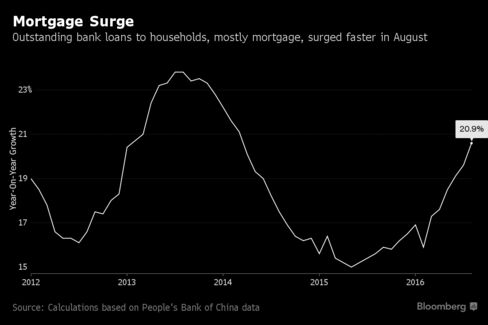 One difficulty in reining in the home-buying frenzy is the larger leverage residents used through commercial banks with a growing appetite on mortgage loans, JPMorgan Chase & Co. analysts led by Zhu Haibin wrote in a note Monday.
Buyers in second- and third-tier cities are able to obtain the same mortgage discounts as in largest hubs, normally between 10 to 15 percent, a sign that a liquidity surge has backed up the rally, Nomura's Gao said.
"What's different in the current round of credit easing is even home purchase in third-tier cities enjoyed a relatively large discount," Gao said, citing Guizhou province. "This is a strong signal of a widespread ease in credit."
— With assistance by Miao Han, and Emma Dong