More than two decades ago in China, Miao Liansheng made a first tentative step toward harnessing the sun to produce power -- eventually becoming a billionaire.
For a time, it worked, making his Yingli Green Energy Holding Co. the world's biggest solar panel maker. Then in an all-too-familiar scene for clean energy producers, reality took hold for the 60-year-old former soldier in the People's Liberation Army.
Miao's push to dominate photovoltaics lies in pieces after Yingli missed repayment on 1.76 billion yuan ($270 million) of debt and said it's talking with creditors about refinancing. It's teetering is starting to look like the collapse of Shi Zhengrong's Suntech Power Holdings Co. in 2013 -- global aspirations, the amassing of billions of dollars in debt, plunging prices, overcapacity and then retreat.
"It wasn't easy for Miao to make the company so big," said Zhang Sen, deputy secretary-general of the photovoltaic production unit at the China Chamber of Commerce for Import and Export of Machinery and Electronic Products. "Big companies are sometimes more fragile, especially when the market isn't good."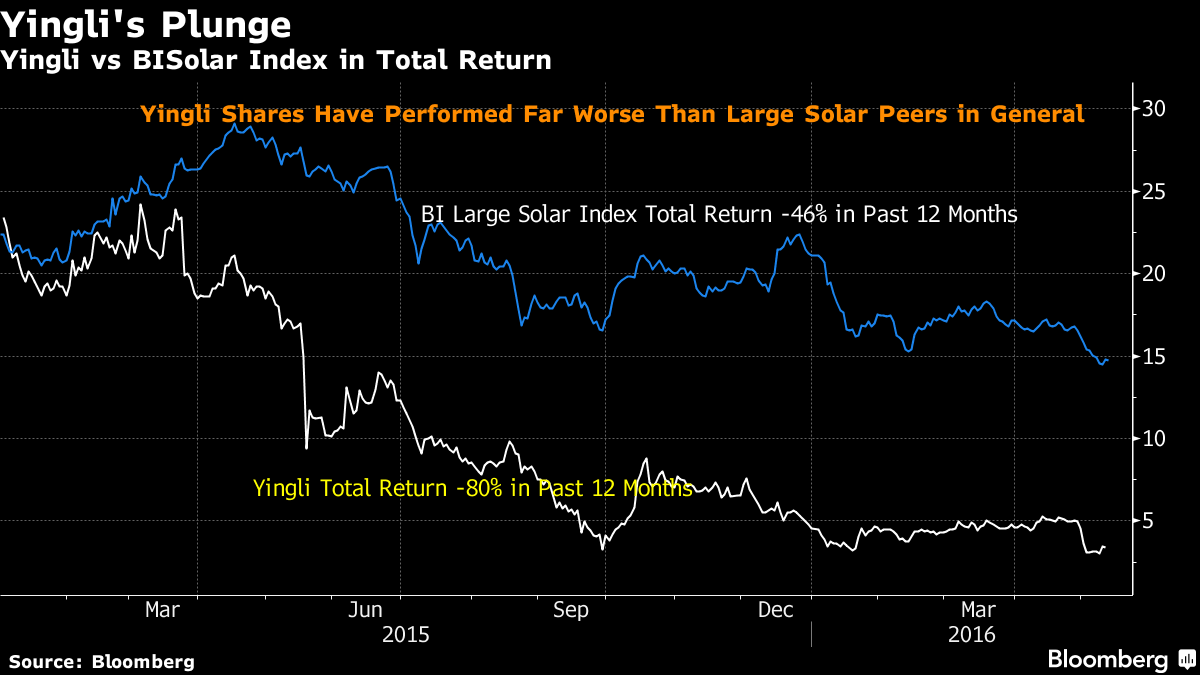 In his only public comment on the matter, Miao maintained that Yingli is working to negotiate a resolution on its debt issues. On a conference call on Wednesday, he said the Baoding-based company is seeking to sell assets and line up new investors. A statement on Thursday said no creditors have moved to push the Yingli into insolvency.
"Our major creditors have been helpful," Miao said on the call. "We strongly believe that we will achieve a successful transition."
Miao cuts an unusual figure in the world of China's solar billionaires, since he doesn't come from an academic background like Shi of Suntech. Instead, he served 13 years in China's army, according to Wang Zhixin, a manager at Yingli Group's public relations department.
Military Background
After leaving the military, Miao became a long-distance bus driver. By the 1980s, he had started his own business, eventually selling everything from cosmetics to vegetables and treated water for drinking. In 1993, he began importing a production line of lamps powered by solar energy from Japan, according Wang.
As Yingli's founder and chairman and largest shareholder, the panel maker's initial public offering in 2007 helped make Miao for a time the 41st richest man in China with an estimated wealth of 14 billion yuan ($2.15 billion), according to a ranking that year of the richest people in China by the Hurun Report.
Today, Miao's roughly 30 percent stake in the solar company is valued at about $17.7 million. Yingli's American Depository Receipts traded in the U.S. have declined 25 percent since the beginning of the year after plunging 81 percent in 2015.
Personal Touch
It's a dramatic fall for a man who, employees say, can be found standing outside the company's headquarters each day at 7 a.m., when he isn't traveling, so that he can offer a morning welcome to his workers. It's also a breakdown that has ensnared more than Miao and Yingli.
The past decade has been marked by booms, busts and failures in clean energy -- and solar in particular. The list of once-leading companies that went bankrupt include Q-Cells SE, SunEdison Inc. and Suntech. Shi, who led Suntech until three years ago when eight Chinese banks pushed it into insolvency, was once China's richest man until his company was brought down. Shi built his empire from scratch, like Miao.
Miao started in 1998 with Baoding Tianwei Yingli New Energy Resources Co. In 2006, Yingli Green Energy was incorporated in the Cayman Islands as part of a restructuring of the equity interests in Tianwei Yingli. It was a way to smooth investments by foreign financial investors in Tianwei Yingli and list shares of the venture on an overseas stock market, according to its 2014 annual report.
Yingli's Start
Solar module production began at Yingli Green in 2003 with 3 megawatts of capacity, which grew in the next three years to 100 megawatts. Over the next 10 years, production rose 40-fold to 4,000 megawatts. Listings followed in New York and Berlin in 2007, giving Yingli international scope.
Yingli's debt burden is a result of "errors in decision-making including large-scale expansion along the whole value chain and spending on marketing and branding," said Wang Xiaoting, an analyst at Bloomberg New Energy Finance in Hong Kong. Between 2013 and the first quarter of 2015, more than half of Yingli's net losses were from interest expenses on debt raised for expansion, according to Bloomberg data.
Chinese firms are struggling with record debt redemption this year as Premier Li Keqiang seeks to wipe out zombie corporations amid the country's weakest economic expansion in a quarter-century. At least nine firms, including Yingli, have missed local note payments so far this year, exceeding the tally for the whole of 2015.
Chinese solar manufacturers such as Yingli sold about $5 billion of shares from 2005 to 2010, wresting control of the market from companies in the U.S., Germany and Japan. The added capacity led to a global oversupply and pummeled panel prices, tipping at least 30 companies into bankruptcy.
While the survivors have mostly returned to profit, Yingli remained hamstrung by debt. It usurped Suntech as the biggest shipper of solar panels early this decade, only to be overtaken by Trina Solar Ltd. in 2014.
Debt Burden
Unprofitable since 2011, Yingli had 11.8 billion yuan ($1.8 billion) of debts at the end of 2015. China Development Bank and Bank of Communications Co. are among the state-backed lenders that kept it afloat.
Still, Miao and other founders of China's biggest solar companies maintain the industry's support.
They've "made a large contribution for the nation, for jobs and for exports," said Zhang of the China Chamber of Commerce.
At an internal conference held by the company about a year ago, employees were told that Miao had used his personal assets to support Yingli, according to the company website.
Miao's sacrifice has burnished his reputation among investors, according to Dario Plozza, owner of Triple Digit Global Advisors DMCC and holder of a stake in Yingli of between 1 percent and 5 percent.
As Yingli's biggest shareholder, Miao "will probably do everything to keep his wealth," aligned with those of overseas investors, Plozza said.
http://www.bloomberg.com/news/articles/2016-05-12/once-a-billionaire-miao-is-china-s-latest-humbled-solar-king