By Kyoungwha Kim at Bloomberg
Chinese stocks tumbled, extending the world's worst selloff this year, amid waning investor confidence in the government's efforts to revive the economy and stabilize financial markets.
The Shanghai Composite Index slid 5.3 percent at the close, extending last week's 10 percent plunge. A record 46th month of falling factory-gate prices in December fueled pessimism over the economy, with equities closing at their lows of the day amid speculation that state-controlled funds pulled back from the market. Shares declined even after the yuan gained on a stable fixing from the central bank.
The stock market's extreme market swings this year have revived concern over the Communist Party's ability to manage an economy set to grow at the weakest pace since 1990. Policy makers removed new market circuit breakers from Friday after blaming them for exacerbating declines that wiped out at least $1 trillion this year. China's producer price index slumped 5.9 percent in December from a year earlier.
"Pessimism is the dominant sentiment," said William Wong, head of sales trading at Shenwan Hongyuan Group Co. in Hong Kong. "The PPI figure confirms the economy is mired in a slump. Market conditions will remain challenging given weak growth, volatility in external markets and the yuan's depreciation pressure."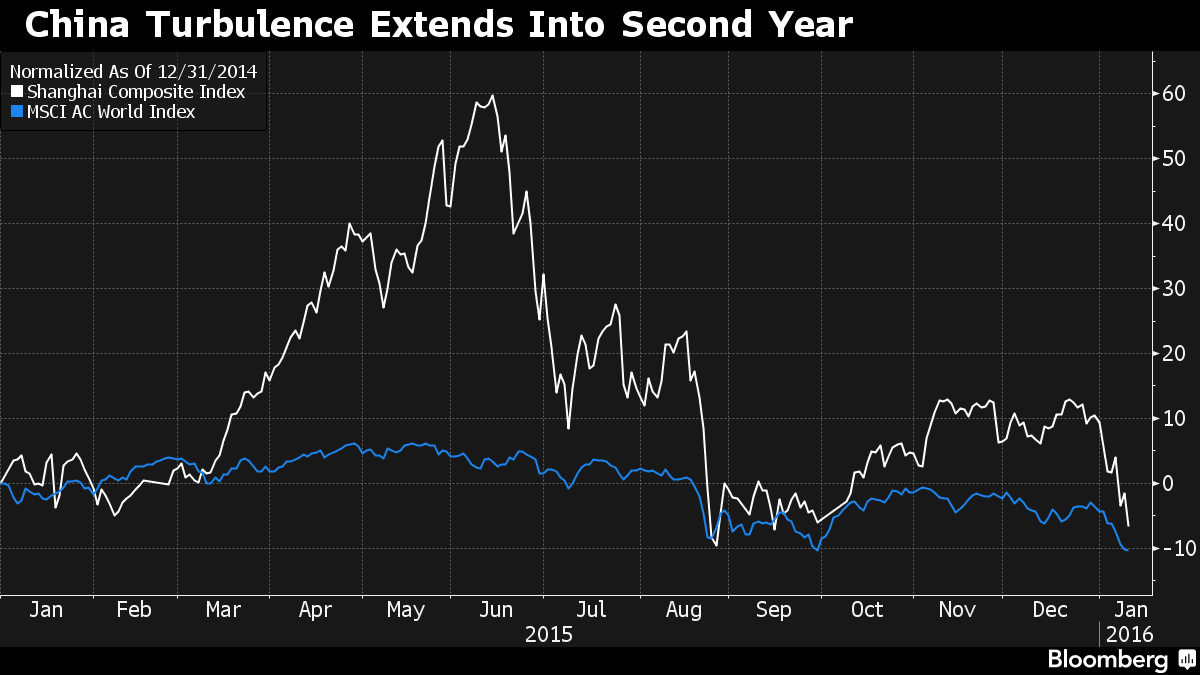 China's economic outlook has been dimmed by market volatility and slowing exports, which declined 6.8 percent in November from a year earlier. The official purchasing managers index signaled weakness for a fifth straight month in December, keeping the manufacturing gauge near a three-year low.
The consumer price index rose 1.6 percent in December from a year earlier, the National Bureau of Statistics said Saturday. Even as the inflation reading suggests there's room to act, government signals give reason to pause: Policy makers wouldn't seek strong stimulus or flood the economy with too much investment to boost demand, Beijing News cited Premier Li Keqiang as saying. The central government's website republished that report Sunday, and the official Xinhua News Agency cited the comments on its online front page on Monday.
While the government helped boost stocks at least twice last week, according to people familiar with the matter, equities extended declines into the close on Monday. PetroChina Co., long suspected to be a target of state-backed fund buying because of its large weighting in the Shanghai Composite, sank 3.6 percent.
State Support
"Sentiment is very poor," said Castor Pang, head of research at Core Pacific Yamaichi Hong Kong. "I don't see any clear signs of state buying in the mainland market. Policy makers have to be cautious in using intervention as they can't rescue the market all the time."
Officials went to extreme lengths to support shares in the midst of a $5 trillion rout last summer, including ordering stock purchases by state funds, suspending initial public offerings and allowing trading halts that froze hundreds of shares. The China Securities Regulatory Commission said late Thursday that it was suspending the circuit-breakers program, adding to concern policy makers are struggling with how to contain turmoil in the nation's financial markets.
The circuit breakers, which caused local stock exchanges to close early on two days last week after stocks plunged to a 7 percent limit, weren't as well designed as they could be, Nobel-prize-winning economist Joseph Stiglitz said in a Bloomberg Television interview in Shanghai.
The Shanghai Composite has tumbled 16 percent this year, the most among 93 global benchmark indexes tracked by Bloomberg, and more than twice the pace of the MSCI All-Country World Index.
Technology Selloff
The CSI 300 Index slid 5 percent on Monday. Hong Kong's Hang Seng Index dropped 2.8 percent to 19,888.50, sliding below the 20,000 level for the first time since 2013. The Hang Seng China Enterprises Index plunged 3.9 percent to trade at its cheapest levels in 14 years.
A gauge of technology companies in the CSI 300 tumbled 5.8 percent for the steepest loss among 10 industry groups, while the ChiNext index slumped 6.3 percent. Tsinghua Tongfang Co. fell by the 10 percent daily limit. Technology stocks are the worst performers during this year's rout.
The offshore yuan rose 0.65 percent to 6.6399 a dollar in Hong Kong, after declining as much as 0.37 percent. It sank as low as 6.7618 last week, within 0.4 percent of a record 6.7850 seen in September 2010.
Source: China's Stocks Extend World's Worst Selloff Amid Growth Concern - Bloomberg