By Bloomberg
An investor who used Chinese stock-index futures for hedging triggered a flash crash Tuesday, the China Financial Futures Exchange said.
Contracts on the CSI 300 Index due in June dropped by the 10 percent daily limit at 10:42 a.m. local time before recovering almost all of their losses in the same minute. The sudden drop was triggered by the unidentified trader's order for 398 contracts at current market prices. They were filled consecutively, which prompted the broader selloff, the futures exchange said in a statement.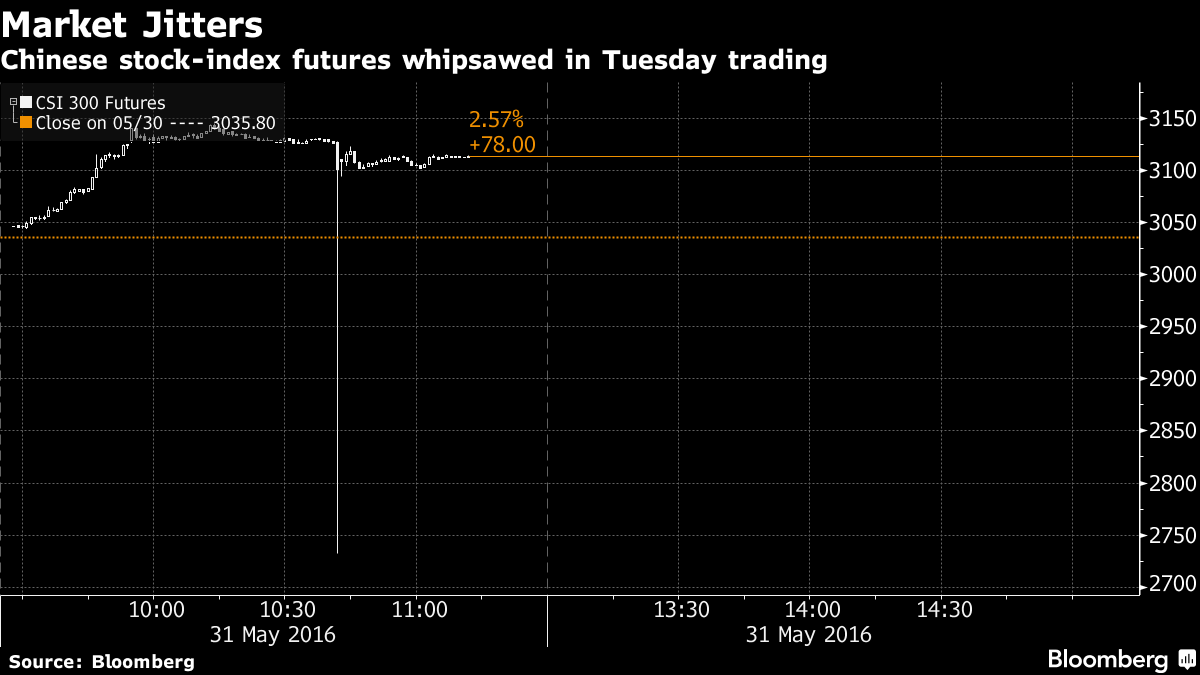 The slump follows a similar drop in Hang Seng China Enterprises Index futures on May 16 in Hong Kong, a move that heightened anxiety among investors facing slower Chinese economic growth and a weakening yuan. Volume in China's stock-index futures market, which was the world's most active as recently as July, has all but dried up after authorities clamped down on speculative trading during the nation's $5 trillion equity crash last summer. Tuesday's volatility had little impact on the underlying CSI 300, which rose 3.4 percent.
"Liquidity in the market is really thin at the moment," Fang Shisheng, Shanghai-based vice general manager at Orient Securities Futures Co., said by phone. "So the market will very likely see big swings if a big order comes in."
A hedging account is a designation for investors who use futures to offset risks from their holdings in the stock market. Such accounts are exempt from limits on opening more than 10 contracts in a day, according to CFFEX rules announced in September.
The exchange said the client's counterparties were "highly diverse," while asking investors to pay attention to market liquidity and trade with caution to avoid excessive volatility, according to the statement which was posted on its website.
More than 1,500 June contracts changed hands in that minute, the most all day, according to data compiled by Bloomberg. The transactions were valued at 1.43 billion yuan ($218 million), based on the day's settlement price.
Chinese policy makers restricted activity in the futures market last year because selling the contracts is one of the easiest ways for investors to make large wagers against stocks. Volume shrank by more than 90 percent from its peak after officials raised margin requirements, tightened position limits and started a police probe into bearish wagers.
Some international traders with negative views on Chinese stocks have shifted their wagers to offshore markets. Short interest in one of the largest Hong Kong exchange-traded funds tracking mainland shares has surged fivefold this month to its highest level in a year, according to data compiled by Markit and Bloomberg. The CSI 300 has dropped 15 percent this year, versus a 2.2 percent gain in the MSCI Emerging Markets Index.
While sudden price swings are hardly unique to Chinese exchanges, the country's markets have come under increased scrutiny in recent months as MSCI Inc. considers adding mainland shares to its international indexes. Recent measures to curb trading halts and clarify beneficial ownership rules have improved the country's odds of inclusion to 70 percent, Goldman Sachs Group Inc. analysts wrote in a report on Tuesday, which was one of the factors behind the market's rally. MSCI will announce its decision next month.
Source: China Futures Exchange Says Client's Hedging Caused Flash Crash -  Bloomberg