By Bloomberg
The speculators that traded $261 billion in Chinese commodities in a single day last week are retreating as regulators prepare to step up control of the market.
The value of futures traded across China's three biggest commodity exchanges has shrunk 42 percent since investors spent 1.7 trillion yuan last Thursday on everything from steel bars to eggs. The amount that changed hands was on a par with the entire U.S. equities market on the same day.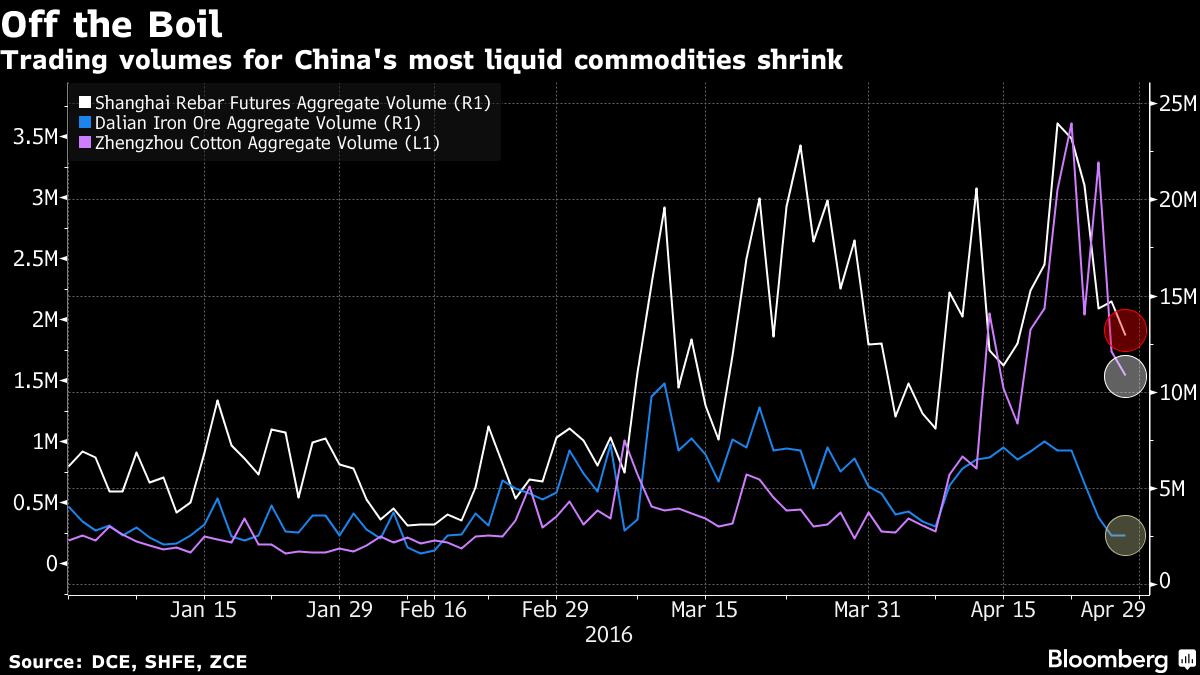 Markets in the world's biggest consumer of raw materials have been gripped by a trading frenzy that's drawn comparisons with the credit-driven stock market rally last year that preceded a $5 trillion rout. Exchanges have responded by raising margins and transaction fees to curb speculation while the securities regulator is said to have prepared measures to limit price fluctuations.
"They unleashed this torrent of regulatory moves in the name of curbing speculation, but the long-term impact on this marketplace is uncertain," Fan Qingtian, an analyst at Nanhua Futures Co., said by phone from Hangzhou. "The short-term impact is that many investors who have been caught in the middle are trying to exit their positions."
The value of transactions across contracts on the Dalian Commodities Exchange, Shanghai Futures Exchange and Zhengzhou Commodities Exchange fell to 980 billion yuan on Thursday when about 24 million contracts traded, according to data compiled by Bloomberg. That's still above levels a year ago when 16.7 million contracts changed hands worth 718 billion yuan.
Regulators Ready
Regulators including the China Securities Regulatory Commission are now ready to limit price fluctuations in commodities futures markets should there be further abnormal volatility, according to people with knowledge of matter.
Officials are concerned that swings may pose risks to the market and also encourage companies in oversupplied industries such as steel to restart idled production, jeopardizing the nation's attempts to cut industrial overcapacity, according to the people, who asked not to be identified because the information isn't public. The CSRC didn't respond to a fax seeking comment.
The China Futures Association on Thursday called for stronger risk control amid the market volatility and surging numbers of new investors while the Dalian Commodity Exchange said overnight it intended to strictly curb excessive speculation on coke and coking coal futures contracts.
Prices Cool
Goldman Sachs Group Inc. has expressed concern about the surge in speculative trading in iron ore, saying that daily volumes are now so large that they sometimes exceed annual imports. The equivalent of 41 million bales of cotton traded in Zhengzhou one day last week, the most in more than five years and enough to make almost 9 billion pairs of jeans, or at least one for every person on the planet.
China's investors have honed in on raw materials amid signs of a pickup in demand after policy makers talked up growth, added stimulus and the property market rebounded.
As trading now cools, so too are prices. Steel reinforcement bar in Shanghai has dropped 7.7 percent since a 20 percent advance in the four days through April 21, when it peaked at the highest level since September 2014 amid the heaviest trading ever. Cotton prices are also more than 7 percent off their peak last week.
"Some people are even questioning the premise of these regulatory moves," said Fan at Nanhua. "The rally in steel prices, for example, wasn't purely driven by speculation but is supported by real fundamental forces of reduced supply and increased demand."
Source: Chinese Commodity Speculators Drop Out After $261 Billion Binge - Bloomberg