By Fion Li at Bloomberg
China's yuan closed at the weakest level in four years after the central bank cut its reference rate and both exports and foreign-exchange reserves dropped more than estimated.
Overseas shipments fell for a fifth month in November and imports extended a record run of declines, according to official data on Tuesday, after figures Monday showed the nation's foreign-currency stockpile shrank to $3.44 trillion as the central bank sold dollars to prop up the yuan. The authority is looking to allow a gradual drop before the Federal Reserve increases interest rates, said Wang Ju, a Hong Kong-based currency strategist at HSBC Holdings Plc.
"It appears that Chinese authorities are allowing a managed depreciation of the yuan, which makes sense from both policy and economic perspectives," said Zhou Hao, a Singapore-based senior economist at Commerzbank AG. "China is conducting a stress test in the currency market before the Fed raises interest rates to see if there could be panic-selling."
The yuan fell 0.14 percent to 6.4172 a dollar, the weakest close since August 2011, in Shanghai, China Foreign Exchange Trade System prices show. The People's Bank of China cut its reference rate, which limits onshore moves to 2 percent on either side, by 0.15 percent to 6.4078, the lowest since Aug. 27.
The offshore currency traded in Hong Kong dropped as much as 0.32 percent to a three-month low of 6.4934, according to data compiled by Bloomberg. It was last trading at 6.4880. The yuan's 12-month non-deliverable forwards slid 0.36 percent to 6.6935.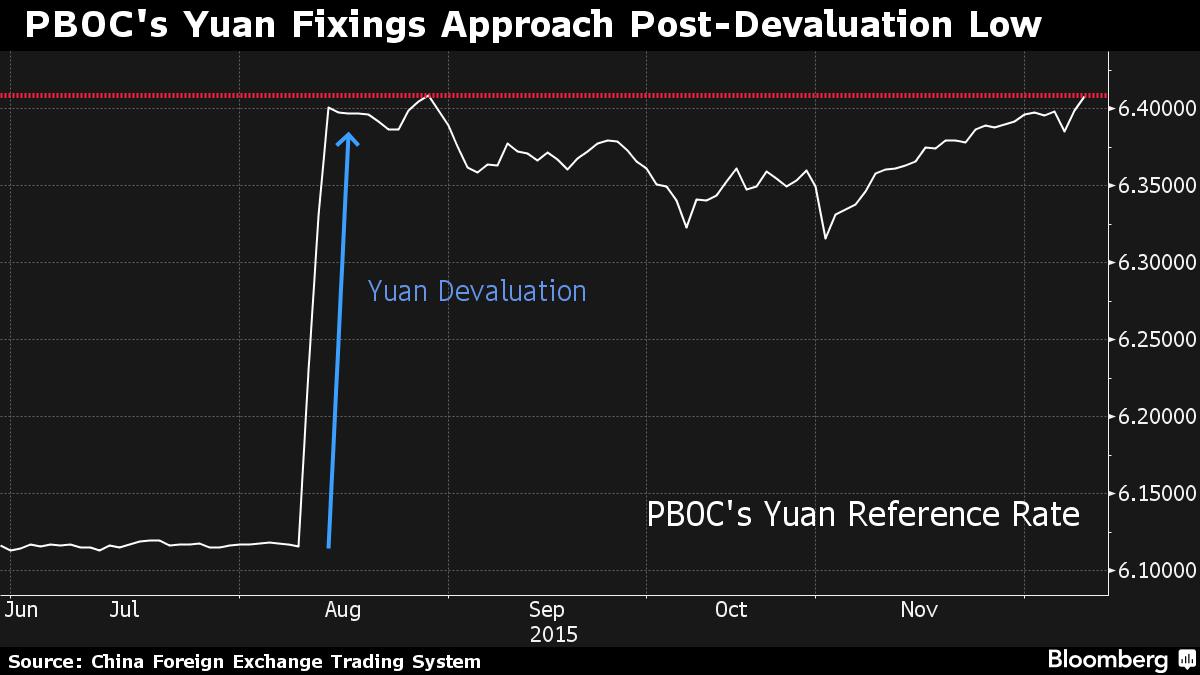 An advance in a gauge of dollar strength is weighing on emerging-market currencies on concern the Fed will raise borrowing costs next week, a move that may accelerate capital outflows from developing nations. A further weakening of the yuan's reference rate beyond 6.4085 a dollar could quickly lead to herd mentality and catalyze expectations for more depreciation, Jason Daw, Singapore-based head of Asian foreign-exchange strategy at Societe Generale SA, wrote in a note on Tuesday.
China surprised global markets on Aug. 11 by cutting the yuan's reference rate by 1.86 percent, which sent the currency into its steepest tumble in two decades and later prompted the central bank to sell dollars to support its exchange rates at home and abroad. The PBOC also revamped its fixing mechanism, saying it was giving market forces greater sway.
HSBC on Tuesday cut its end-2016 yuan forecast by 1.5 percent to 6.7 a dollar, saying it expects the exchange rate to be more volatile under the new fixing regime. Societe Generale's Daw estimates the Chinese currency will drop to 6.8.
Exports Drop
China's exports fell 3.7 percent in November in yuan terms, the customs administration said on Tuesday. That compares with a 3.6 percent decline in October and the median estimate of a 2.9 percent drop. Imports retreated 5.6 percent, leaving a trade surplus of 343.1 billion yuan ($53.5 billion). Foreign-exchange reserves declined $87 billion, more than double the estimated $33 billion drop.
Some major banks were seen selling dollars in the onshore market, according to four traders who asked not to be identified as they aren't allowed to speak on the matter publicly. PBOC Deputy Governor Yi Gang said on Dec. 1 that the long-term goal is for fewer interventions. His comments came after the International Monetary Fund's executive board decided to add the yuan to its Special Drawing Rights basket.
"Further weakness in the onshore and offshore yuan can be expected," said Commerzbank's Zhou. "A sharp drop in China's foreign-exchange reserves reflects the reality that capital outflows remain strong and the central bank continues intervention in both the onshore and offshore markets."
Source: Yuan Closes at Four-Year Low in 'Stress Test' Before Fed Liftoff - Bloomberg