By Christine Idzelis at Bloomberg
The bust in commodities that's roiling junk bonds is also taking its toll on funds that bundle corporate loans used to finance buyouts.
The riskiest slices of collateralized loan obligations raised after the financial crisis plunged 9 cents on the dollar since September to about 58 cents at the end of last month, down from 84 cents a year ago, according to JPMorgan Chase & Co. Intensifying price declines in recent months have led to one of the "more challenging years in recent memory," JPMorgan analysts Rishad Ahluwalia and Jacob Kurosaki wrote in a Dec. 11 note to clients.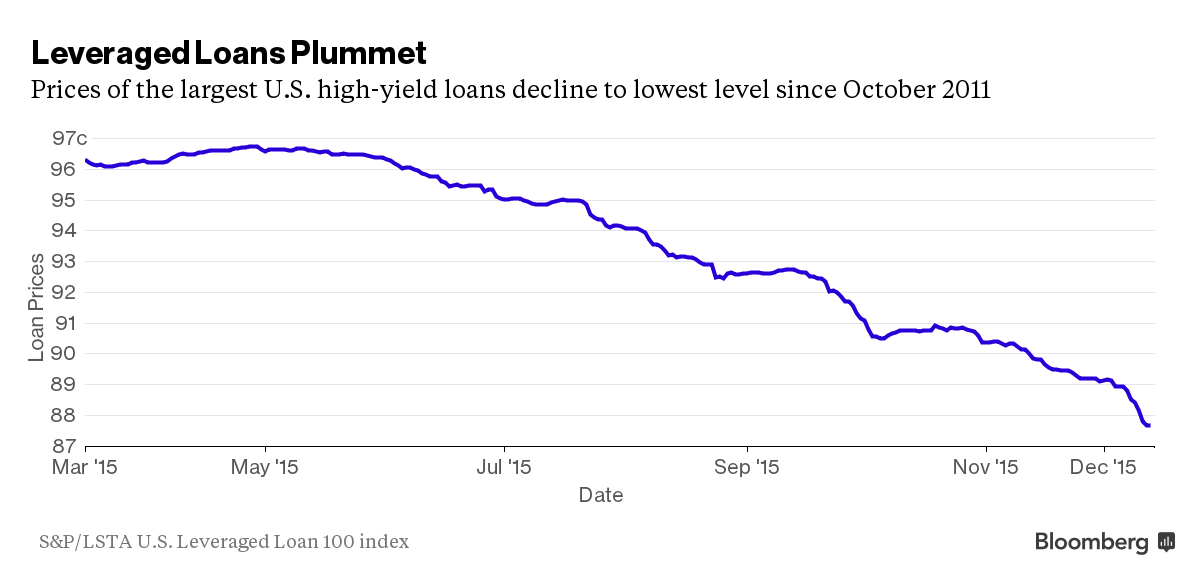 CLOs purchase high-yield, high-risk loans and bundle them into securities of varying risk and return. Investors in the lowest-ranked CLO slices, also called the equity tranche, are first in line to absorb any potential losses. The sell-off comes amid concern about the creditworthiness of speculative-grade borrowers as volatility spreads beyond the energy sector.
"The price declines are alarming and worrying," Ahluwalia, JPMorgan's head of global CLO research, said in a telephone interview.
While CLO equity holders have continued to receive cash flow payments, the price drop signals investors are worried that their returns are imperiled by "stress" in the corporate credit markets, according to London-based Ahluwalia.
Commodity Exposure
Since the end of October, loans have seen losses in all but the chemicals sector, according to JPMorgan. A typical portfolio of hardest-hit CLO managers has "above-average exposure to commodity sectors and potentially also low-priced credits in other sectors including healthcare and technology," the analysts wrote.
Oil has tumbled below $37 a barrel, down more than 65 percent from last year's peak.
Leveraged loans have lost 2.6 percent this year in the U.S. and are heading for their first annual decline since 2008, according to the Standard & Poor's/LSTA U.S. Leveraged Loan 100 index. U.S. junk bonds have tumbled about 4.7 percent, Bank of America Merrill Lynch index data show.
A retreat by CLO equity investors, who typically include hedge funds, will make it more difficult for managers to raise new investments, Ahluwalia said.
CLOs have pooled about $96 billion in the U.S. this year, according to JPMorgan. The bank has forecast issuance will drop to as low as $60 billion in 2016 due in part to risk-retention rules and an expected decline in loan supply.
"Investors are concerned about credit risk," Ahluwalia said. "December seems likely to be another challenging month."