A borrowing binge by companies globally is poised to make May one of the the busiest months ever, thanks to investors who continue to devour the relatively juicy yields on corporate debt in a negative-rate world.
Global issuance of non-financial company debt will be in excess of $236 billion by month-end, according to data compiled by Bloomberg, led by computer maker Dell Inc., which sold $20 billion of bonds to back its takeover of EMC Corp. in the year's second-biggest corporate offering. In Europe, companies sold 48.5 billion euros ($54.2 billion) making it the busiest May on record. U.S. borrowers including Johnson & Johnson and Kraft Heinz Co. did deals of more than 1 billion euros.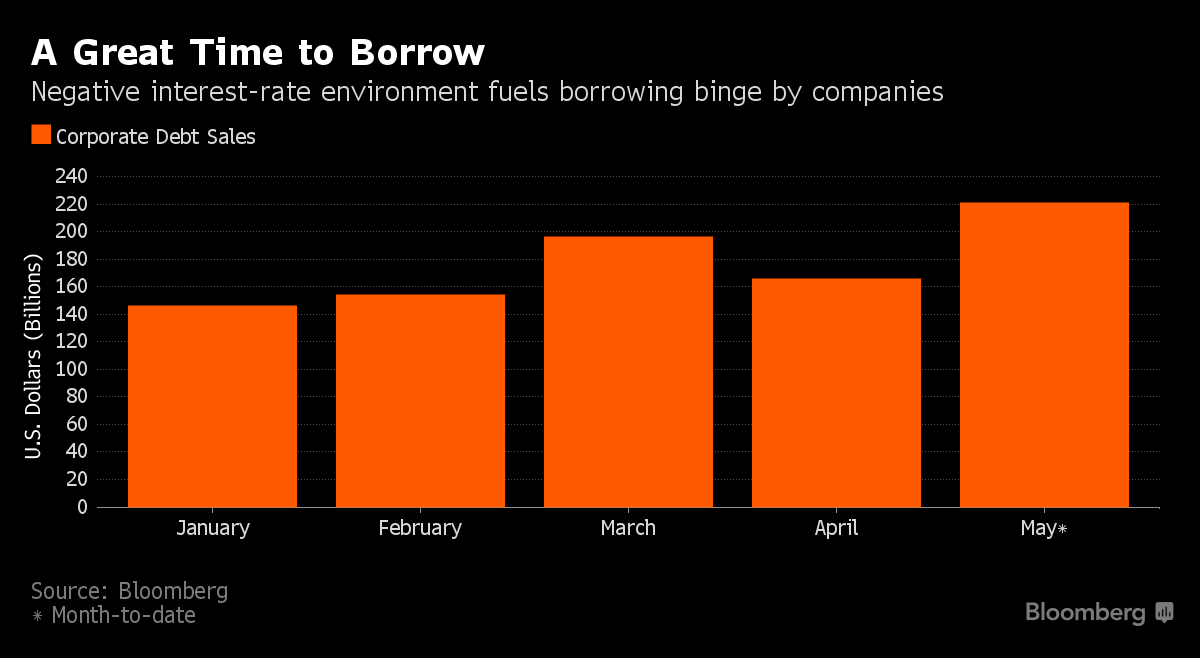 The surge in issuance is unlikely to satisfy investors who hoped to boost their income by buying company debt when easy-money monetary policies push yields on more than $9 trillion of bonds worldwide below zero. The extra yield investors demand to hold company debt globally relative to safer government bonds remains near year-to-date lows, while concessions on newly issued notes have fallen over the course of the month.
"Deals continue to be very much oversubscribed," said Travis King, head of investment-grade credit at Voya Investment Management, which oversees $203 billion. "It is very difficult to get bonds, especially in the hotter deals."
June Slowdown
For investors who placed more than $80 billion of orders for Dell's bond sale, the problem may get worse next month. Seasonal declines in issuance, combined with decisions by some companies to accelerate debt sales to May, indicate June volumes in the U.S. will be in the $75 billion to $85 billion range, about half of this month's supply, according to Bank of America Corp.
Vincent Murray, who heads U.S. fixed-income syndicate at Mizuho Securities USA in New York, said the flow of new deals kept his team kept busy all month. While bond issuance will be less than $100 billion in June, some opportunistic companies may take advantage of low rates in the weeks ahead to issue debt, he said.
"The market has remarkably weathered the storm of all this supply," Murray said. "The fact that supply hasn't affected the spreads in the marketplace may attract some more issuers that were thinking of passing."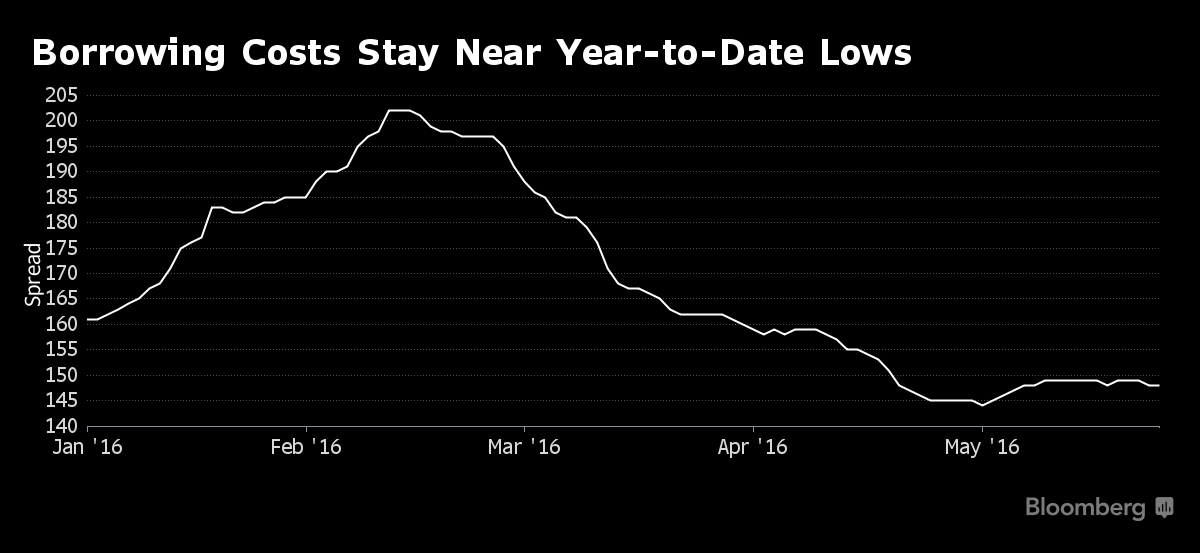 Investors demand an average yield of 1.54 percentage points more than Treasuries to hold U.S. corporate bonds, according to data compiled by Bloomberg. That's down from 2.21 percentage points in February.
"I don't think anyone thought we'd have as large a month as we did," said Anne Daley, a New York-based managing director in investment-grade syndicate at Barclays Plc. She expects June volumes to be more muted as companies avoid issuing around the month's U.S. Federal Reserve meeting and the U.K.'s referendum on leaving the European Union.
Hans Mikkelsen, head of high-grade credit strategy at Bank of America, said spreads should grind even tighter as June supply fails to keep up with demand that's been driven by foreign buyers. He said he expects foreign investors to purchase $400 to $500 billion of bonds in the U.S. this year. That's as much as 38 percent of the market if issuance matches 2015's levels.
It seems like the foreign buying story is just as strong as we expected," Mikkelsen said. "We have too much money and too few bonds, and that's not even counting the meaningful inflows we now have to bond funds and exchange-traded funds."
European Sales
In Europe, companies from outside that region will continue to issue bonds in euros, said Alex Hayes-Griffin, who ran Citigroup Inc.'s debt capital market and syndicate business in Sydney before moving to London in December to oversee cross-border funding. He expects more of those deals, especially when the European Central Bank begins buying corporate debt.
"Cross-border flows are increasing, with the U.S accounting for the bulk of the sales," Hayes-Griffin said. "We expect this to continue, particularly as the CSPP actions take effect, driving down borrowing costs even for non-eligible paper," he said referring to the ECB's bond-purchase plan.
Canadian banks have been taking advantage of low rates in the euro zone by issuing $14.9 billion of notes in the region so far this year, up from $6.41 billion for the same period last year, according to data compiled by Bloomberg.
"The corporate-bond market has a growing captive audience of investors in a world hamstrung by lower rates," said Suki Mann, founder of bond-market commentator CreditMarketDaily.com. "We have all been getting used to accepting and anticipating lower returns. "
http://www.bloomberg.com/news/articles/2016-05-26/companies-go-on-worldwide-bond-bender-with-230-billion-of-sales