By Enda Curran at Bloomberg
China and India are both grappling with escalating bad debt challenges lurking in their banking systems. Yet the two Asian economic giants are embracing markedly different strategies to clean up the mess.
Impaired loans have reached a decade high in China and are at their most in 14 years in India, posing a threat to two economies that increasingly have fueled global growth.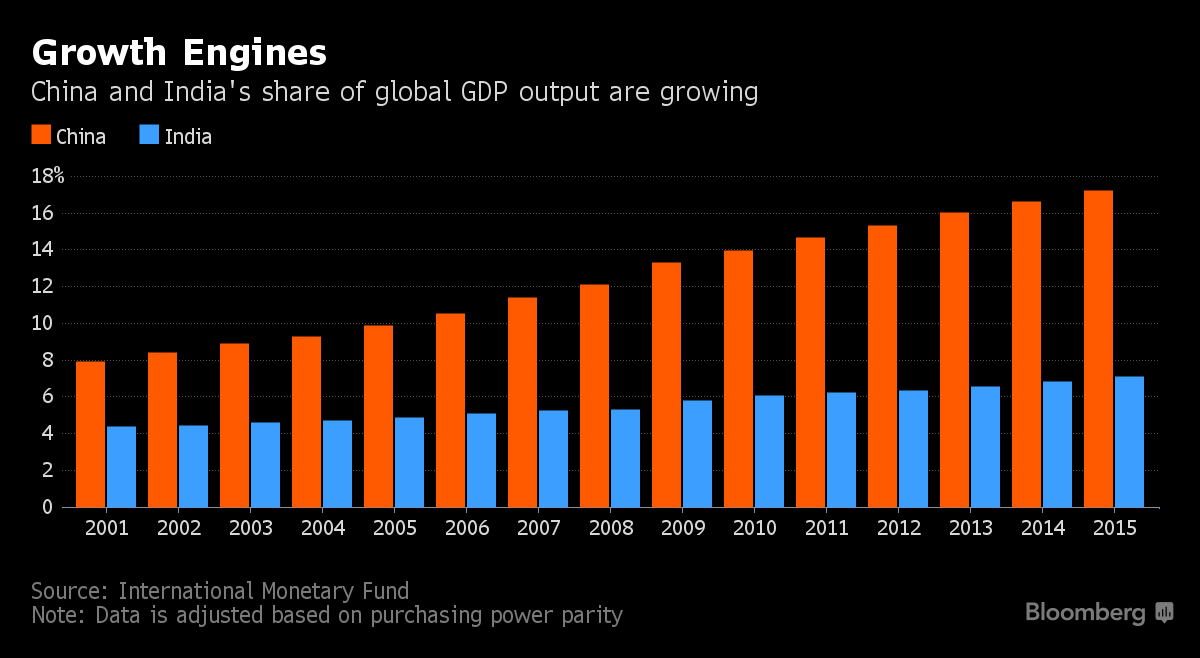 Troubled banking systems hurt economies by curbing new lending for corporate investment. Fixing the bad-loan challenges in China and India will require unpopular measures that force banks to clean up their balance sheets and absorb losses, right at a time when the two nations' exporters are coping with sluggish global demand.
Authorities in both countries have adopted sharply divergent approaches. India's central bank Governor Raghuram Rajan has set a deadline of March 2017 for banks to finish the bulk of a clean-up of their books, in a bid to revive lending in the $2 trillion economy. Shares in Indian banks have been among the region's worst performers, outside Japan, over the past year.
Rajan's Campaign
Rajan wants banks to increase their provisioning. That's because the proportion of stressed assets, including restructured and soured loans, to total credit extended surged to 11.3 percent as of the end of September. In return, the government has promised to nurse lenders back to health with billions of dollars in capital infusions.
China, in contrast, has been touting a plan that would make it easier for banks to convert as much as 1 trillion yuan ($155 billion) of soured loans into equity. Premier Li Keqiang said at the National People's Congress in March that the country may use the swaps to cut the leverage of Chinese companies and to mitigate financial risks.
The move echoes a similar program rolled out in the late-1990s during China's last big bank clean-up. But details remain sketchy, particularly on the crucial issue of how much financial support the government will provide to facilitate the debt-equity swaps. Besides China's current policy makers, ratings firms and the International Monetary Fund have cited China's debt as a key risk facing the world's second-biggest economy.
Banking Knowledge
Much of the credit for the urgency behind India's bank fix can also be attributed to Rajan and his use of the bully pulpit to put a spotlight on the area. In his first speech after taking charge at the central bank in September 2013, the former finance professor with a doctoral thesis in banking spoke about the need to clean up balance sheets. He reiterated that in another speech this February, urging lenders to go through the painful "surgery" to ensure sustainable economic growth and vowing all support from authorities.
"In India they are being out there, being vocal and trying to get people to act," Keith Pogson, a senior partner for Asia-Pacific financial services at Ernst & Young LLP.
The countries differ when it comes to transparency. China's official non-performing loan estimate of 1.67 percent of total loans, as of December 31, is well below some analysts' estimates of as much as 30 percent. An audit by the Reserve Bank of India that finished on March 31 is expected to show that the percentage of non-performing loans has climbed to 18 percent from 14 percent, according to Credit Suisse Group AG.
'Clearer Picture'
"The Indian plan seems to be more advanced than the China one as not only do we have a clearer picture of the size of the impaired loans, we also know what the tools will be to attempt a fix," said Jean-Charles Sambor, Asia-Pacific regional director at the Institute of International Finance. "In China, the situation is quite different. There are still some debates on the size of non-performing loans."
The banking challenges come at a crucial juncture for the two economies, which together contributed more than 24 percent of global gross domestic product in 2015.
Bad debt in China's banking industry jumped 51 percent last year to 1.27 trillion yuan, data from the regulator show. At the same time, China's economy grew by its slowest pace in 25 years even as policy makers juiced the system with cheap liquidity to stoke demand for credit.
To be sure, China has significant resources from which it can deploy against any banking crisis. The financial system is awash with liquidity, allowing banks to continue lending. The nation's huge current account surplus is also a key bulwark because it means banks can fund themselves domestically.
Capital Constraint
While India has eclipsed China as the world's fastest-growing major economy, analysts warn that political hurdles to reforms such as tackling the banks pose a threat to growth.
Even as lending picked up over the past six months, India's banks are constrained by scarcer capital. While the nation's current-account deficit has narrowed, foreign inflows are needed to fund the banking system.
"China, because of its current-account position, has therefore much more leeway to keep credit flowing and put a lid on non-performing assets," said Frederic Neumann, co-head of Asian economic research at HSBC Holdings Plc. "India, however, faces more immediate constraints because of its current-account deficit."
Neither of the solutions posed in China or India have met with universal support domestically. Chinese banking executives complain the debt swap won't solve their problem, while in India, where the problem is mostly at public-sector banks, there have been warnings that Rajan's push could choke growth.
Authorities in both nations need to fix the problem before it starts to have a major impact on their economies, said Eswar Prasad, a former chief of the IMF's China Division and now a professor at Cornell University in Ithaca, New York.
"There is a parallel between China and India," said Prasad. "The bullet has to be bitten."
Source: China and India Have Different Answers for Their Debt Messes - Bloomberg