By Enda Curran & James Mayger
Japan for years has been renowned for having the world's largest government debt load. No longer.
That's if you consider how the effective public borrowing burden is plunging -- by one estimate as much as the equivalent of 15 percentage points of gross domestic product a year, putting it on track toward a more manageable level.
Accounting for the Bank of Japan's unprecedented government bond buying from private investors, which some economists call "monetization" of the debt, alters the picture. Though the bond liabilities remain on the government's balance sheet, because they aren't held by the private sector any more they're effectively irrelevant, according to a number of analysts looking at the shift.
"Japan is the country where public debt in private hands is falling the fastest anywhere," said Martin Schulz, a senior economist at Fujitsu Research Institute in Tokyo.
While Japan's estimated gross government debt is now over twice the size of the economy, according to Schulz's calculations using BOJ data, the shuffle of holdings from private actors like banks and households to the central bank is having a big impact. It means debt in private hands will fall to about 100 percent of GDP in two to three years, from 177 percent just before Prime Minister Shinzo Abe took power in late 2012, he estimates.
Sales Tax
It's not like Japan is slowing down on borrowing. Abe's administration is now laying the groundwork for another burst of fiscal stimulus, which could be funded by selling bonds. He also announced Wednesday a delay to a sales tax hike planned for April 2017, rebuffing fiscal hawks who argued it was vital to raise revenue. Finance Minister Taro Aso explained Tuesday that "the biggest problem is that private consumption hasn't risen," making now not a good time to raise the levy.
Helping improve household sentiment could be one reason for making it explicit that at least some of the government bonds in the BOJ's holdings will be written off. If Japanese consumers understand they're not on the hook for all the gross debt outstanding, their mood could potentially perk up.
'Permanently Monetized'
"I do not believe that there is any credible scenario in which Japanese government debt can be repaid in the normal sense of the word repay," said Adair Turner, chairman of the Institute for New Economic Thinking and a former head of Britain's financial regulator. "It would therefore be useful to make clear to the Japanese people that the public debt does not all have to be repaid, since some of it can be permanently monetized by the Bank of Japan."
Another option touted by some economists is to have the BOJ convert a portion of its holdings into perpetual zero-interest government bonds. Japanese authorities already have embraced other unorthodox moves, including negative interest rates, central bank purchases of stocks and real-estate investment trusts and a welter of programs to bolster lending.
For now, there's no sign from policy makers that they are willing to take a step closer to full-bore debt monetization. As a veteran of the fiscal-discipline focused Ministry of Finance, BOJ Governor Haruhiko Kuroda would probably never endorse such a plan, according to Masaaki Kanno, chief Japan economist at JPMorgan Chase & Co. Kuroda has a little less than two years left in his current term.
Potential Harm
"If the objective is to raise inflation and inflation expectations, it's possible it could work," Kanno said. Debt monetization could spur foreign investors to drive down the yen, as happened with Kuroda's first easing, leading to a burst in inflation, he said. "But how would it affect the endgame -- that's my big concern," said Kanno, who used to work at the BOJ. "It's a suicide policy."
By purposefully undercutting the credibility of the government and the central bank, authorities would run the danger of sending borrowing costs soaring -- especially once inflation had reached target and the BOJ shifted to tightening policy, Kanno said.
The case of 2003 offers a warning of how quickly Japanese government bond yields can jump when traders begin to anticipate an exit from stimulus. Ten-year government bond yields tripled within a few months. BOJ board member Takehiro Sato Thursday said private buyers' purchases of super-long dated debt leave them with vulnerabilities similar to 2003.
Japan is already in uncharted fiscal territory, having started ramping up government spending in the wake of burst stock and real estate asset bubbles in the early 1990s. With the scale of BOJ purchases so large -- amounting to the equivalent of more than 90 percent of newly issued government debt each month -- some already see the central bank as financing spending.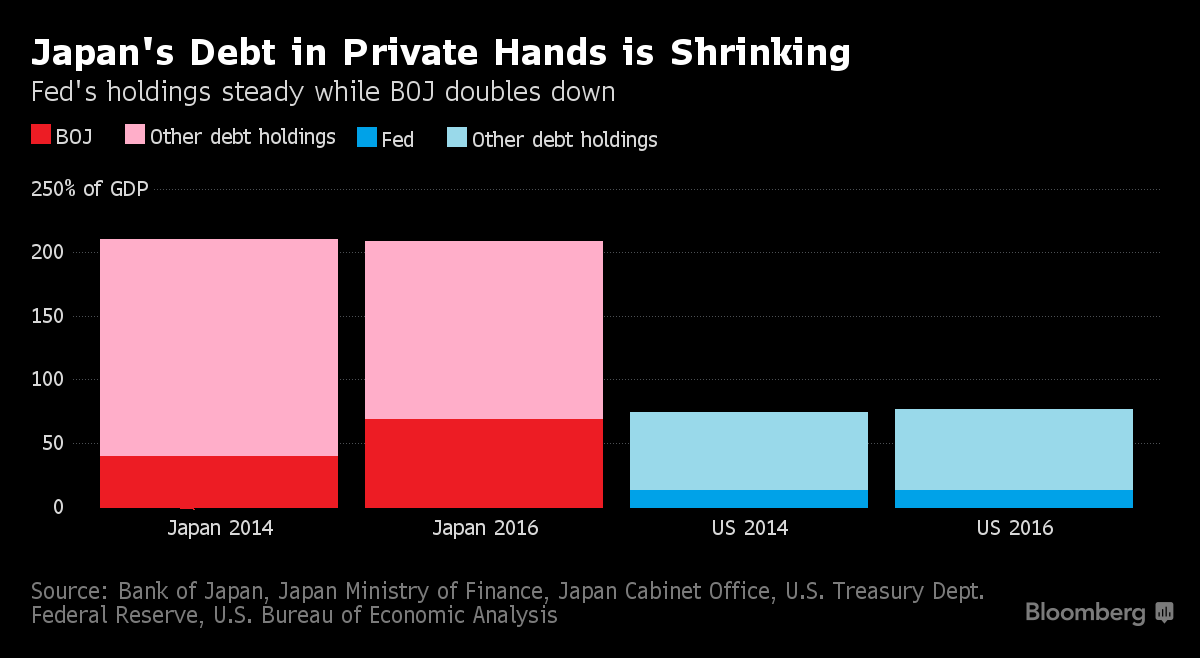 Because the central bank is playing an increased role in financing the government's stimulus, the nation is edging closer to embracing a strategy known as deploying "helicopter money" after a 1969 proposal from Nobel laureate Milton Friedman.
The implications of an explicit monetization strategy -- through a write-off or conversion of some BOJ holdings to perpetual bonds -- for Japan's sovereign rating aren't crystal clear.
Changing the nature of the BOJ's holdings of government debt would affect perceptions of policy predictability, said Kim Eng Tan, senior director of Asia-Pacific sovereign ratings at S&P Global Ratings. "This could cause savers to withdraw part of their funds from the Japanese financial system and cause financing costs to rise. In this scenario, the economic drag could weaken the government's credit metrics."
Andrew Colquhoun, the head of sovereign rankings for the region at Fitch Ratings in Hong Kong, also said that investor confidence could be rattled and the government's credit rating could come under pressure.
Rating Question
"However, it may well be that if we get to a situation where such policies seem to be worth the risk, we might well be seeing a broader deterioration in economic and fiscal conditions that would be adding negative pressure anyway," he said.
Whichever scenario plays out, the chorus of investors and Japan watchers talking of an endgame for the nation's massive debt mountain is growing louder.
Billionaire bond investor Bill Gross, one of the best-known and longest-serving bond managers, chimed in last month.
"At some point Japan will basically buy up all its debt and the central bank will forgive the Treasury and try to move forward with that," Gross said in an interview with Bloomberg's Erik Schatzker. "I see no other way out for Japan."
Source: Japan's Debt Burden is Quietly Falling the Most in the World - Bloomberg