by Carolina Millan and Sridhar Natarajan at Bloomberg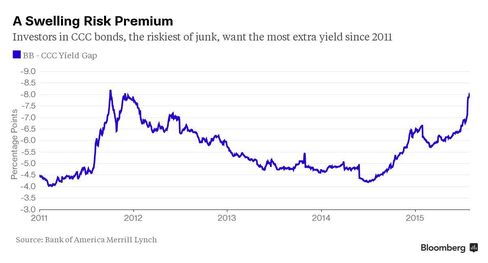 Debt investors are abandoning the bottom rungs of the speculative-grade market as commodity prices at their lowest level in more than a decade pummel borrowers in the energy and mining industries.
The yield gap between higher- and lower-rated junk bonds expanded to the widest in more than three years, with the large number of energy and mining companies ranked CCC and lower -- the riskiest bets -- driving the dichotomy, said Martin Fridson, a money manager at Lehmann Livian Fridson Advisors LLC. When removing those companies, the yield on CCC bonds barely changed in July, creating "an industry effect in disguise," he said.
"When you see the index, you think you're buying all the CCCs cheaper," New York-based Fridson said. "But outside of energy and metals, which look too scary to buy, the others are trading where they were."
The yield gap between BB-rated bonds -- the top of the junk pile -- and those ranked CCC and lower expanded to 8.1 percentage points, the most since October 2011, according to Bank of America Merrill Lynch index data. The yield premium for energy companies rated junk versus all high-yielders expanded to as much as 3.66 percentage points last week, the most on record.
The gaps have widened as the price of oil plunged by more than 50 percent in the past year.
'Troublesome Environment'
The plight of these high-yield energy companies may next be seen in default rates, which could reach 25 percent in the next year in the B and CCC categories, assuming current commodity prices, according to a UBS Group AG research report Thursday.
"In a troublesome environment, there's going to be a few companies that fall off the wagon," said Jody Lurie, a corporate-credit analyst at Janney Montgomery Scott LLC in Philadelphia. "Their ability to withstand such pressures in a longer period of time is low compared to the higher-rated peers."
The crude drop has caused losses for investors who just a few months ago bought bonds from petroleum companies such as Energy XXI Ltd. and Comstock Resources Inc. that flooded the market. The yield gap reached its narrowest point this year March 3 after oil prices recovered in February.
"Spreads got insanely tight because of that reach for yield a lot of people were going for regardless of ratings," said Zach Jonson, a money manager at Icon Advisers Inc. in Greenwood Village, Colorado.
Now, with oil prices mired by a global glut, investors are intent on moving toward the lower-risk level of higher-rated junk bonds.
"We remain allocated in a much more defensive nature within high-yield bonds," Jonson said.
Source: Debt Traders Flee Junkyard's Dogs as Yield Gap Widens on Oil - Bloomberg Business