Maria Levitov at Bloomberg
Emerging-market currencies weakened to an all-time low and stocks fell as investors grappled with the prospect of higher U.S. interest rates. Malaysia's ringgit tumbled to a 17-year low and a bomb attack in Turkey sent the lira plunging to a record.
A gauge tracking 20 developing-nation currencies declined for a fifth straight day, losing 0.5 percent, as the ringgit depreciated 1.6 percent and the lira slid 0.7 percent. Investors have dumped riskier assets since China's shock devaluation almost a month ago worsened the outlook for trade with the world's second-largest economy, while also making a Federal Reserve interest-rate increase this month less certain.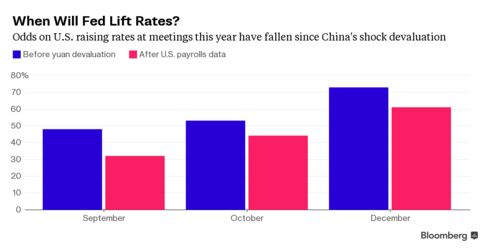 "The momentum remains weak ahead of the Fed meeting" Sept. 16-17, said Martial Godet, the head of Europe and emerging-market equities and derivatives strategy at BNP Paribas SA in Paris, who recommends avoiding energy and commodity producers, while focusing on Taiwan, South Korea, Poland and, for those prone to taking risk, China. "With most markets already losing money in 2015, the appetite for risk is low."
While small-cap stocks in Shanghai rose after a People's Bank of China official said the rout that wiped out $5 trillion of the nation's equities was nearing an end, China's biggest companies plunged on speculation state-backed funds had stopped buying. The Borsa Istanbul 100 Index retreated for a second day as President Recep Tayyip Erdogan vowed to escalate the government's campaign against Kurdish separatists after a roadside bomb killed Turkish soldiers. In Mexico, food company Grupo Lala SAB led gains on the benchmark IPC index, which closed little changed.
Falling Valuations
The MSCI Emerging Markets Index decreased 1.3 percent to 778.18 on Monday, pushing its price-to-earnings ratio for the next 12 months to 10.3 times, a 31 percent discount to developed-country stocks on the MSCI World Index. The 2.8 percent slump in the Karachi Stock Exchange KSE100 Index led declines in emerging markets, while shares in Saudi Arabia, Nigeria and Kuwait gained at least 0.8 percent. Trading in Brazil, Canada and the U.S. was closed for holidays.
Colombian lender Banco Davivienda SA led gains among members of the MSCI Latin America index, rising 2.5 percent. Its compatriot, state-controlled oil company Ecopetrol SA, posted the biggest loss as the price of crude fell.
The odds that the Fed will raise rates for the first time since 2006 this month rose to 32 percent Monday from 30 percent Friday after a report showed U.S. unemployment fell to the lowest level since April 2008. The likelihood was 48 percent Aug. 10, the day before the yuan devaluation.
Buying Opportunities
"While concerns over the Fed rate can lead to outflows from emerging markets, the sooner they do it the better as it will remove huge uncertainties," said Jeffrosenberg Tan, a money manager at PT Sinarmas Asset Management. "Once the uncertainties about the rate are gone, it would be a good time to buy stocks."
All 10 of the MSCI Emerging Markets Index's industry gauges dropped Monday, led by telecommunications and health-care companies. Among currencies, the South Korean won and Indonesian rupee weakened at least 0.7 percent. Colombia's local bonds fell to a four-year low after higher-than-expected inflation.
As Brent crude declined for a second straight day, the ruble dropped 0.9 percent. The Russian currency has lost 19 percent of its value in the past three months, the most among 24 developing countries.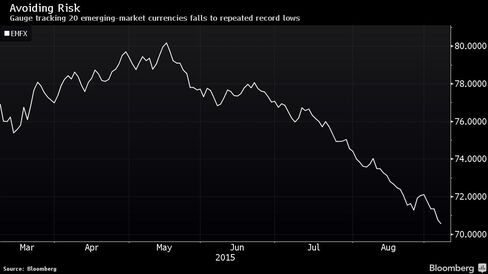 "If markets would sell off further, we would add some emerging-market risk," said Michael Ganske, who helps manage about $4.5 billion as the head of emerging markets at Rogge Global Partners Plc in London. Ganske said he favors the Indian rupee, Mexican peso and ruble, while staying away from the Malaysian ringgit, Taiwan dollar and Thai baht.
The ChiNext gauge of smaller Chinese companies climbed 2.1 percent from a seven-month low. Officials attending the Group of 20 gathering in Turkey over the weekend predicted stabilization in the currency and stock markets in the coming weeks. People's Bank of China Governor Zhou Xiaochuan said state intervention prevented systemic risk and stopped a free-fall.
PT Perusahaan Gas Negara sank 11 percent in Jakarta to the lowest level since September 2011 on a government plan to lower industrial-gas prices.
Source: Emerging Currencies Drop as Ambiguity on Fed Timing Hurts Stocks - Bloomberg Business