By Kevin Buckland, Shigeki Nozawa, & Kazumi Miura
When the Bank of Japan unexpectedly announced negative interest-rate policies in January, the first thing Tomomi Sato did was withdraw a 10th of the money in her bank account and stash it at home.
"It made me think of bank runs and shutdowns like I've heard there were in the past," said the 30-something assistant to manga comic artists, who commutes for two hours from a small apartment in Tokyo's suburbs. "Eventually, I feel like they'll start charging me to keep my money there. When I think about that, I begin to worry."
Sato is emblematic of a challenge facing the central bank that rates below zero only deepened: average Japanese aren't feeling the benefits of more than three years of extraordinary monetary stimulus, and cash withdrawals suggest they are losing faith. About 40 trillion yen ($360 billion) has piled up in homes across Japan, according to a Dai-ichi Life Research Institute estimate -- equivalent to about 8 percent of gross domestic product. That's money banks could be lending on or using to buy bonds.
Mattress Money
"So long as Japan has what can broadly be categorized as a zero interest-rate policy, the amount will continue to grow," said Hideo Kumano, the Tokyo-based chief economist at Dai-ichi Life and a former BOJ official. "What it means for 40 trillion yen to be sleeping under mattresses is that the deflationary mindset is deeply rooted, and Japanese have become hyper-sensitive to risk."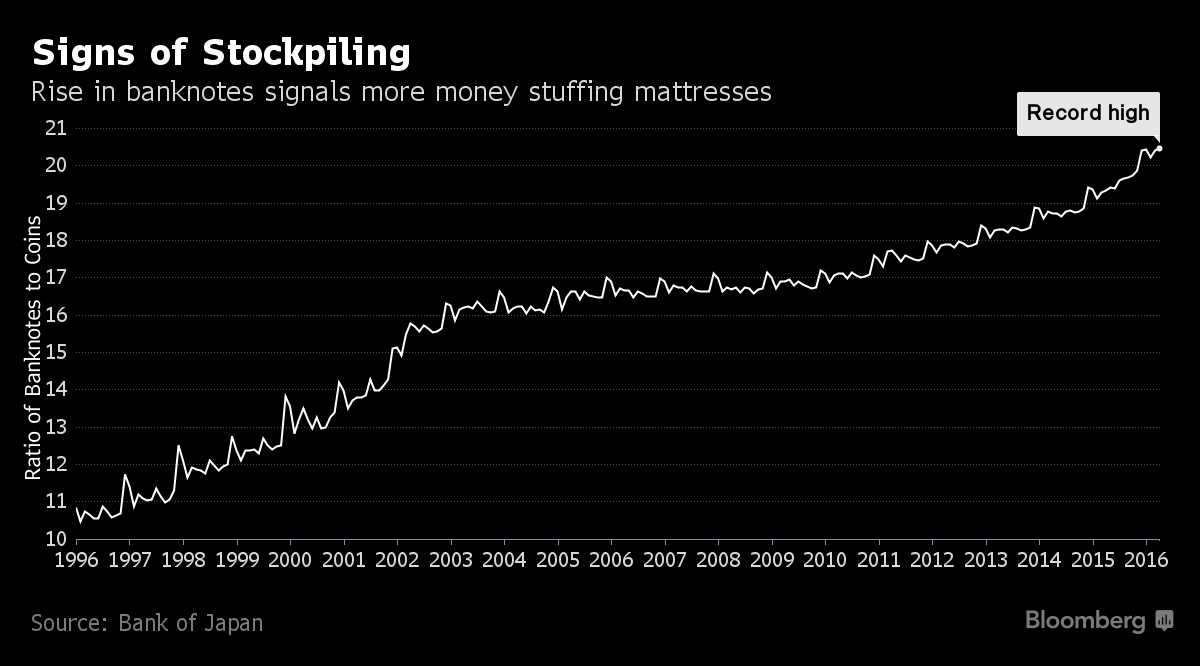 Both BOJ Governor Haruhiko Kuroda and Prime Minister Shinzo Abe have highlighted the need to reinvigorate inflation expectations to spur consumption and investment. Meeting those goals has been complicated by an almost 20 percent plunge in Japanese stocks over the past year. Negative yields on Japanese government bonds maturing in up to a decade have also spurred the Ministry of Finance to cancel a string of sales aimed at retail investors.
Financially, there's little that separates the futon from a savings account that pays 0.001 percent annual interest. And perceptions that a negative deposit rate could become a tax on savers has exacerbated the migration of funds. Sales of safes in March were the highest in government data going back five years, and paper money exceeded coins in circulation by the most last month in BOJ figures to 1970.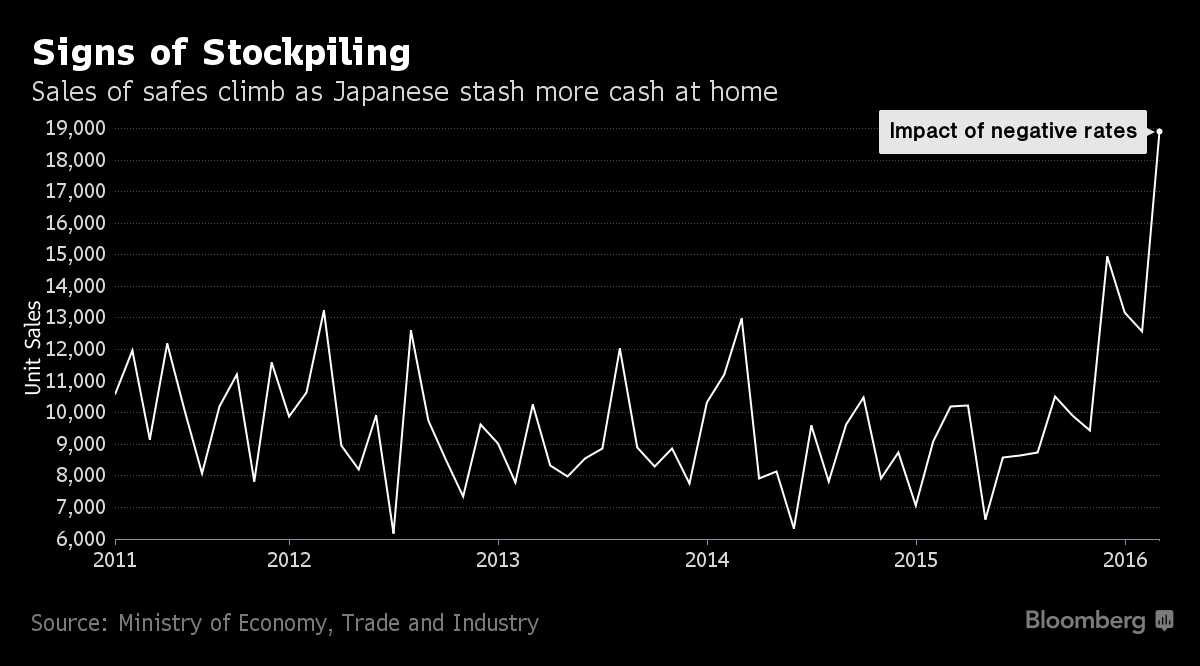 The benchmark 10-year JGB yield has declined 38.5 basis points this year to minus 0.115 percent as of Tuesday in Tokyo. The Ministry of Finance's sale two-year notes on Tuesday generated a bid-to-cover ratio of 5.52, the highest since December 2014.
BOJ Deputy Governor Hiroshi Nakaso said this month officials need to better explain the decision to adopt a negative deposit rate, amid some harsher criticism than the central bank had expected.
The monetary authority's website began carrying a statement in March aimed at the layman entitled "Understand Negative Rates in 5 Minutes" -- a Socratic dialogue between a hypothetical questioner and a central bank representative. Asked if negative rates would be bad for consumption, the representative says, "If you'd put 1 million yen in the bank for a year, you would have got 200 yen in interest. Now, it's 10 yen. This isn't enough to damage consumption, now, is it?"
Household spending dropped again in April after recording a 5.3 percent slump in March, the most in a year. The proportion of people expecting prices to be higher in a year from now shrank to the lowest in three years in the quarter, according to a BOJsurvey.
While policy makers had some initial success in stoking inflation toward their 2 percent target, consumer prices have been stagnant for more than a year. Monetary stimulus has also failed to ignite wage pressure, with average cash earnings never rising as much as 1 percent in any month since 1997.
"I can't picture that the economy is getting any better," the manga assistant Sato said. "Abenomics feels like it's becoming more and more a word of the past."
Source: Manga Worker Stuffs Cash in Futon to Flee Japan's Negative Rates - Bloomberg