By Cynthia Kim at Bloomberg
South Korea's factory output missed estimates in November as poor exports due to weak global demand continue to weigh on production in Asia's fourth-largest economy.
Industrial production fell 0.3 percent from a year earlier, Statistics Korea said. Output fell 2.1 percent from October, the most since January this year. Exports declined in the first 11 months of this year and that trend is expected to continue, with an almost 12 percent drop forecast for this month.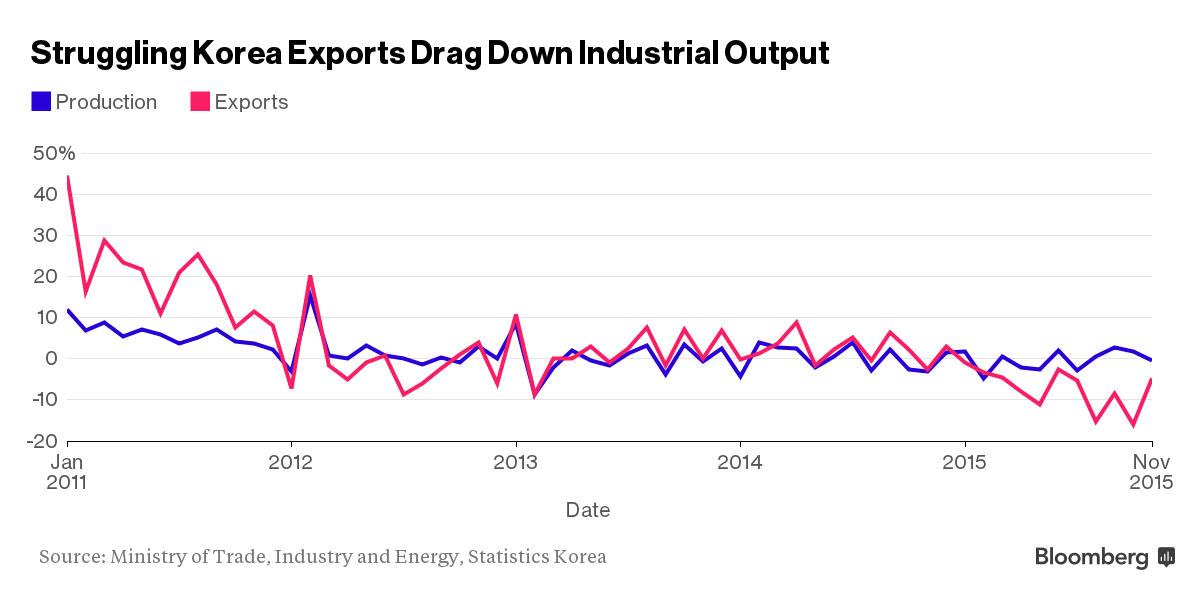 While the economy is growing due to improving domestic demand, Wednesday's data shows that softness in global demand is constraining manufacturers, and low oil prices are hurting Korean refiners. Growth in China, Korea's largest trading partner, is forecast to slow again in 2016, adding to headwinds for the export-dependent nation.
"Companies aren't keen to increase production when overseas sales are poor and overall inventory remains high," said Ma Ju Ok, an economist at Kiwoom Securities Co. in Seoul. "Real recovery will come only from the second quarter when companies have smaller stockpiles and exports increase."
Poor overseas sales add to concern that improving private consumption will end as the effects of extra government spending and consumption tax cuts fade. President Park Geun Hye said the nation must raise economic growth to the 3 percent level in 2016 and Korea needs measures to prevent consumer spending from falling.
"Both industrial production and exports will see growth next year with better global demand, as they go hand-in-hand," Yoon In Dae, a Finance Ministry official said after the data was released.
Source: S. Korea's Factory Output Unexpectedly Falls on Export Decline - Bloomberg