By Joe Carroll at Bloomberg
Exxon Mobil Corp., one of three U.S. companies with Standard & Poor's highest rating, is facing its first downgrade in 86 years as the worst crude-market collapse in a generation strangles oil producers of cash.
For Exxon, that would be a historic event: the global explorer that traces its roots to the 19th century and John D. Rockefeller's Standard Oil Trust has been rated AAA by S&P since 1930. The oil giant was placed on credit watch with negative implications because its credit measures probably will remain weak through 2018, S&P said Tuesday.
"We get value from our AAA credit rating in our business," Exxon's Vice President of Investor Relations Jeffrey Woodbury said during a conference call with analysts before the credit review was announced. "Whether it be access to financial markets or access to resources, there is a benefit that we get from it, and we see it as being important."
The world's five largest oil explorers had their credit ratings cut or threatened with downgrade as the market crash undermines their ability to pay debts, dividends and rig leases. For most of the oil industry, slashing drilling budgets and other cost-cutting "are insufficient to stem the meaningful deterioration expected in credit measures over the next few years," S&P said.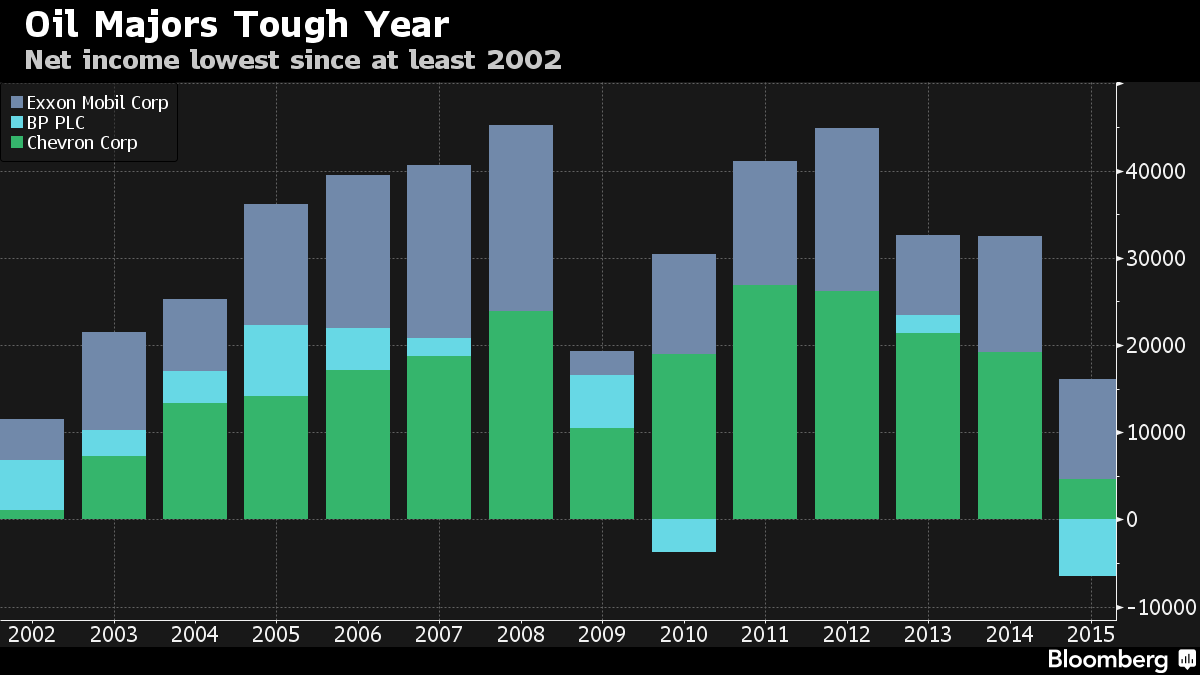 In a sweeping review that also included many of the top U.S. shale drillers, Chevron Corp. had its rating cut by S&P, to AA- from AA, for the first time in almost 30 years, a day after Royal Dutch Shell Plc's rating was reduced to the lowest since S&P began coverage in 1990. Exxon, Total SA and BP Plc may be next, the rating company said.
S&P said it'll decide whether to downgrade Irving, Texas-based Exxon within 90 days. If it does cut the rating, it'll probably only be by a single notch, S&P said.
Shell's long-term credit rating was reduced on Monday by one level to A+, the fifth-highest investment grade, from AA-, and was placed on watch for another possible reduction, the ratings company said Tuesday. S&P also assigned negative outlooks to BP, Eni SpA, Repsol SA, Statoil ASA and Total.
Among smaller producers, Hess Corp. was lowered to BBB- from BBB and EOG Resources Corp. was also cut. Continental Resources Inc.and Southwestern Energy Co. were shunted to junk status, S&P said. Apache Corp., Devon Energy Corp. and Marathon Oil Corp. were among others that were downgraded.
Cash-Strapped
The ratings cuts were widely anticipated by oil executives as crude plummeted to prices not seen since the early 2000s, starving companies of cash needed to fund drilling, pay dividends and service debts. ConocoPhillips, the third-largest U.S. oil explorer by market value, is also under review for possible downgrading, S&P said.
Continental and Southwestern have combined outstanding debts of $12.1 billion, according to data compiled by Bloomberg.
The only other U.S. corporate issuers with AAA ratings aside from Exxon are Microsoft Corp. and Johnson & Johnson.
"The rating agencies need to do what the rating agencies need to do, and they have conservative oil price scenarios out there, and I think that's understandable," Chevron Chief Financial Officer Patricia Yarrington said during a conference call with analysts on Jan. 29. "I don't see it materially impacting our cost of funds or materially impacting our ability to secure financing."
Source: Exxon Faces First Downgrade Since Depression as Oil Rout Worsens - Bloomberg