By Sebastian Boyd at Bloomberg
Latin American currencies led by the Brazilian real fell to their lowest on record, posting the steepest two-day decline in two years, after Chinese economic data showed the world's second-biggest economy is slowing.
The Brazilian central bank's offer of $4 billion in foreign-exchange credit lines wasn't enough to keep the real from tumbling 2.9 percent to a fresh record low as of 4:40 p.m. in New York. TheChilean peso breached 700 per dollar for the second time in a decade, falling 0.9 percent to 703.88 per dollar. Mexico's peso slide 1.4 percent to 17.1227 per dollar even after the central bank sold dollars for a third straight day. The Colombian peso has weakened 4.8 percent in the past week, its steepest decline since 2009.
Emerging-market currencies worldwide sold off on the Chinese data, and declines were the biggest in Latin America, where the largest economies are dependent on the Asian nation's demand for their commodity exports. China, the world's second-largesteconomy, is likely to cut its target for economic growth next year to between 6.5 and 7 percent, according to economists in a Bloomberg survey. The lack of clarity on Chinese growth and the ongoing slump in commodities makes it hard to call a bottom for Latin American currencies.
"It is a fool's game trying to call a correction point," said Alejandro Cuadrado, the head of Latin American currency strategy at Banco Bilbao Vizcaya Argentaria SA. "The situation is a deceleration and an adjustment to a new reality."
China is Brazil's top trading partner. Exports to China were equivalent to 8 percent of Chile's gross domestic product last year, while Peru's shipments to the Asian nation totaled 4 percent of its economy.
Inflation expectations surged as currencies slumped. Two-year break-even inflation in Brazil climbed 0.75 percentage point, the most in two years, to 9.6 percent. In Chile, the equivalent measure rose 0.1 percentage point to 3.56 percent, the highest since 2012.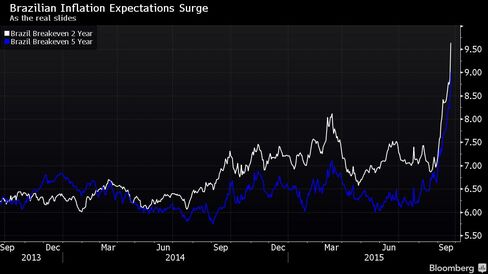 Source: Latin American Currencies Lead Emerging-Market Selloff on China - Bloomberg Business