By Swansy Afonso at Bloomberg
China's plan to cut its annual crude steel capacity by about 13 percent by 2020 won't be enough to revive an industry reeling under a slowdown in the world's second-biggest economy, a top official at India's third-biggest producer said.
"There's excess surplus, so they have to cut production," Seshagiri Rao, joint managing director of JSW Steel Ltd. and chief financial officer for the group, said in an interview in Mumbai. "Almost every country has taken one step or the other to close its borders, but the import threat continues."
A global glut has roiled steelmakers from ArcelorMittal, the world's biggest, to Tata Steel Ltd. and JSW in India as demand for the alloy in China cools at a pace faster than the decline in production, spurring record exports. The European Union last week introduced anti-dumping duties on certain products from China and Russia for unfairly undercutting local makers, while India earlier this month imposed minimum import prices.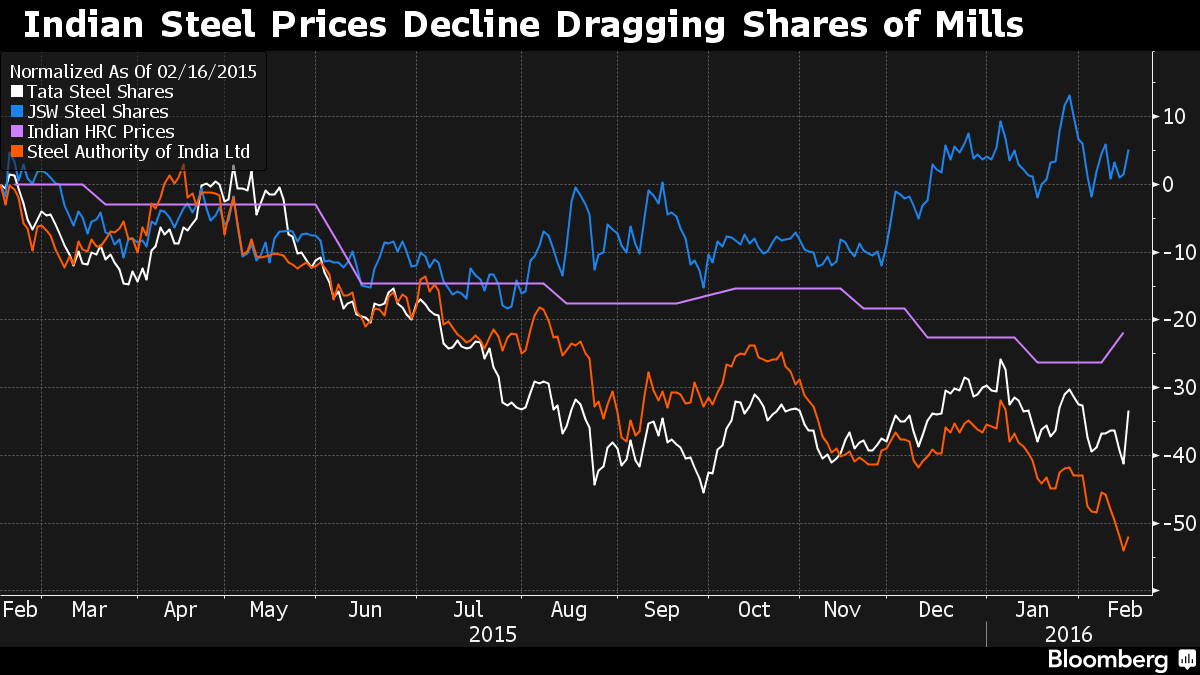 Earlier this month, China published a plan on its State Council's website to trim the size of its annual crude steel capacity by as much as 150 million metric tons by 2020, or about 13 percent of existing capacity, which the China Iron & Steel Association estimates at 1.2 billion tons. China's output, which accounts for about half the world's production, fell last year for the first time since 1981.
Big Market
"The production cuts announced may not have any impact unless we see an actual drop every month," said Goutam Chakraborty, an analyst at Mumbai-based brokerage Emkay Global Financial Services. "Ultimately, if China wants to export, they will. India is a big market and demand is actually growing."
India's consumption rose 3 percent last financial year and demand is estimated to grow between 4 percent and 5 percent annually, Rao said. While China's overseas shipmentsdropped in January from a month earlier, the relief may be short-lived as the decline may have been the result of slowing production before the Lunar New Year holidays, when manufacturing typically eases, according to Shenhua Futures Co.
India's biggest maker Tata Steel, which swung to a loss of $313 million in the quarter through December, said on Feb. 4 that imports from China, Russia, South Korea and Japan have surged to all-time highs on the back of lack-luster domestic demand, excess capacity and competitive currencies. They are "distorting the demand-supply balance in many regions," it said in a statement.
Record Loss
ArcelorMittal, which twice reduced its profit forecast last year, said on Feb. 5 that prices deteriorated significantly as a result of excess capacity in China. JSW Steel reportedrecord quarterly loss in the October-December period.
Prices of hot-rolled coils, the benchmark, traded at 26,750 rupees a ton in India as of Friday, according to Metal Bulletin data. A 26 percent slump in 2015, the most since at least 2008, has dragged down the shares of local steelmakers. Tata Steel has dropped 34 percent in the past year, while state-owned Steel Authority of India Ltd. tumbled 53 percent. Luxembourg-based ArcelorMittal plunged 70 percent in the same period. Rao's JSW Steel advanced 4.3 percent, outperforming rivals and the benchmark index.
Fitch Ratings said last week that any meaningful improvement in profitability of Indian steel mills looks unlikely before 2017. The Indian Steel Association on Tuesday sought a bailout package from the government, saying the dumping from overseas is impairing the industry's ability to service debt.
Under Check
The Indian government set floor prices for steel imports earlier this month, making imported hot-rolled coils, for instance, at least 19 percent more expensive than local produce. After raising import taxes twice last year, it also imposed a safeguard and an anti-dumping duty. Though these measures helped imports to ease for a third month in January, shipments were still 24 percent higher in the 10 months through January.
Such steps are likely to moderate purchases and allow domestic producers to boost production, Rao said. Incrementally, 10 million tons of additional capacity will come in annually, while demand will grow at 4 percent, he said. "So, there will be intense competition within India and that will keep the prices under check," he said.
While mills have the room to raise prices by $50-$70 a ton after the minimum import prices were implemented, companies may be deterred by weak demand and competition to improve capacity utilization, Fitch said in a note on Feb. 11. Domestic production may rise 3 percent to 4 percent as imports slide, it said.
Rao expects imports into India to decline to about 6 million tons in the financial year starting April 1, from a record of 11-12 million tons this year. Exports from India have also been dwindling and the excess products will also have to be sold in local markets, pressuring prices further, he said.
"Unless China shifts to consumption from exports, the changes will take some time," Rao said.
Source: China Must Cut Steel Output Deeper and Faster, India's JSW Says - Bloomberg