By Cordell Eddings, Michelle Davis & Fion Li at Bloomberg
When credit markets were booming, investors snatched up longer-term bonds from energy and mining companies, among others. They may have made a big mistake.
Some $117 billion of the securities maturing in 10 years or more could be cut to junk by the end of 2017, strategists at UBS Group AG estimate, more than twice the amount currently outstanding in that market.
Holding a bond that loses its investment-grade rating is not usually fun. Owning long-term bonds that get cut to junk could be especially painful for investors -- many of the current holders will have to sell them, and few junk bond portfolio managers want to take the risk of lending to speculative-grade borrowers for more than a decade.
In other words, prices on these bonds could fall even more than they already have.
"It's going to be a massive issue to contend with," said Bank of America Corp. strategist Michael Contopoulos.
Going Long
Investors have been happy to buy long-term debt from all kinds of companies for years. The Federal Reserve kept interest rates at essentially zero from December 2008 through December 2015, spurring investors to take extra risk to earn any sort of meaningful return on bonds.
The extra yield that investors could earn from buying longer-term bonds could be material. In 2013, mining company Freeport-McMoRan Copper & Gold Inc. sold $6.5 billion of bonds to help fund an acquisition of an energy company. Investors that bought the company's 30-year bonds earned an extra 3.1 percentage points of interest compared with those who bought five-year notes.
Companies loved the bonds too-- the securities allowed them to lock in low interest rates for years. The average maturity of bonds sold in 2015 was 16.9 years, or double the average of 2005, according to data from the Securities Industry and Financial Markets Association.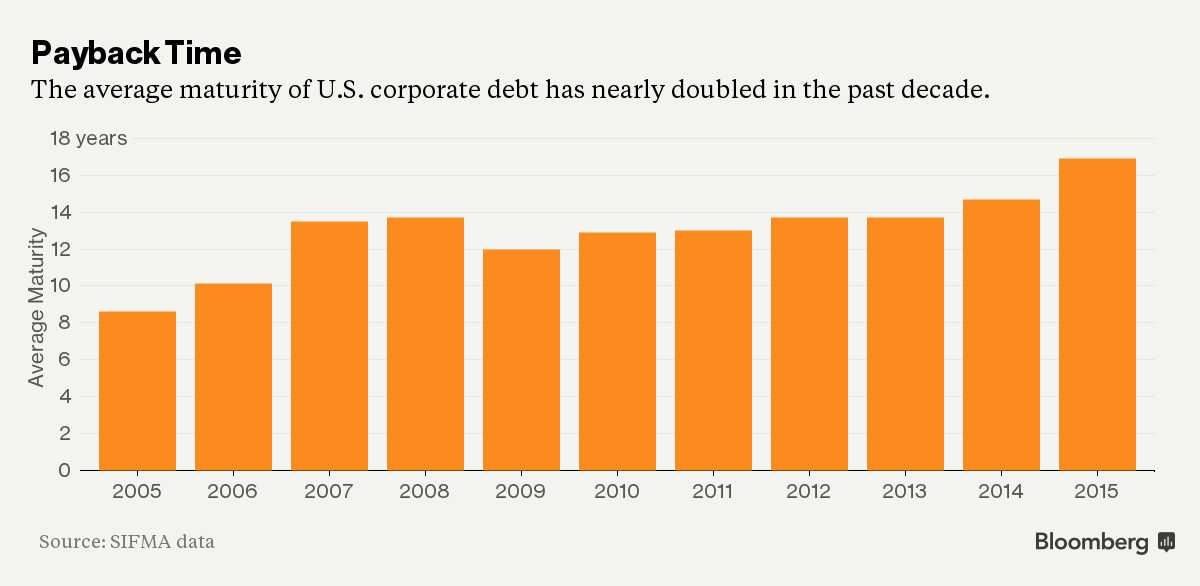 Even last week, as investors globally shied away from risky assets and sent stocks, junk bonds, and other securities lower, Anheuser-Busch InBev NV managed to sell $11 billion of 30-year bonds.
Longer-dated bonds performed worse than shorter-dated notes last year as the Fed moved closer to hiking rates. The longest-dated investment-grade securities, maturing in 10 or more years, posted losses of 4.87 percent in 2015, compared with a gain of 1.06 percent for debt maturing in one to 10 years, according to Bank of America Merrill Lynch Indexes.
Longer-term notes that are seen as possible candidates for junk ratings are getting hit especially hard. Those Freeport McMoRan bonds maturing in 2043, which were issued at 99.54 cents on the dollar, are now trading at around 41 cents. Moody's Investors Service said earlier this month that it may cut the company to speculative grade.
In Waves
More investment-grade companies have been getting cut to junk. Last year Standard & Poor's stripped 54 companies of their investment-grade ratings, compared with 25 the year before.
"Downgrade cycles tend to come in waves," said Scott Kimball, a Miami-based senior portfolio manager at Taplin Canida and Habacht LLC, part of BMO Global Asset Management which oversees $237 billion of assets.
There could be more companies cut to junk, known as "fallen angels," in this cycle than in years past, because so many investment-grade issuers are rated in the triple-B category, or one to three steps above junk. In the U.S., 23.5 percent of issuers had ratings in the triple-B tier as of the end of the third quarter, while 16.6 percent had ratings in the single-A tier and 4.7 percent had ratings in the double-A tier, according to S&P. Many investors are only authorized to own investment-grade bonds, so when a company becomes a fallen angel, portfolio managers often dump the securities en masse.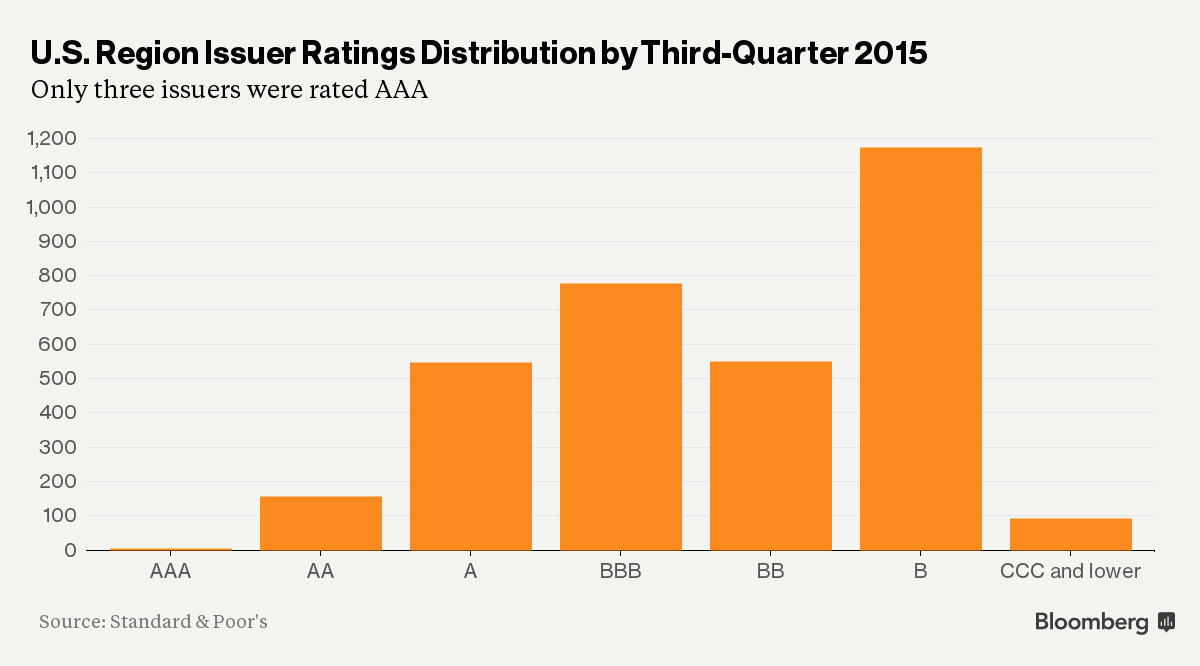 Investors are often reluctant to buy speculative-grade debt maturing in more than a decade because the companies that issue the securities are so risky to begin with, and lending to them for such a long period only compounds the risk. There are about $48 billion of junk bonds that mature in 10 years or more, according to UBS.
To be sure, some investors will in fact buy these bonds at the right price. A new type of fund, known as a "go-anywhere fund," is authorized by investors to buy a wide range of assets, including longer-term junk bonds, and a number of hedge funds look at these credits too. In prior credit cycles, there were fewer such investors.
"For the first time in a long time things are starting to look exciting in credit. A lot of babies got thrown out with the bath water," said Jack Flaherty, who helps manage $127 billion at GAM Holdings AG.
But in the near term at least, investors like Flaherty are seen as the exception.
"The high yield market tends to have an aversion to the longer-dated bonds," said Henry Peabody, who helps manage the Eaton Vance Bond Fund in Boston. "When that longer dated bond gets downgraded it can take longer to get absorbed."
Source: Junk Bond Market Braces for What Could Be a $117 Billion Logjam - Bloomberg