By Paul Panckhurst at Bloomberg
Chinese banks' bad loans are at least nine times bigger than official numbers indicate, an "epidemic" that points to potential losses of more than $1 trillion, according to an assessment by brokerage CLSA Ltd.
Nonperforming loans stood at 15 percent to 19 percent of outstanding credit last year, Francis Cheung, the firm's head of China and Hong Kong strategy, said in Hong Kong on Friday. That compares with the official 1.67 percent.
Potential losses could range from 6.9 trillion yuan ($1.1 trillion) to 9.1 trillion yuan, according to a report by the brokerage. The estimates are based on public data on listed companies' debt-servicing abilities and make assumptions about potential recovery rates for bad loans.
Cheung's assessment adds to warnings from hedge-fund manager Kyle Bass, Autonomous Research analyst Charlene Chu and the International Monetary Fund on China's likely levels of troubled credit. The IMF said last month that the nation may have $1.3 trillion of risky loans, with potential losses equivalent to 7 percent of gross domestic product.
'Shadow Banking'
CLSA estimates bad credit in shadow banking -- a category including banks' off-balance-sheet lending such as entrusted loans and trust loans -- could amount to 4.6 trillion yuan and yield a loss of 2.8 trillion yuan.
CLSA cites a diminishing economic return on stimulus pumped into the economy as among the reasons for a worsening outlook, with Cheung saying at a briefing that bad loans had the potential to rise to 20 percent to 25 percent.
"China's banking system has reached a point where it needs a comprehensive solution for the bad-debt problem, but there is no plan yet," he said in the report.
In one initiative, the government may let banks convert some bad loans into equity, a tool used to bail out the banking system and state-owned enterprises in the 1990s. IMF staff are among those to have warned that such a move could backfire by lending support to debt-laden "zombie" companies that should be allowed to fail.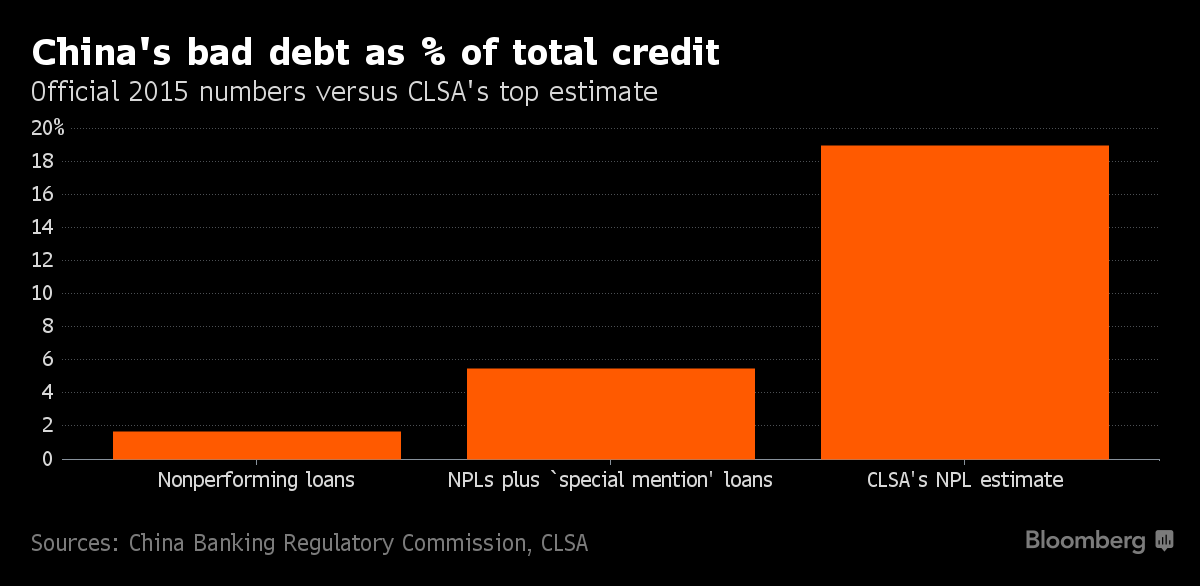 Including "special mention" loans, where repayment is at risk but the debt is yet to be classified as nonperforming, China's troubled loans stood at about 5.5 percent of outstanding credit at the end of last year, according to official data.
Source: CLSA Sees China Bad-Loan Epidemic With $1 Trillion of Losses - Bloomberg