By Paula Sambo at Bloomberg
Brazil's state development bank is making the nation's fight against inflation even more difficult.
The key lending rate for BNDES's $170 billion loan portfolio is 7 percent, below inflation and less than half the central bank's Selic overnight rate of 14.25 percent. The cheap cash is flowing at a time when monetary policy makers are desperately trying to restrain credit growth. High lending has helped stoke a surge in consumer-price increases to a 12-year high of 9.77 percent even as Brazil suffers its worst recession in a quarter century.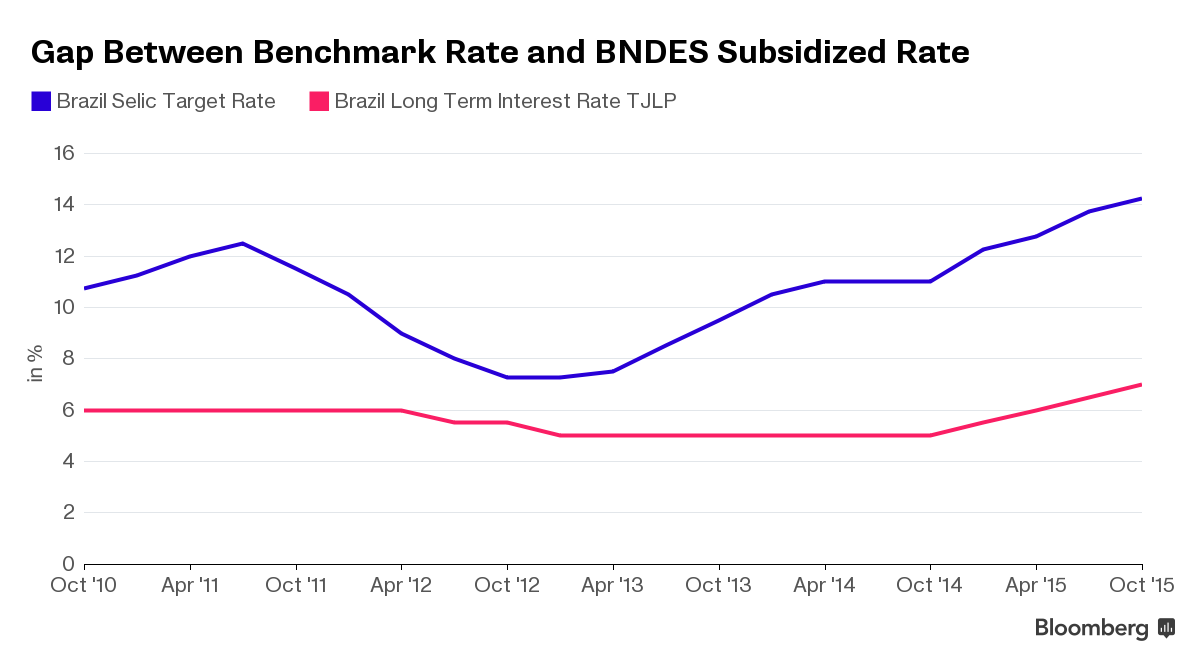 "The Selic rate has to rise more than it should to reduce inflation, as a significant part of the credit market that has access to subsidized credit does not react to its increases, and that diminishes the efficacy of the central bank actions," said Carlos Kawall, a former Treasury secretary, who is now chief economist at Banco Safra SA.
The gap between the development bank's lending rate and the Selic reached a nine-year high of 7.75 percentage points in June, and has since come down to 7.25 points. Brazil's currency has fallen 32 percent this year as of 1:57 p.m. in New York on Friday.
BNDES, based in Rio de Janeiro, didn't reply to requests for comment on how its lending is undermining the government's push to quell inflation while the central bank declined comment.
Central bank officials have raised borrowing costs 3.25 percentage points in the past 12 months, the most among the Group of 20 nations, in an attempt to quash inflation running at more than double the official target.
BNDES lending is also costing the government about 37 billion reais ($9.5 billion), at a time when it's trying to impose austerity measures to avoid more downgrades, according to Kawall. That's because the Treasury borrows at roughly the Selic rate and then lends BNDES the money it uses to make loans at the subsidized rate.
As a result, the country's gross debt has ballooned to about 65 percent of its gross domestic product. When President Dilma Rousseff, who's seeking to avoid impeachment, took office in 2011, the ratio was 52 percent.
"Federal government debt dynamics deteriorate every time BNDES's balance sheet expands," Daniel Tenengauzer, head of emerging-market foreign-exchange strategy at RBC Capital Markets, wrote in a report Oct. 19. The central bank "must hike rates significantly more than otherwise once inflation spikes higher."