By Rakteem Katakey at Bloomberg
The world's largest oil companies have a plan to weather the worst market in over a decade: borrow more money.
Major oil companies faced with the lowest crude prices since 2003, capital spending budgets with little left to cut and strong commitments to their dividends will have to take on billions in debt this year as they await a market rebound.
Take BP Plc, whose net debt rose by almost $5 billion in 2015. After reporting a record annual loss on Tuesday, Chief Executive Officer Bob Dudley said he would borrow billions more if it was needed to sustain investor dividends. "We know how important the dividend is to our shareholders," he told analysts in London. "We're not going to drop the company off a cliff. But I think the balance sheet is strong right now."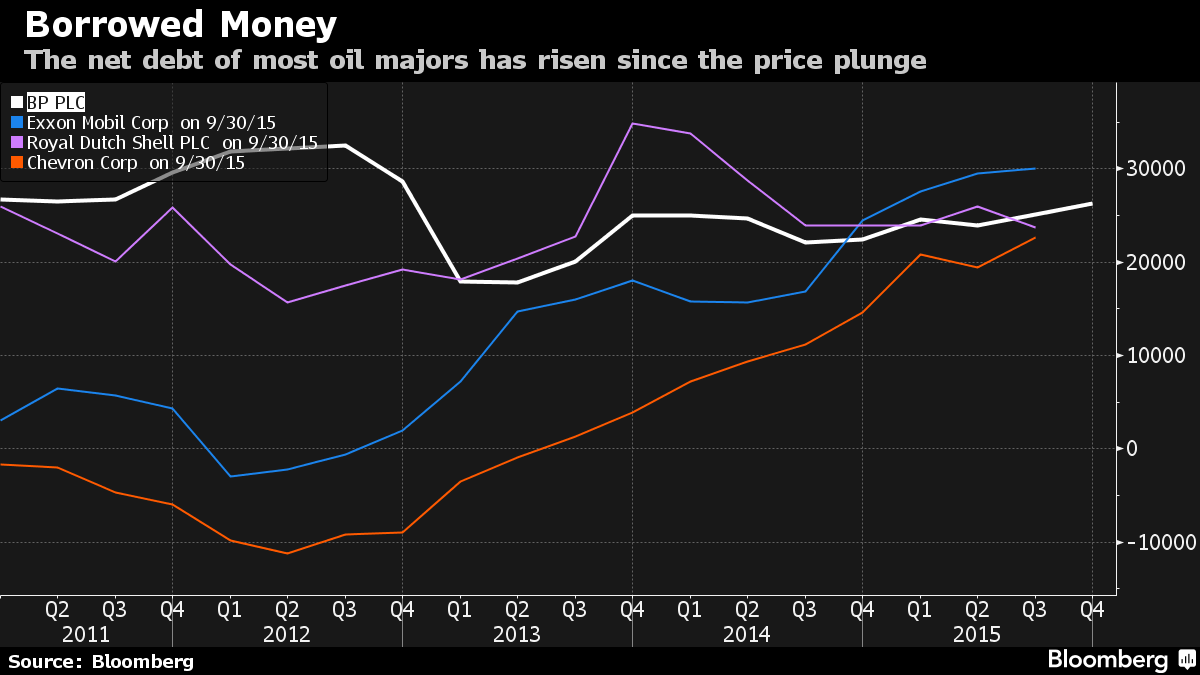 BP on Tuesday said it would cut 3,000 more jobs by 2017, while Exxon Mobil Corp. reported its lowest drilling budget in 10 years. Still, the two companies continue to spend more than they earn. Royal Dutch Shell Plc, Europe's largest producer, had its credit rating cut Monday to the lowest-ever by Standard & Poor's, and downgrades of several other companies will probably follow as debt levels rise.
"They're all hoping if we can ride this out for another 12 months, then the tide will hopefully turn and lift the pressure." said Philip Lawlor, a strategist at Smith & Williamson Investment Management LLP in London, which owns BP shares. If that doesn't happen "then they have to ask the uncomfortable question: Can we really afford the dividend?"
Factored In
While investors don't see a dividend cut as inevitable, a 10 percent drop in BP shares following fourth-quarter earnings shows they think it's possible, according to Lawlor. BP's 1-year forward dividend yield, which reflects current share prices and expected future payouts, rose above 9 percent in January. Shell, which hasn't cut dividends since the Second World War, also saw its yield surge to the highest in two decades.
"The companies are walking up a down escalator, oil prices are dropping so fast," said Iain Armstrong, an analyst with Brewin Dolphin Ltd. in London, which owns shares in BP and Shell. "Though they seem unconcerned about a potential credit rating cut, that's additional pressure on the companies at these difficult times."
S&P cut Shell's long-term credit rating Monday by one level to A+, the fifth-highest investment grade, from AA-. They also placed the company on watch for another possible reduction. BP, Eni SpA, Repsol SA, Statoil ASA and Total SA were also assigned a negative outlook.
Bridging a Gap
At the end of 2015, BP's net debt rose to $27.2 billion from $22.6 billion the year before. This occurred as the company sold bonds to bridge a gap between income from operations and asset sales on one side, and capital spending and dividends on the other. Now BP carries an average borrowing cost of about 2 percent. A credit rating cut by one level would raise that by 10 to 15 basis points, said Chief Financial Officer Brian Gilvary.
BP will become the most leveraged of the world's super-major oil companies, with gearing of 30 percent by the end of 2017, Jefferies analysts said in a note to clients.
Total debt at Chevron Corp., the second-largest U.S. oil producer, rose to $38.6 billion at the end of last year, $10.8 billion higher than a year earlier, the company said on Jan. 29. Chevron was downgraded by Standard & Poor's on Tuesday for the first time in almost three decades.
Lower Spending
Some companies continue to make drastic spending cuts to adjust to lower prices.
Along with announcing the lowest drilling budget in 10 years, Exxon said it was halting share buybacks. Chevron, which posted its first loss since 2002 last week, is planning to cut spending for a fourth consecutive year. Statoil will deepen investment cuts to as much as 30 percent below the 2014 level, analysts predict.
BP maintained its guidance for a reduction in expenditures on new projects to about $17 billion this year from $23 billion in 2014. That's close to the limit of what the company can cut without future production being affected, Gilvary said.
The company's cash flow will cover expenditures and dividends if oil averages $60 a barrel in 2017. Currently, Brent crude is trading at about $33.
"They're are all going to do everything in terms of disposals, cutting back capex, trimming fat, cutting some muscle off," but there is a limit to how far they can go, said Smith & Williamson's Lawlor. "There needs to be a balancing act with future growth."
Source: Oil Industry's Plan to Keep Investors Happy: Borrow More Money - Bloomberg