Today I'm announcing an important change to your Contra Corner subscription — so please read this entire message.
Effective Oct. 3, David Stockman's Contra Corner will cease to be published as a free e-letter. In its place, we'll be launching a new and improved Contra Corner as a paid-subscription service.
It will be a major improvement… and I want to invite you to join me with a limited-time special offer for loyal readers only. As a token of appreciation, I'll send you a free, autographed copy of my brand-new book.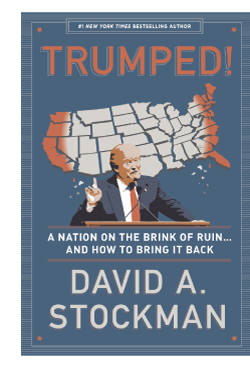 For nearly the last three years, you've been enjoying access to all of our daily insights and curated content from some of the world's deepest financial thinkers… and the mainstream's biggest critics… free of charge.
But after putting in thousands of tireless hours researching and publishing the truth about what's happening on Wall Street and Washington D.C., I've decided it's time to radically change what Contra Corner is.
This decision coincides with my new book, Trumped! A Nation at the Brink of Ruin and How to Bring it Back.
As I have explained, the book is a summation of how 30 years of Bubble Finance policies at the Fed, feckless interventions abroad and mushrooming Big government and debt at home have brought America to its current ruinous condition.
Even as the failed and faithless rule of the Wall Street/Washington elites generated this calamity, their arrogant disregard for the voters has finally given rise to a political awakening in Flyover America. The improbable campaign successes of both Bernie Sanders and Donald Trump have been the result.
Needless to say, the "revolt of the rubes", as I affectionately call it, is still largely an inchoate reaction to the failed policies of the bipartisan consensus. But for the first time this century, the status quo is being fundamentally challenged and that's why the Trump candidacy is so important. He represents a raw insurgency of attack, derision, impertinence and repudiation.
Win or lose, in fact, Trump is bringing an end to the fantasyland bubbles and delusions that have been peddled by Imperial Washington for far too long. 
In the immediate context, therefore, my new book delves into the good and bad of the Trump campaign and platform and outlines a more consistent way forward based on free markets, fiscal rectitude, sound money, constitutional liberty, non-intervention abroad, minimalist government at home and decentralized political rule.
But for the longer run, I intend to focus the new Premium Contra Corner on exactly the uncharted financial, political and economic waters that are being roiled by the 2016 presidential campaign, and which will only churn even more turbulently and unpredictably in the years ahead.
That's because another crash of today's massively inflated stock and bond markets is looming just around the corner. So is a recessionary plunge of the domestic economy, a thundering crash of the Red Ponzi in China and a deflationary unwinding of the global credit and CapEx bubbles that have been fueled by the world's rogue central banks.
Indeed, I believe the era of central bank generated Bubble Finance is fast coming to an end because the world monetary central planners are running out of dry powder, credibility and efficacy. The lunacy of negative interest rates reflected in $13 trillion of sub-zero government bonds, for example, is already creating a growing backlash in Europe and Japan; and even the dyed-in-the-wool Keynesian money printers at the Fed are beginning to worry about financial bubbles.
That's right. I firmly believe that after nearly eight years of massively subsidizing speculators with free money to fund their carry trades and rewarding buy-the-dips day traders and robo-machines with endless liquidity injections and market backstops, it has finally dawned on the denizens of the Eccles Building that they have booby-trapped the global financial system with asset inflation, speculative excesses and FEDs (financial explosive devices) like never before.
So our monetary central planners are lost — just as the chickens are coming home to roost. And that's precisely what we intend to track, interpret and forecast. To wit, the coming wild and wooly developments as the crack-up phase of the world's unprecedented credit and malinvestment boom unfolds.
To get started, I'll send you the electronic version of the book free of charge as soon as I hear from you today. Soon after, once the physical copies are ready in a few weeks, I'll mail an autographed copy straight to your doorstep, too.
All I ask in return is that you become a charter member to the New Premium Contra Corner today. When you do you'll start receiving all of the updated features of our new and improved publication when it launches in October.
First, I will post my best take on salient developments five days per week----save for occasional travel or brief vacations. Each missive will aim to rip, refute and rebuke the false mainstream narratives about a whole range of topics-----including the Wall Street Casino, Bubble Stocks like Tesla, Facebook, or Alibia, the Global Central Bankers' cartel, the worldwide credit bubble and its deflationary aftermath, Imperial Washington's foreign policy follies and the rip-offs, bailouts and racketeering escapades of the nation's beltway politicians, apparatchiks and plain old bandits.
Plus, you'll also receive…
— The Day's Top 10 Recommended Reads: One of the biggest compliments I get from readers are the articles from around the web that I curate for them. I read hundreds of pieces every day so you don't have to. And I share the most pertinent ones for you to read.
— A Selection of Salient Charts-of-the-Day that will highlight in clear and compelling graphical form key financial, economic and political developments and trends.
— Lee Adler's Daily Data Dive: A skeptical contrarian view of what the mainstream financial media tells you when they report the headline number for retail sales or the monthly jobs report or the GDP number or any of the rest of the so-called incoming data. We think you have to look at historical context. You have to look through the manipulations and seasonal adjustments and revisions that constantly occur in all these government data. My colleague, Lee Adler will be posting very insightful analysis.
— 6 Exclusive Virtual Town Hall Meetings with Me Each Year: Where I'll answer questions about the market, economy and political arenas, and where the total focus will be on a Q&A style interactive session exclusively for paid-up subscribers.
— A Permanent Model Portfolio: The investment recommendations and specific allocations that will prepare you as the mother-of-all financial bubbles pops and markets crash...and any updates on our permanent portfolio positions and recommendation to take a gain when warranted.
— A Total Library of Essential Investor Modules: Each of these modules will teach you the best techniques for investing in markets. Learn how to properly short the market… use options… place spread trades… use what's known as the "alpha strategy"... prepare for the War on Cash… the best way to buy gold and silver… find bargains after the crash… vet popular investments your broker might recommend like ETFs… and much more.
— Curated investment and lifestyle recommendations: We'll give you free access to specific recommendations made by other financial experts in my network. These we be on an ad hoc basis as we find analysis and recommendations that are compelling and fit our thesis.
— You'll also start receiving the Daily Reckoning — which will feature my work, as well as other luminaries such as Jim Rickards… Michael Covel… Nomi Prins… and others…
Right now, this research service is not available to the public. In a few weeks, when we announce it to a general audience outside of current readers like you, we will charge as much as $60 per month (Over $600 per year).
I think that's more than a fair price for the expertise and proprietary research you'll find in the new Contra Corner.
But when you become a charter member today, you'll lock in a 50% discount for your first year. You'll only pay $29 per month (you can simply cancel at any month if you'd like to stop receiving our service.)
Plus, I'll send you a free, autographed copy of my new book, TRUMPED!
But I'll need to hear from you right now. After the two week period is over, this special price will no longer be available… and you'll stop receiving Contra Corner as you're now used to it.
Click Here Now to Become a Charter Member of the Brand-New Contra Corner
(You won't be charged anything by clicking. You'll be taken to a page with more details.)
Best regards,
David A. Stockman
Founder, David Stockman's Contra Corner