By Mani
China Debt Default? To alleviate its debt problem, China should adopt appropriate macro-economic policies encompassing currency depreciation and cutting interest rates to an ultra-low-level within two to three years, believe Nomura analysts. Yang Zhao and team said in their September 14 research piece titled "China: Solving the debt problem" that they believe RMB depreciation will continue and forecast USD/CNH at 7.1 at the end of 2017.
Also see the Big Short II – hedge funds bet on major fall on yuan
Zhao and colleagues highlight two stylized "facts" which haven't been properly understood: high debt versus low leverage and the ever-rising M2-to-GDP ratio, which has been growing for over three decades, except during 2004 to 2008. The analysts argue that China faces a debt problem, but not a leverage problem. They highlight that while the country's debt-to-GDP ratio is breathtakingly high, its corporate debt-to-asset ratio is generally low. They attribute the low leverage ratio largely to fast-growing asset values, driven by fixed asset investment and rising property prices.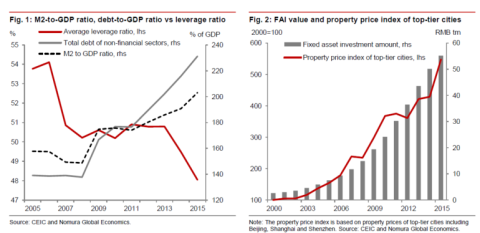 The Nomura analysts estimate that China's non-financial sector debt stood at RMB158.5 trillion, or 231% of GDP by the end of 2015, mostly owned by the corporate sector. For their debt estimation, the analysts considered all categories of debt, as shown in red bold italics below:
Gleaning through China's overall debt, the Nomura analysts observe that most studies overestimate the share of state-owned enterprise (SOE) debt in total corporate debt. They argue that China's government debt remains low compared to size of its GDP, providing further room to expand. The analysts caution that the high level of debt poses risks to the economy, though China's debt is largely domestic rather than foreign. The Nomura analysts highlight that the high corporate debt-to-GDP ratio points to increasing defaults and the need to extend the maturity of the debt structure further.
Specifically, the analysts stated:
"By the end of 2015, the amount of debt borrowed by China's non-financial sectors (i.e., non-financial companies, households and governments) had risen to a breath-taking RMB158.5trn – equal to 231% of GDP. The majority of this debt has been borrowed by the non-financial corporate sector, with corporate debt amounting to 180% of GDP."
And:
"High and rising debt-to-GDP ratio has caused wide concern over systemic risk to the economy, to the extent that the Politburo made deleveraging the economy a top-five priority in 2016. However, despite all the talk of 'deleveraging' it is the debt-to-GDP ratio rather than the high debt-to-asset ratio that needs to be addressed. As such, the socalled 'deleveraging process' should aim at dealing with the high and rising debt-to-GDP ratio, rather than lowering corporate leverage.
"Standard macroeconomic theory gets around the problem of ever-rising debt by imposing a non-Ponzi scheme condition, which may not necessarily hold in the real world. There is no sign that China's debt-to-GDP ratio will start to decline any time soon.
"With nearly half of China's GDP coming from investment, and some 70%2 of investment being financed through debt, it is a mathematic consequence that China's debt will continue to rise in the foreseeable future. China's debt, most of which is in the form of loans, is growing at around 13% y-o-y, easily outpacing nominal GDP growth. Although it is true that China's economy is rebalancing away from investment towards consumption, and the financial system is becoming increasingly reliant on the equity market, the restructuring process will be gradual and the debt-to-GDP ratio will almost certainly continue to rise for the foreseeable future. As a mirror image of the debt-to-GDP ratio, China's M2-to-GDP ratio will also continue to climb.
——————-
"The high debt-to-GDP ratio does pose several hazards to the economy. It acts as a drag on economic growth because the debt burden forces the corporate sector to reduce its capex. It also increases financial risk as the non-performing loan (NPL) ratio is likely to increase along with the rising debt-to-GDP ratio. Even though the NPL ratio is unchanged, the ratio of bad loans-to-GDP will rise, due to the increasing amount of total debt relative to GDP."
Recently, IMF underscored an urgency to address China's corporate debt problem. IMF suggested that China tackle the debt problem with a comprehensive plan and concrete action to harden budget constraints, particularly on SOEs.
China Debt Default  inevitable?
Zhao and team highlight that debt-to-GDP ratio can be lowered either through reducing the numerator or increasing the denominator. They believe that to contain or even reduce the debt-to-GDP ratio, the gap between debt growth and nominal GDP growth must shrink or turn negative. They believe lowering the ratio has to be premised on the acceptance of a slower rate of GDP growth:
The Nomura analysts argue that default is the only practical way to trim the stock of outstanding debts. Instead of an outright default, per se, they suggest other approaches such as renegotiating terms, lowering interest rates, and tenure extension.
The analysts believe the main implications for macro policy in dealing with the debt problem is that RMB will continue to depreciate to a sufficiently low level that can stop capital outflows, and that interest rates will be set at a much lower level than they are now to significantly relieve the debt burden for the corporate sector as well as the central and local governments. They anticipate that the lending rate would continue to drop if the PBoC lowers the benchmark rate in the coming years. The analysts anticipate that fierce competition for deposits will drive deposit rates to appreciate above the benchmark rate, resulting in banks' NIMs shrinking in the coming years:
China Debt Default – Specifically, they state:
"Since increasing the denominator is unfeasible, policymakers must therefore look to lower the numerator. The only practical measures that can be taken to reduce the debt ratio are those aimed at reducing the growth of debt to below that of nominal GDP growth.
"The outstanding stock of debt can only be reduced through either repayment or indeed default. One argument is that China's corporate sector and / or local governments can, or should, simply repay their debts by selling the huge amount of assets that they have accumulated, but again, this is not a feasible solution. The key reason behind the low level of corporate leverage despite the huge amount of debt is that asset prices have not collapsed. If the corporate sector or local governments repaid their debts by selling their assets – which are predominantly in real estate – their leverage will almost certainly spike higher due to the subsequent decline in the value of their remaining asset base. Hence, there is essentially only one practical way to reduce the stock of outstanding debts: defaults. Rather than outright defaults per se, the main form of debt defaults could be a renegotiating of terms, likely to include an extension of the tenure, a lowering of interest rates and the provision of far fewer guarantees.
"A large-scale debt default would mean a debt crisis, likely then leading to a financial crisis, which is obviously not a policy option. An orderly default process will involve delicate policy management. In the end, the debt default ratio in terms of the outstanding volume of debt must rise – NPLs and bond default rates must be much higher than their current levels.
"Only a very privileged few will be able to default on their debt and survive, and we believe it is far more likely that those survivors would be SOEs rather than private companies. We expect to see more defaults from the SOEs than the private sector, as well as some creative ways – with debt-to-equity swaps being just one example – to manage the unwind."
China Debt Default – will it happen and if so in what form?
Source: Nomura On China "only one practical way to reduce the stock of outstanding debts: defaults"