By Luke Kawa at Bloomberg
Wednesday was "a complete and utter mess" in markets, according to Bespoke Investment Group. What were some of the wild moves?
Oil rallied on what at first blush would seem to be price-negative news (another massive build in inventories), with front-month West Texas Intermediate futures contracts spiking 10 percent. The U.S. dollar suffered its worst day in seven years, while the S&P 500 had two intraday swings of more than 2 percent.
And perhaps most curiously, the yield curve just couldn't decide what shape to take, flipping from bear flattener (yields up, with the biggest rise at the front end), to bear steepener, to bull flattener, to bull steepener (yields down, dropping by more at the front end).
Bespoke chronicled the multi-asset mayhem in a chart: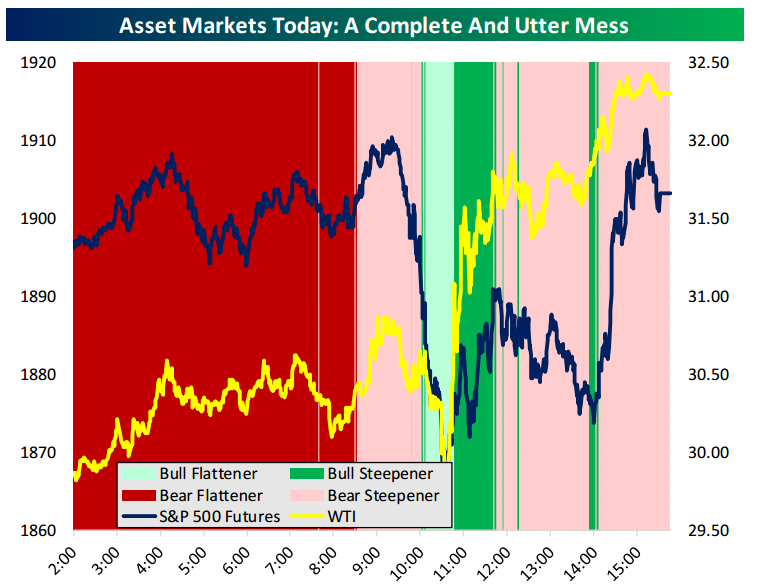 Here's Bespoke with the takeaway from these violent market moves:
It's not coincidence that from shortly after 10:30 AM on the dollar sold off viciously, the curve steepened aggressively, oil shot higher, and stocks ripped. It's all one trade! The current macro environment is demonstrating almost absurd correlations between assets on an intraday basis and positioning (or sometimes panic) is by far the most important factor. While we're not in a crisis, it sure feels like it; after all, it's only then that "all correlations go to one."
Source: Wednesday's Market Mayhem Shows How Four Huge Asset Classes Are Intertwined - Bloomberg