By Jiyeun Lee at Bloomberg
South Korea -- the world's biggest exporter to China -- is getting squeezed as weaker demand from its larger neighbor helped send its shipments tumbling the most since 2009.
The nation's exports plunged 14.7 percent in August from a year earlier, an eighth straight monthly decline, as shipments to all its major markets fell, according to the trade ministry. Economists had forecast a 5.9 percent drop.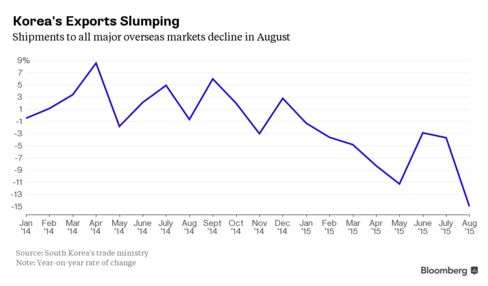 "August exports had been expected to be bad, but the data turned out to be even worse," said Lee Sang Jae, a Seoul-based economist for Eugene Investment & Securities Co. "With China taking the largest share of Korea's exports, it will be difficult to expect a recovery unless China's economy improves."
The slump is raising risks to growth in a nation that generates about half of its gross domestic product by shipping products overseas. Barclays Plc and Australia & New Zealand Banking Group Ltd. economists changed their calls for the Bank of Korea's policy after the data, predicting the central bank will lower its key interest rate further this year.
As a supplier of mobile phone components, car parts and other intermediate goods to Chinese manufacturers, Korea is under pressure from weakening demand in its biggest export market. China's official factory gauge fell in August to the lowest reading in three years.
Won Depreciation
Exports have fallen even after the won's 7 percent depreciation against the dollar so far this year. Korea is one of the most exposed nations to weakness in the yuan, and is facing increasing competition from Chinese companies that are moving up the value-added chain, according to the Institute of International Finance last week.
Shipments to China fell 8.8 percent in August from a year earlier, while those to Japan and the European Union fell 24.4 percent and 20.8 percent, respectively, according to the trade ministry. Sales to China deteriorated due to the explosion in Tianjin area and as import demand from China waned, the statement showed.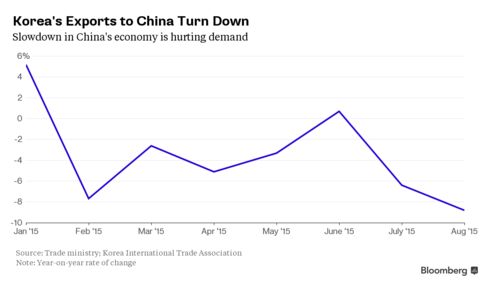 China is narrowing South Korea's lead in technology, according to the Korea Institute of S&T Evaluation and Planning. The level of technology in 120 key areas across the Korean economy was 1.9 years ahead of China in 2012, but shrank to 1.4 years in 2014, it said. Chinese handset producers Xiaomi Corp. and Huawei Technologies Co. are increasingly competing with Korea's Samsung Electronics Co., whose profits fell for a fifth quarter in the period ending June.
Increasing Competition
The Bank of Korea forecasts that Asia's fourth-biggest economy will expand 2.8 percent this year, while the finance ministry projects a 3.1 percent expansion. Economists surveyed by Bloomberg Aug. 13 to 19 see the economy managing just 2.6 percent growth.
Officials have also sought to spur domestic demand, with four interest-rate cuts since August last year to an unprecedented low of 1.5 percent, and a record-sized budget for this year. Even so, the economy grew just 0.3 percent in the April-June quarter.
The BOK is likely to cut its rate to 1.25 percent as early as October, Morgan Stanley economists Sharon Lam and Sung Woen Kang wrote in a note Tuesday. While China had been a major growth driver over the past decade, it could now turn into drag on the Korean economy, they said.
The government put together packages in April and July that offered Korean firms marketing aid and trade insurance to help them better compete overseas.
About 25 percent of Korea's overseas shipments went to China in the first half of this year, according to trade ministry data. Of the sales to China, 68 percent were intermediary goods, and only 4 percent were consumer products, according to the Korea Trade-Investment Promotion Agency. The rest was mainly capital goods.
Slowing China
Should China's growth slow to between 5 percent to 5.9 percent from its 7.4 percent pace last year, South Korea's exports would fall a further 2.2 percentage points and its economic growth would be reduced by 0.6 point, according to an Aug. 28 report by Hyundai Research Institute.
"Countries like Korea that send intermediary goods to China and benefited from its growth during the good days are now seeing bigger damage," said Lee Bong Geol, an economist for Institute for International Trade in Seoul. "Korean companies need to adapt to the shift in China's industrial structure to a more consumer goods, services industry-focused economy."
Source: South Korea's Exports Fall Most Since 2009 as China Slows - Bloomberg Business