By Stephen Stapczynski at Bloomberg
Citigroup Inc. cut its commodities forecasts on concern slowing global growth will prolong the time it takes for markets to swing back into balance. Shares of resources companies resumed their drop as raw material prices slid.
Brent crude may average $40 a barrel this year, compared with an estimate of $51 in a November report, while the outlook for nickel was cut 22 percent to $8,450 a metric ton, analysts including Ed Morse wrote in a report received on Wednesday. Gold was a rare bright spot, with Citigroup raising its forecast 7.5 percent to $1,070 an ounce.
Commodities have been battered since the onset of 2016, with oil slumping to the lowest level since 2003, as gyrations in Chinese equities, a weaker yuan and signs of a slowing global economy spurred investors to shun risky assets. China reported the slowest annual growth since 1990 on Tuesday, the same day that the International Monetary Fund cut its world growth outlook. Glencore Plc Chairman Tony Hayward, former chief executive officer of BP Plc, told Bloomberg this week that there's "too much oil."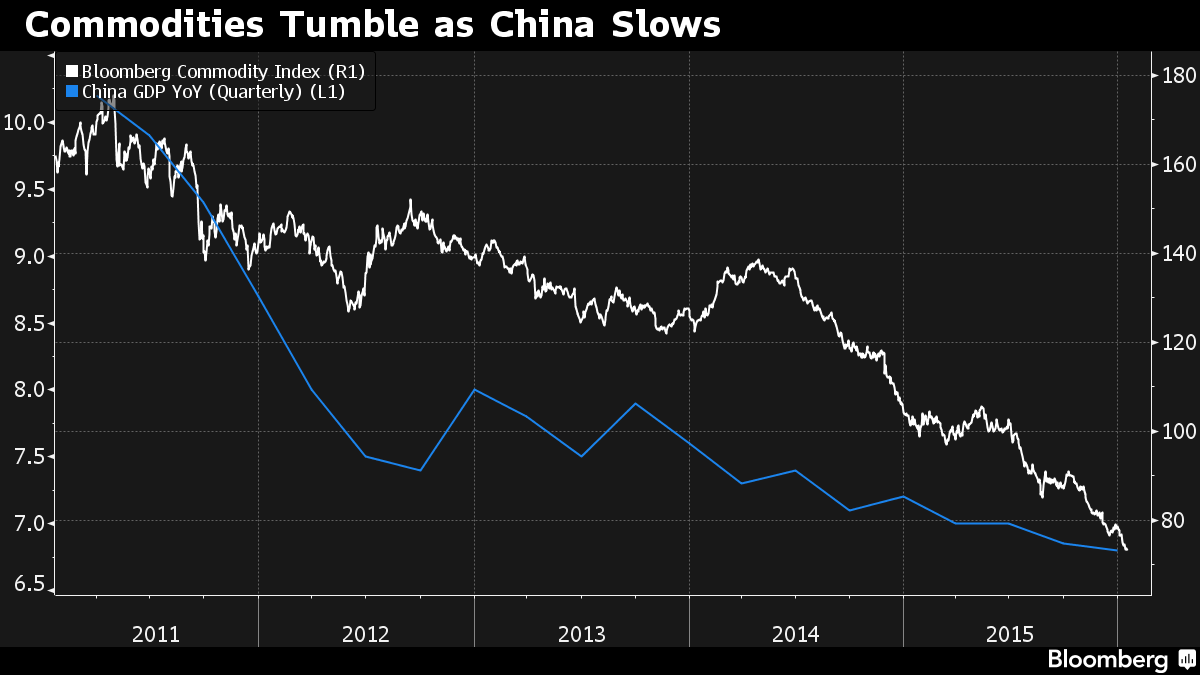 "Declining expectations of global growth are exacerbating the results of oversupply across commodity markets," the analysts wrote in the Jan. 19 report. The lower worldwide demand for raw materials promises "to prolong the time it will take for commodities to come into balance," they said.
The Bloomberg Commodity Index, a measure of returns from 22 raw materials, retreated 0.5 percent by 1:37 p.m. Singapore time, heading for its lowest close January 1991. The gauge has lost 6.6 percent since the start of the year. Resources equities tumbled across Asia on Wednesday, with shares of energy companies leading losses on the MSCI Asia Pacific Index.
Australian explorers Origin Energy Ltd. and Santos Ltd. slumped at least 7.5 percent in Sydney, while China Oilfield Services Ltd. tumbled 7.9 percent in Hong Kong. Japan's Inpex Corp. dropped 6.2 percent and Thailand's PTT Exploration & Production PCL retreated 5.5 percent. BHP Billiton Ltd., the world's biggest mining company, slipped 3.5 percent, while Jiangxi Copper Company Ltd. fell 5.6 percent.
"The dramatic market sell-off that started 2016 is impacting all sectors, pushing commodities down even further," the Citigroup analysts wrote. "Commodities prices have been under pressure from China" at the start of the year, they said, adding that the bank expects to revise price estimates more often this year as suppliers adjust output.
Forecast reductions in oil supply, potentially led by U.S. producers, may help crude to rebound toward the end of the year, according to Citigroup. The bank expects Brent to average $52 in the final three months of 2016 compared with $40 between July and September and $31 in the second quarter.
Copper will average $4,650 a ton this year, while aluminum risks falling below $1,400 a ton in the second quarter, according to the report. Bullion has benefited from the slump in equities and other raw materials, according to Citigroup, which said its haven rationale was now back in vogue. Spot bullion traded at $1,092.28 an ounce on Wednesday, 2.9 percent higher in 2016.
Source: Citigroup Cuts Commodity Forecasts as Resources Rout Resumes - Bloomberg