by Gerson Freitas Jr at Bloomberg
Tucked away in an industrial neighborhood in Sao Paulo, six members of JBS SA's sprawling meatpacking empire are making a fortune on the collapse in Brazil's currency. The group may only account for 0.003 percent of JBS's 215,000-strong workforce, but it's on track this year to generate more profit than the beef, poultry and pork operations combined.
The risk-management team, as the group is called, has been mounting one of the largest currency-hedging positions for any non-financial company in the country. And with the real down 35 percent against the dollar this year, Credit Suisse estimates JBS's profit from derivatives will swell to 15 billion reais ($3.65 billion) for the full year. The strategy, while paying off now, isn't without risk. Had the meatpacker been caught on the wrong side of the trade, the losses could have wiped out most of its cash holdings, financial documents show.
JBS is best known to the outside world as the company that gobbled up Pilgrim's Pride as part of a $20 billion acquisition spree, but inside Brazil's financial circles, those currency bets have earned it another nickname: The hedge fund that sells meat. What stands out about JBS's derivatives position isn't just the size -- $12 billion in bets against the real -- but also the rationale behind the wager. JBS says it's simply protecting against declines that can bloat the size of its foreign debt when measured in local-currency terms. To some outside observers, that's a curious argument for an exporting company that gets 80 percent of its revenue in dollars. They say that, given the massive size of the program, it looks a bit like currency speculation.
"It seems like an aggressive strategy," Viccenzo Paternostro, an analyst at Credit Suisse, said from Sao Paulo. "JBS has many assets in dollars, with big operations in the U.S., Europe and Australia. It doesn't need to hedge everything in dollars. It could hedge only the Brazilian part."
The Brazilian brothers who run the company, Wesley and Joesley Batista, made a name for themselves by betting big, often by taking over unprofitable producers and loading up on debt as they transformed the one-shop butcher founded by their father into the world's largest beef producer.
'Long Journey'
Back in a May interview at the company's Sao Paulo headquarters, Wesley Batista made a prescient prediction that foreshadowed the company's foreign-currency tactic. While analysts at the time were forecasting the real would only slip about 6 percent by year-end, Batista, the company's chief executive officer, had a much-gloomier outlook and anticipated a "long journey" ahead for the currency. Behind the scenes, JBS was at the tail-end of boosting its derivatives position by about 50 percent compared with December 2014, financial records show.
Since that interview, the real has plummeted 25 percent, extending its year-to-date selloff amid a recession, plunging commodities prices and a corruption scandal that has left President Dilma Rousseff fighting for her political survival. JBS's shares have surged 48 percent this year, a rare bright spot in Brazil's market rout.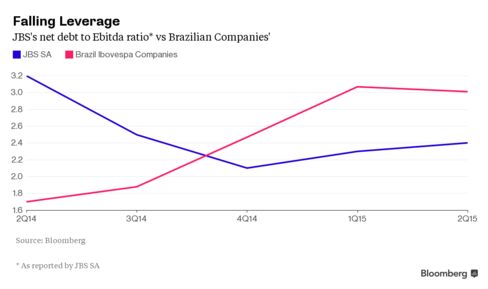 JBS is spending about 4 billion reais in interest a year to carry its derivatives positions -- twice everything it earned in 2014, analysts from Credit Suisse and Bradesco BBI estimate. Its hedges include $5.5 billion of futures traded at the Sao Paulo exchange -- almost double the position it had at the end of 2014 -- and about $6.3 billion in non-deliverable forwards, which trade over the counter, financial records show. The rest is held through swap contracts.
"We definitely don't believe in natural hedges because you can't guarantee that revenues and margins will remain constant in dollar terms," Chief Financial Officer Jerry O'Callaghan said. "We consider our strategy to be a prudent one and not at all speculative."
For Brazilian firms that piled on $270 billion of foreign debt during the boom years of the past decade, the right currency-hedging strategy can make or break a company. As the real tumbles, the value of foreign debt when converted into reais balloons on the balance sheet and can cause leverage levels to breach bond covenants and companies to suffer credit-rating downgrades. It also makes interest payments costlier for companies whose revenue is largely in reais.
JBS estimated in its latest financial statement that derivatives losses in the third quarter could have totaled as much as 9.3 billion reais had the real rebounded 25 percent.
To understand just how outsized JBS's $12 billion derivatives position is, compare it to that of its Brazilian commodity peers. Meatpacker Marfrig Global Foods SA, which also carries a large dollar-debt load, has between $20 million and $30 million in hedges on its books, said Chief Financial Officer Ricardo Florence Santos. Iron-ore exporter Vale SA said in an e-mailed statement it doesn't have a significant position, and steelmaker CSN said in a Sept. 23 regulatory filing it has $645 million in contracts.
'Dangerous' Hedges
JBS "is probably operating a lot like a hedge fund," said Reginaldo Galhardo, a foreign-exchange manager at Treviso Corretora de Cambio in Sao Paulo. But while "playing with hedges can be dangerous," he said JBS's team is more sophisticated than most of its peers. JBS's controllers have their own bank, he points out. Its chairman is former Central Bank President Henrique Meirelles, who is from the same rural state as the Batista family.
Analysts are largely positive on JBS, too. Gabriel Vaz de Lima, an equity analyst at Bradesco BBI in Sao Paulo said "I like the strategy," and Catarina Pedrosa, a Sao Paulo-based analyst at Haitong Research, said the hedging lowers JBS's risk.
"JBS can always adjust its strategy as the trend changes," Pedrosa said.
Back at JBS's headquarters, just off a main highway that meets up with the nation's biggest beef-shipping route, the six-member risk team had another good day on Monday. The real weakened 3.3 percent to 4.1096 per dollar.
"It proved to be the right decision because the real fell" this year, said Credit Suisse's Paternostro. "But had the exchange rate climbed to 2 reais, it would have been very bad for the company."
Source: One Company Is Making a Killing on Brazil's Sinking Real - Bloomberg Business