By Ye Xie at Bloomberg
By almost all measures, China's $3.3 trillion foreign reserves, the world's largest, look formidable. Except one.
Compared with the amount of yuan sloshing around in the economy, a proxy for potential capital outflows, China's firepower seems limited. The dollar reserves account for 15.5 percent of M2, a broad measure of money in circulation. That's the lowest since 2004 and is less than levels in most Asian economies including Thailand, Singapore, Taiwan, Philippines and Malaysia, according to data compiled by Bloomberg.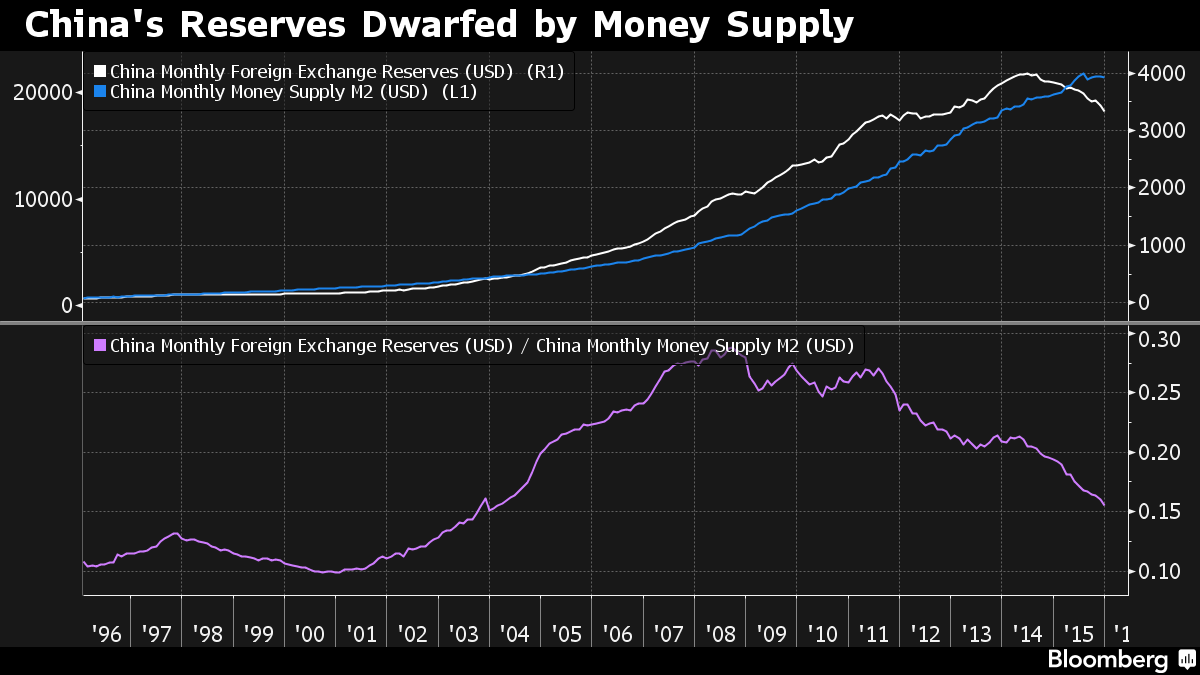 It is not to say all the money will leave China -- people need yuan to buy clothes, pay rent and fill up the gas tank. And by other traditional measures, China's reserves stand comfortably above any crisis level. The reserves are sufficient to pay off the short-term dollar debt five times over and they are able to buy all the imports for the next two years, according to Nomura Holdings Inc.
 But the low coverage on the money supply does highlight the risk that the buffer can run down quickly if
capital outflows
, which approached $1 trillion over the last year through November, accelerate. That is perhaps why China has tightened capital controls and stepped up its defense of the currency to damp expectations of further depreciation, which may lead to more money leaving the country.
Capital Flight Risk
The reserve-to-M2 ratio is "one key to monitor the pressure of capital outflow," Abdallah Guezour, who oversees $3.5 billion in emerging-market assets as a money manager at Schroder Investment Management Ltd. in London. "The concern is that they cannot prevent capital flight escalating further."
China spent $513 billion in foreign reserves last year to shore up the yuan, cutting their ratio to M2 from 19 percent. The yuan declined to a five-year low last week, extending its drop over the past 12 months to about 5 percent.
The reserves-to-M2 ratio can be used to analyze the risk of capital flight in a country with a large banking sector and limited restrictions on cross-border capital flows. A ratio above 20 percent is considered "prudent," according to a research paper by the International Monetary Fund in 2014.
Source: The Weak Spot in China's $3.3 Trillion Foreign Reserve Stockpile - Bloomberg