By Tesun Oh at Bloomberg
Japanese banks reluctant to pay for the privilege of lending are opting out by using derivatives.
The options set a floor on rates used to determine interest on loans, and the holder will be paid if the rates fall below that level, according to Aozora Bank Ltd. and Tokyo Star Bank Ltd. The benchmark three-month Tokyo interbank offered rate has plunged to a record low of 6 basis points since the Bank of Japan announced it would start charging fees on some lenders' reserves in January. Options with floors at zero percent or minus rates have been traded recently, according to Aozora Bank.
"There's a need to hedge against money-losing lending that could happen if the Tibor falls to negative levels," said Tetsuji Matsuka, the head of the ALM planning treasury department at Tokyo Star Bank. "We think demand will increase" for such products, he said.
Japanese banks are getting hurt as the negative-rate policy compresses their lending margins, with the top-three firms including Mitsubishi UFJ Financial Group Inc.forecasting this month that net income will fall a combined 5.2 percent in the year started April 1. The BOJ's radical stimulus has already dragged yields on more than 70 percent of Japanese government bonds to below zero, meaning that investors will have to effectively pay a fee to hold such debt to maturity.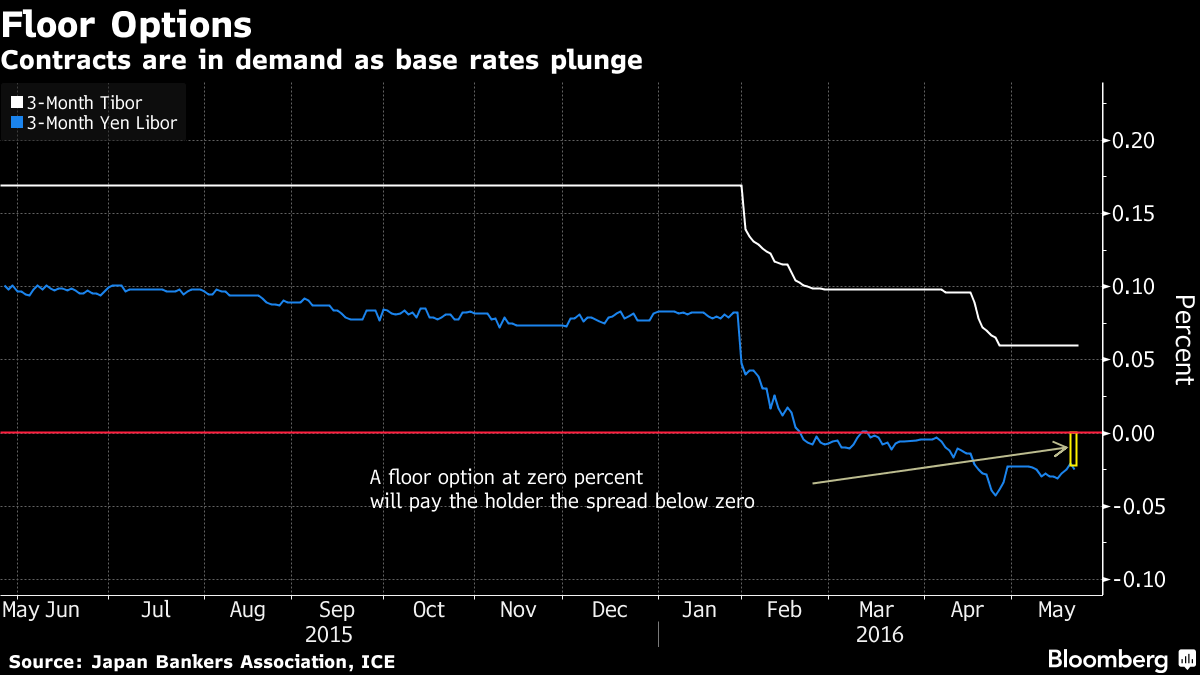 In the yen London interbank offered rate market, where some rates are already below zero, options have been traded with floors as low as minus 1 percent, according to Nobuyuki Takahashi, the general manager of the derivatives sales division at Aozora Bank. The three-month yen Libor was at minus 0.02 percent on Friday.
Companies that borrow at floating rates may also be able to use floor options to ensure that interest-rate swaps they use to hedge against rising rates don't end up costing them due to negative rates, Takahashi said. Actual trades of such derivatives are still not that common because the contracts are expensive to buy now, he said.
"It will be hard to price these options unless we get more liquidity," said Tateo Komatsu, a deputy general manager of global markets at Sumitomo Mitsui Trust Bank Ltd. "It will take time for the market to get used to minus rates."
Negative debt yields are prompting Japanese banks to change the way they lend.
While they often extended loans at floating rates in the past, the plunge in base rates has made that more difficult, according to Masato Noguchi, a joint general manager of the syndication & securitization division at Aozora Bank. That's because lenders can't decrease rates on deposits to below zero and because they rely on such cash to fund loans, their margins may suffer, he said. Syndicated lending at fixed rates is on the rise, according to Noguchi.
"In the past, it was said that lending at floating rates posed few risks, but now the risks are materializing," Noguchi said.
Source: Negative Rates Prompt Japan Banks to Opt Out Via Derivatives - Bloomberg