By Bloomberg
More than a decade of profit gains at China's largest banks probably came to an end last year, and the pain may deepen in 2016 as a surge in bad loans threatens their ability to maintain dividends.
Combined net income at Industrial & Commercial Bank of China Ltd. and its four closest rivals probably slipped 0.3 percent last year, according to analysts surveyed by Bloomberg ahead of earnings reports due next week. The group boosted profits by an average 25 percent between 2004 and 2014.
The weakest economic growth in a quarter century has driven soured credit at Chinese banks to a decade high, prompting the government to consider measures to resolve bad loans such as the debt-to-equity swaps that were used to clean up balance sheets following a banking crisis in 1999. The prospect of further bad-loan provisions drove big banks' valuations to the lowest on record last month as investors speculated dividends might get cut.
"Most investors are obviously bearish and should banks beat expectations on the bottom line, I don't think that's going to change their minds," said Matthew Smith, a Shanghai-based analyst at Macquarie Group Ltd. "There are deeper issues there -- asset-quality related. The trend has been incrementally weaker."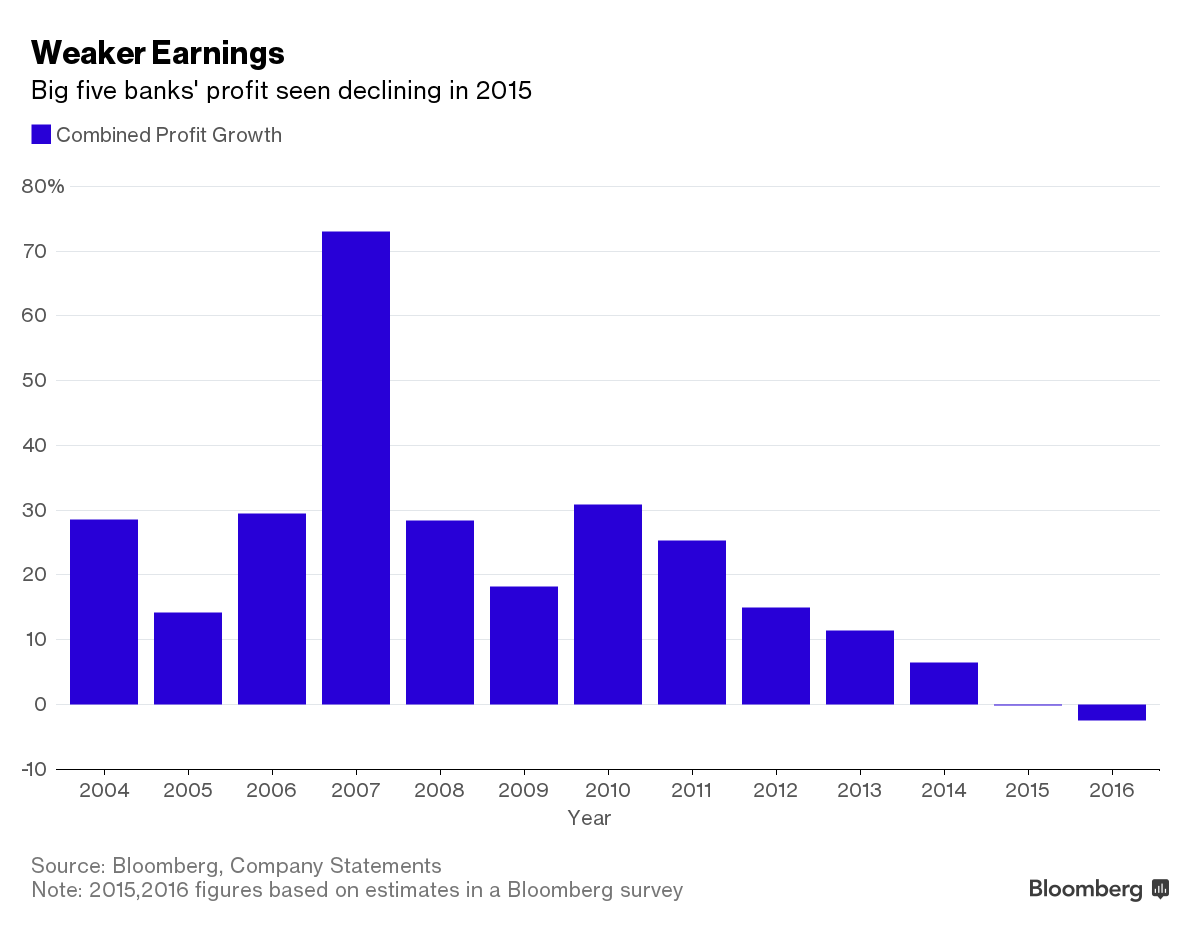 Against the backdrop of the slowing economy, turmoil in the stock market and government measures to curb overcapacity in manufacturing, bad debt in China's banking industry jumped 51 percent last year to 1.27 trillion yuan, data from the bank regulator show.
The pressure Chinese banks face as they attempt to preserve dividend ratios at a time when soured debt is rising is underscored by the steady decline in their bad-loan coverage ratios. Credit at the big five lenders has soured faster than growth in the reserves set aside for them, slicing the coverage ratio to 172 percent in December from 233 percent a year earlier. The regulatory minimum is 150 percent.
Data compiled by Bloomberg show that the top four banks cut their average dividend-payout ratios from 35 percent in 2013 to 33 percent the following year. The earnings reports next week may show the level fell further to 30 percent last year, Judy Zhang, a Hong Kong-based analyst at BNP Paribas SA, wrote in a report last month. ICBC and its three largest peers had dividend yields exceeding 5 percent last year, placing them among the six highest-returning stocks in the CSI 300 Index.
"There are a lot of investors expecting dividends to be cut to the bare minimum across the board," said Macquarie's Smith. "If that doesn't happen, that could create some interest" in bank shares.
Largest Lender
Valuations for the five largest lenders' shares in Hong Kong sank to an average 0.55 times estimated book value in February, the lowest on record according to Bloomberg-compiled data.
ICBC, the world's largest bank by assets, will probably report on March 30 a 0.2 percent decline in 2015 profit to 275.2 billion yuan, according to the average estimate of analyst forecasts compiled by Bloomberg. China Construction Bank Corp., the nation's second-largest lender, may post a 0.9 percent increase the same day.
Agricultural Bank of China Ltd., Bank of China Ltd. and Bank of Communications Co. will probably report declines of at least 0.6 percent. The analyst surveys show that this year's combined earnings may drop 2.6 percent at the five banks, which are also grappling with margin contraction following six central bank interest-rate cuts since November 2014 and the removal of a cap on deposit rates in October.
Special Mention
Bad loans in the industry had risen to 1.67 percent of total lending by the end of 2015 from 1.25 percent a year earlier, data from the regulator show. Including "special-mention" loans, which have yet to be declared nonperforming though future repayments are at risk, the industry's total troubled lending rose to 5.46 percent, the highest since the data became available in 2014.
Those numbers are still a long way from levels in 1999 and in 2004, when bad-debt ratios approaching 25 percent prompted the government to step in with rescue measures. Bailout packages included capital injections into some lenders and the removal of trillions of yuan of soured credit from their books.
The government has indicated a willingness to help lenders clean up their balance sheets. China's cabinet has discussed lowering the bad-loan coverage ratio, people familiar with the matter said last month. Regulators will allow domestic banks to issue up to 50 billion yuan of bad loan-backed securities to remove soured credit from their books, other people said. Premier Li Keqiang said March 16 that the country may use debt-to-equity swaps to cut the leverage ratios of Chinese companies.
"While the sector may see some regulatory easing this year, this would only influence short-term sentiment," said Daiwa Capital Markets analyst Leon Qi, who cut his rating on the industry to negative from neutral earlier this month. "Only fiscal reform or capital injections will solve the underlying issues."
Source: Decade of Growth Poised to End for China Banks Stung by Bad Debt - Bloomberg