By Bloomberg
When Fu Songtao found his ideal home in the suburbs of Shanghai, he faced the typical problem of would-be homebuyers: Coming up with enough cash for a down payment. So Fu turned to an online solution. His property agent offered him a zero-interest loan, funded entirely online by peer-to-peer lenders, that covered almost half his deposit.
"Everybody I know took out these loans," said Fu, a 29-year-old employee of a state-owned enterprise, who borrowed 380,000 yuan ($58,000) a year ago, with interest payments to lenders subsidized by the property agent, for his 3 million yuan apartment, and has seen its value increase to 3.3 million yuan since. "If you can borrow like that, why not?"
The lending platform of his real estate agency, E-House China Holdings Ltd., is one of China's hundreds of P2P lenders allowing home buyers to seek down-payment loans online. Total P2P borrowing for home deposits reached 924 million yuan in January, more than three times the level of last July, according to Shanghai-based data providerYingcan Group.
Lending for property down payments, a phenomenon all but unheard of a year ago, has now prompted plans by the government to halt such borrowing. The response underscores the stakes as shadow-banking leverage creeps into China's housing market -- a development similar to the margin financing that fueled last year's stock market bubble, but with potentially more damaging consequences.
"Down-payment financing would definitely cause risks to the financial system, similar to the subprime crisis in the U.S.," said Hu Xingdou, an economics professor at the Beijing Institute of Technology. "China has learned a lesson from the U.S. subprime crisis. The Chinese government understands that they have to solve problems like housing and overcapacity. At the same time, they can't bring further risks to the financial system, as the banks already have a lot of bad debt."
People's Bank of China Deputy Governor Pan Gongsheng said at a press conference on Saturday that down-payment loans offered by developers, real estate agents, and P2P lenders not only raised leverage of home buyers, they also undermined effectiveness of macroeconomic policies and increased risks to the financial system and property markets. The central bank together with other government departments will soon start a campaign to clean up such activities, he said.
New Rules
New rules being drafted by the central bank, the China Banking Regulatory Commission and other bodies would bar developers, peer-to-peer networks and other non-banks from offering down-payment loans, people familiar with the matter said last week. Banks would be required to scrutinize mortgage applications and reject those with deposits funded by loans, the people said. First-home buyers in most Chinese cities are required to put down a minimum deposit equivalent to 20 percent of the value of their home.
A clampdown would bring an end to a business in which real estate brokers and others have tapped into China's massive shadow-banking sector to facilitate property sales. Agents including Ping An Insurance (Group) Co.'s real estate e-commerce unit have teamed up with online lenders to offer such investment products on their websites, with some touting annual returns of more than 10 percent.
Price Push
Online mortgage loans have helped push up prices in major cities. Some 660 such P2Ps made 115.5 billion yuan worth of online deposit, mortgage and home-improvement loans last year, a 163 percent increase, according to Yingcan. An estimated 1 trillion yuan of home sales were partly financed by such entities, the China Times reported. China's bank mortgage lending rose 21 percent last year.
"Those borrowers tend to be the most aggressive bidders pushing prices up," said Alan Jin, a Hong Kong-based analyst at Mizuho Securities Asia Ltd., referring to property investors that he suspects are the main borrowers, rather than owner-occupiers. "When there are fewer of them in the market, demand will be lower and prices will be more stable. And that's the goal for the government."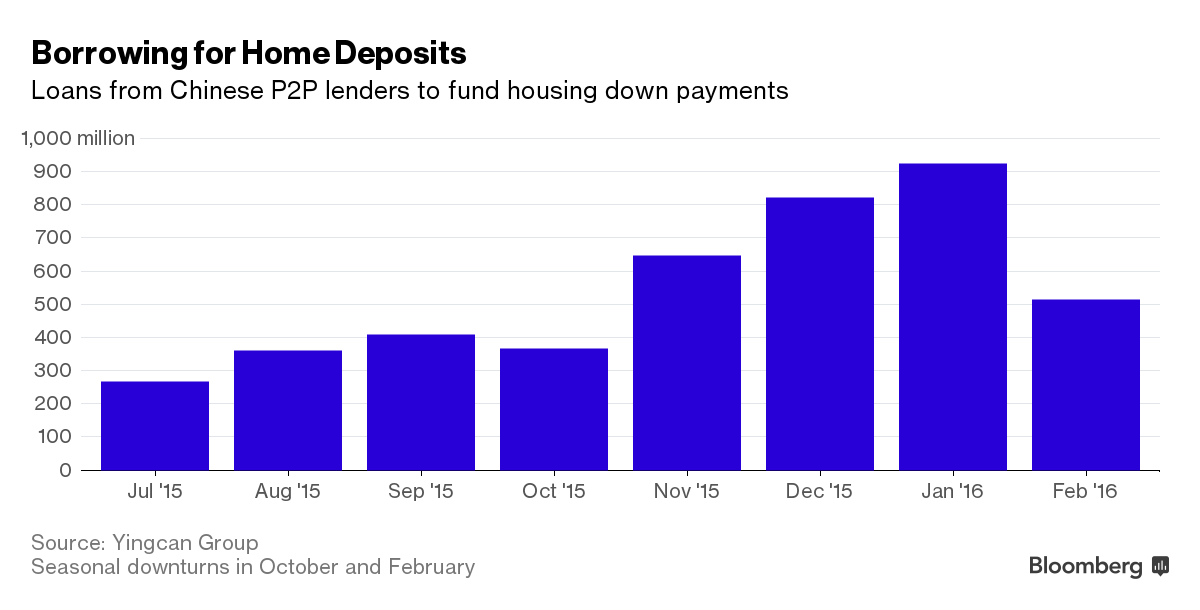 In most cases, such loans are expensive. Shenzhen World Union Properties Consultancy Inc., the nation's first publicly traded real estate firm, offers loans of as much as 1.5 million yuan with a monthly interest rate of 1.4 percent, almost four times the benchmark rate. Last year alone, it lent almost 3 billion yuan to more than 30,000 families in 90 Chinese cities, and the gross margin of its financial services business exceeded 60 percent, according to the agency.
Suspending Lending
Beijing Homelink Real Estate Brokerage Co. has loaned about 300 million yuan worth of down payments through its online lending platform as of the end of February. The firm said in an-emailed statement that it suspended such lending last month.
E-House tightened risk control measures on down-payment financing last year, and "in principle" stopped issuing such new products in the second half, the company said in a statement.
For China's leaders, the coming clampdown may offer a way to restrain the frothier areas of the country's property market without harming the wider economy by triggering a more general decline in prices.
Shenzhen, the city that borders Hong Kong, has seen the biggest surge in home prices, up 52 percent in January from a year earlier. Values have risen 18 percent in Shanghai and 10 percent in Beijing.
Rooting out P2P lending for home purchases won't be easy because it's hard for banks to tell the source of the money, Mizuho's Jin said.
Chinese home buyers have already leveraged up using bank loans. In Shenzhen, buyers borrowed an average 65 percent of their home value from banks in December, 3.2 percentage points higher than a year earlier, and close to the maximum allowed, according to the local central bank.
"The stock market can move both ways, but the property market is absolutely the country's bottom line," said Xu Hongwei, chief executive officer of Yingcan, which tracks China's more than 2,500 P2P platforms. "The government will never allow the real estate market to go bust."
Source: Shadow Lending for Chinese Home Down Payments Prompts Crackdown - Bloomberg