by Patrick Clark at Bloomberg
Landlords have been preparing to raise rents on single-family homes this year, Bloomberg reported in April. It looks like those plans are already being put into action.
The median rent for a three-bedroom single-family house increased 3.3 percent, to $1,320, during the second quarter, according to data compiled by RentRange and provided to Bloomberg by franchiser Real Property Management. Median rents are up 6.1 percent over the past 12 months. Even that kind of increase would have been welcome in 13 U.S. cities where single-family rents increased by double digits.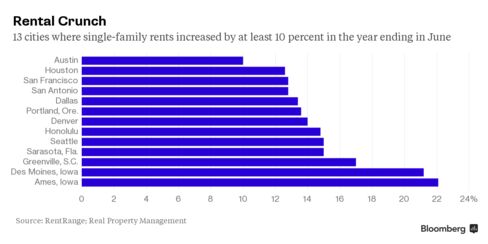 It's more evidence that rising rents have affected a broad scope of Americans. Sixty percent of low-income renters spend more than 50 percent of their income on rent, according to a report in May from New York University's Furman Center. High rents have also stretched the budgets of middle-class workers and made it harder for young professionals to launch careers and start families.
"You're finding that people who wouldn't have shared accommodations in the past are moving in with friends," says Don Lawby, president of Real Property Management. "Kids are staying in their parents' homes for longer and delaying the formation of families."
There were 14.8 million households living in single-family rentals in 2013, according to Census data, up 28 percent from 2004. Compared with renters who live in apartment units, single-family tenants are more likely to be white and middle-aged, a report last month from Harvard's Joint Center on Housing Studies said. Single-family renters are likelier to live in center cities than owners who occupy their own homes, who are more likely to live in the suburbs.
Source: Thirteen Cities Where Single-Family Rents Are Skyrocketing - Bloomberg Business