By Toru Fujioka & James Mayger at Bloomberg
The Bank of Japan shocked markets in January with negative rates. The policy had immediate effects on financial markets, even before it actually started on February 16.
Although most analysts don't expect a change on Tuesday, they are expecting the central bank eventually to cut the rate further. Here's a look at some effects of negative rates: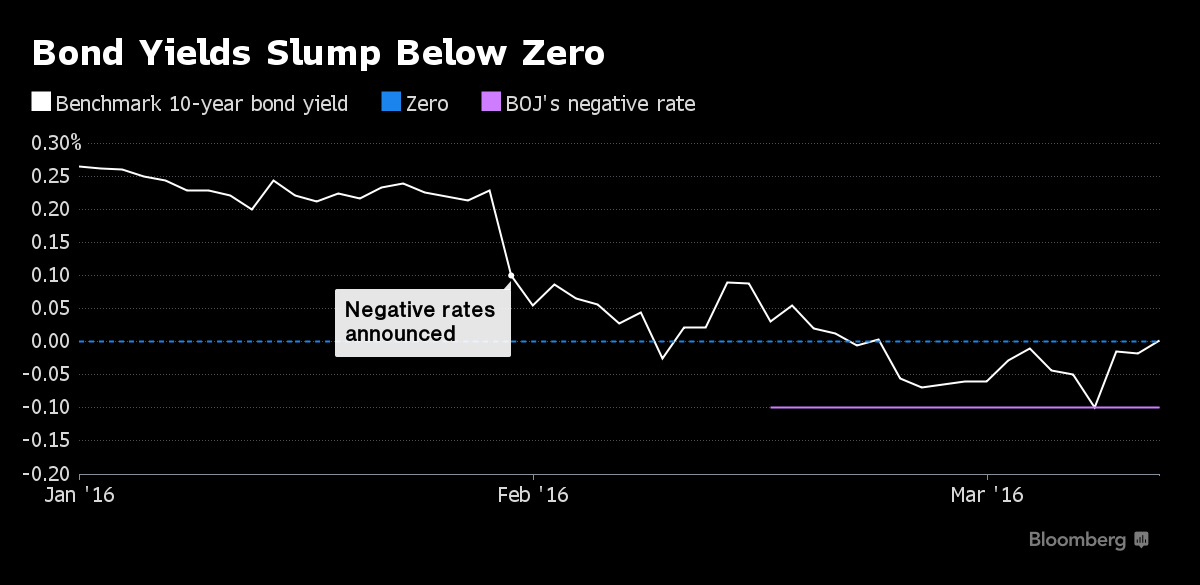 About 70 percent of government bonds have a yield of zero or below, meaning investors are paying to hold the debt. Pushing the yield curve down to make borrowing less costly and to encourage lending is the aim of the new policy, according to Governor Haruhiko Kuroda. However, those actions are hurting the bond market, with 69 percent of traders in February saying market function has declined compared with three months ago, according to a BOJ survey.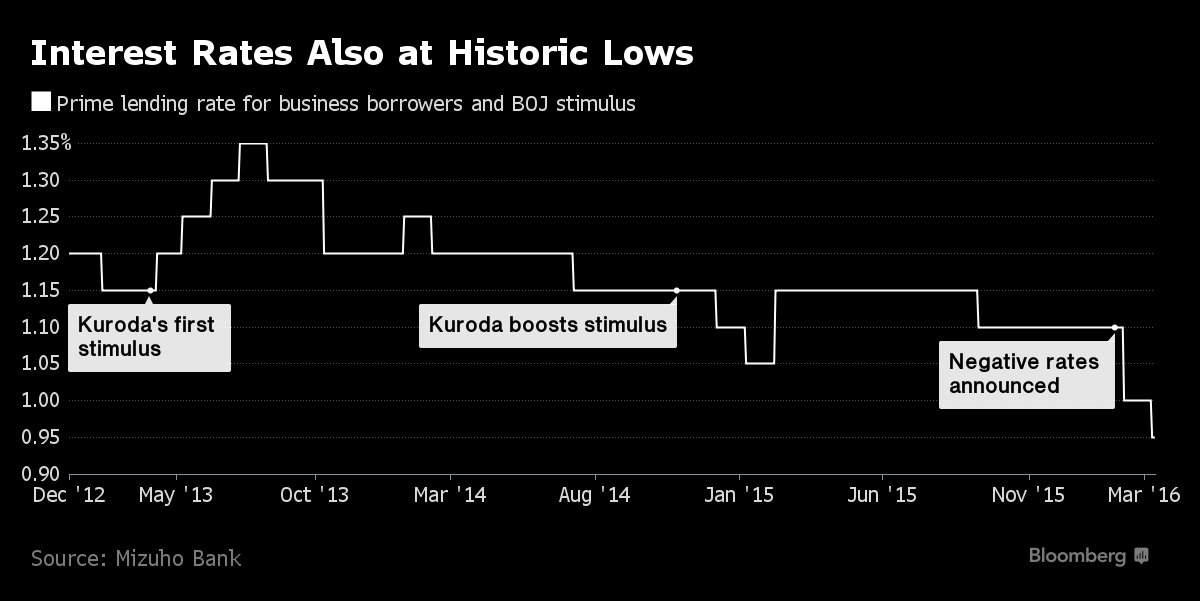 A 10-year, fixed-rate home loan carried a 0.8 percent rate last week, down from 1.05 percent before the introduction of the negative rate, according to a speech by Kuroda. Japan's three biggest banks cut their deposit rate to a record low of 0.001 percent, meaning you receive 10 yen (9 cents) in income on a deposit of 1 million yen.
Money Market Industry Dies
All 11 companies running money-market funds stopped accepting new investments, citing the BOJ stimulus. They plan to return money to investors, the Nikkei newspaper reported, and money from the funds is moving to deposits, according to analysts at Deutsche Bank. Deposit returns are still positive, if negligible.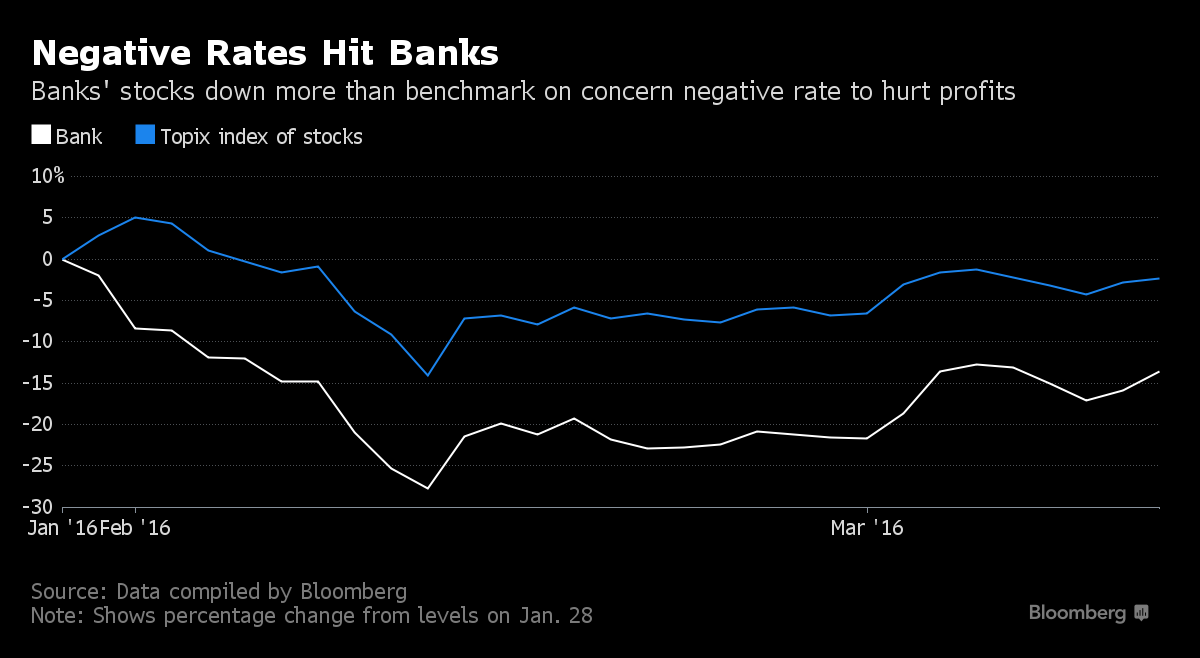 The new negative rate policy means that banks and other financial institutions are charged a fee by the BOJ on some of the money they keep at the central bank. Along with lowering lending margins, this new charge on banks is hurting their profit expectations, causing stock price declines.
Little new lending so far
While the BOJ's monetary easing policies are meant to stimulate lending and encourage borrowing, lending growth slowed slightly in February while deposits rose -- the exact opposite of what the bank was aiming for. There was some activity, with Shinsei Bank Ltd. seeing a four-fold jump in inquiries about home loans after it cut some mortgage rates in early February.
Household reaction
With concerns that deposit rates may go below zero, sales of safes are surging. The number of 10,000 bills in circulation in 2015 rose at the fastest pace in more than a decade, which may suggest households are hoarding cash.
Sentiment hit
Consumers' and merchants' sentiment dropped in February, requiring the government to lower its assessment of confidence. Japan's corporate sentiment fell into negative territory, according to a survey for the first quarter, following an economic contraction in the last quarter of 2015.
There is no indicator to gauge the sentiment of lawmakers, though their concerns about BOJ policy is rising, as seen in the record number of times that Kuroda was summoned to answer questions in parliament.
Source: The Effects of a Month of Negative Rates in Japan - Bloomberg