By Alastair Marsh & Sally Blakewell
Mario Draghi's plans to buy corporate bonds will cut financing costs for European companies, if history is any guide. Getting the firms to actually borrow and spend money will be harder.
Corporations already have hefty incentives to sell debt, with average yields on investment-grade bonds in the region below 2 percent for a second year. But they have little appetite to raise money to invest in new factories and equipment, as the outlook for the global economy dims.
Euro-area consumer spending growth slowed to 0.2 percent in the fourth quarter from 0.5 percent in the third. While investment picked up in the quarter, total economic growth was still limited to just 0.3 percent. Confidence among households dropped in February to its lowest level in more than a year.
"If you don't need the funds then why should you raise them?" said Ivo Kok, the treasurer of Alliander NV, an investment-grade Dutch gas and electricity distribution company. "It is more of a risk to have an awful lot of cash around that you're not putting to work."
The European Central Bank said on Thursday that it will start buying investment-grade corporate bonds sometime toward the end of the second quarter, as part of a broader bond purchase program. To help stave off deflation and stimulate growth, it plans to buy 80 billion euros ($89.46 billion) of debt a month, also including euro zone government bonds, asset-backed securities, and covered notes.
The central bank is also taking steps to provide cheap funding to banks through a program known as "targeted longer-term refinancing operations." That financing, which essentially pays banks to borrow, is meant to encourage more lending.
The additional funding will ease credit conditions and stimulate new lending, Draghi said Thursday. The ECB's latest bank lending survey, which was released in January, showed further improvements in demand for bank loans, he said.
Lower Costs
The ECB's efforts are already looking like they may cut companies' borrowing costs. A measure of investment-grade corporate credit risk, the Markit iTraxx Europe Index, dropped on Friday to its lowest point since August. Banks are seen benefiting too -- notes issued by Italian lenders Intesa Sanpaolo SpA and UniCredit SpA, the biggest users of the TLTRO facility, were among the gainers.
But even before the ECB's moves, companies had access to cheap credit, said Gary Herbert, a fund manager at Brandywine Global Investment Management LLC, which oversees about $57 billion in global fixed-income assets.
"Is there a need to lever up a balance sheet to grow a business when underlying customers aren't demanding more of what you make?" Herbert said.
Foreign Sales
Overseas companies may decide to borrow more in Europe just to take advantage of low rates, and because the U.S. Federal Reserve started raising short-term rates in December. U.S. companies alone, from Apple Inc. to McDonald's Corp., sold more than 87 billion euros of corporate bonds in the single currency last year.
The ECB is buying investment-grade debt, but as it helps push yields on those securities even lower, some investors will likely buy more higher-yielding junk bonds.
The speculative-grade market in Europe is in need of a boost, with sales down 76 percent in the slowest start to the year since 2011, according to data compiled by Bloomberg. Only three sales larger than 500 million euros were completed in 2016, with Telecom Italia SpA and ThyssenKrupp AG each selling 750 million euros of bonds and Lincoln Finance Ltd. raising 1.25 billion euros of bonds on Thursday to fund the buyout of LeasePlan Corp, a Dutch vehicle-leasing company.
Ballooning Debt
Borrowing costs for speculative-grade companies worldwide surged last year amid a drop in energy prices and concerns that global growth is slowing. The average yield for non investment-grade bonds rose to 9.5 percent last month, the highest in more than four years, according to data compiled by Bloomberg. While yields have fallen to 8.4 percent since then, they're still holding above their five-year average of 7.1 percent, the data show.
The euro-area's corporate bond market has ballooned to 900 billion-euros up from 500 billion euros of outstanding securities 10 years ago, according to data compiled by the ECB. That gives Draghi plenty of scope to boost its QE hoard, so long as the program for buying the debt is well-designed.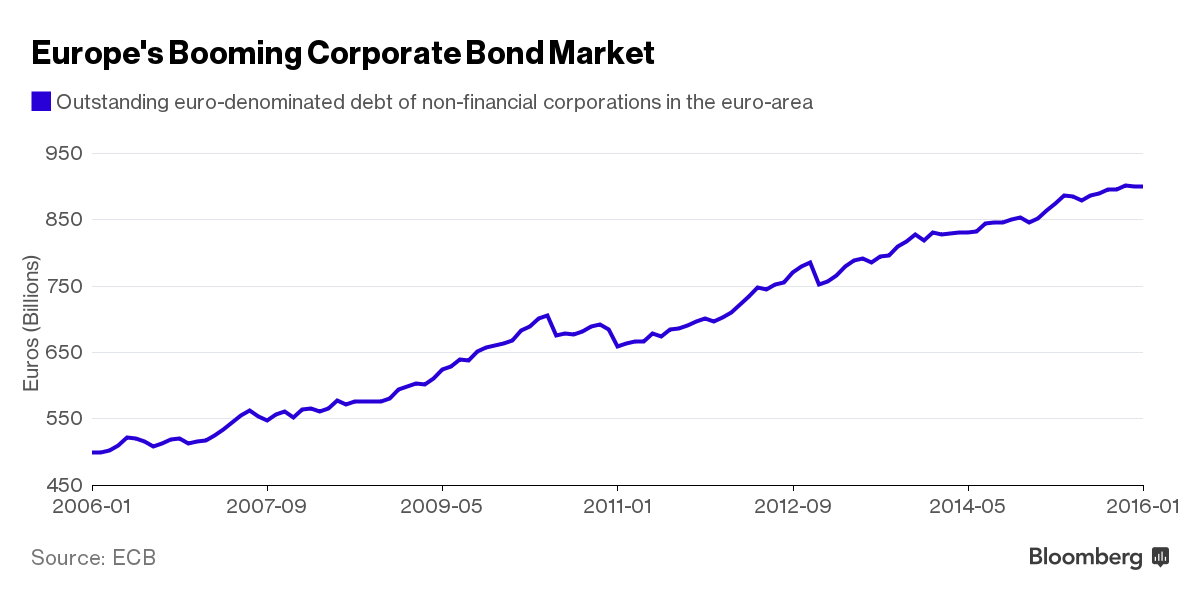 The ECB has not yet determined the details of its corporate debt purchase program, and the specifics will play an important role in how successful the central bank is. The European asset-backed security market has had little benefit from the ECB's purchases, in part because of how the program is designed. Investors complain that they cannot determine which bonds will be eligible for purchase. The central bank outsources most of its ABS buying under the program, and it can take a week to buy securities.
The program has had a muted effect on the ABS market, which has been contracting for years. The market has shrunk by more than 10 percent since the purchase program begun as maturing debt outpaced new sales.
In the covered bond market, where the central bank has been more active, its approximately 160 billion euros of acquisitions have prompted some of the largest investors in the debt to scale back holdings.
The ECB's purchases have so distorted the 250-year-old covered bond market that the first covered notes priced with a negative yield were sold this week. Meanwhile, in the secondary market, almost 70 percent of German covered bonds have yields of less than zero, according to HSBC Holdings Plc.
"There's a crowding out effect which means investors will go lower down the credit scale into high yield," said Olivier Monnoyeur, a London-based high-yield portfolio manager at BNP Paribas Investment Partners, which oversees about 509 billion euros. "Later people will wonder how strong an effect this has on the economy, if any."
Source: Draghi Can Cut Borrowing Costs, But Can't Make Companies Spend - Bloomberg