By Joe Deaux
The U.S. aluminum industry's anti-China drumbeat is gaining volume in Washington this week.
A group that represents aluminum companies is calling for a "meaningful dialogue" with Chinese authorities in a bid to end what they say are incentives and subsidies that are fueling a global glut and squeezing U.S. producers out of the market.
The Aluminum Association is pressing for a deeper investigation by the U.S. International Trade Commission into Chinese policies to save what's left of the domestic industry, the group's chief executive officer Heidi Brock and chairman Garney Scott said in Washington on Wednesday. They are scheduled to give testimony Thursday at a Commission hearing.
Primary aluminum production in the U.S. faces the possibility of having to shutter if prices fall below $1,528 a metric ton, according to Austin, Texas-based researcher Harbor Intelligence. Aluminum for delivery in three months settled at $1,665 on Wednesday, down about 50 percent from a 2008 high.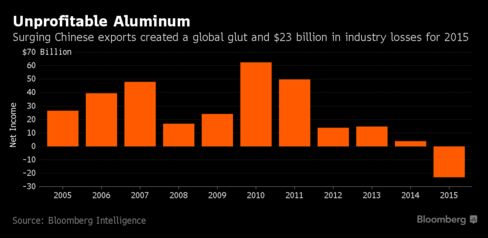 Other companies scheduled to give testimony include Alcoa Inc., the largest U.S. aluminum producer, and United Co. Rusal, the largest aluminum producer outside China.
The U.S. association said there's evidence that some surplus metal enters the U.S. through transshipment and re-labeling of aluminum products in third countries to circumvent anti-dumping and countervailing duties.
"We've not taken anything off the table," Brock told reporters when asked if producers would consider countervailing or anti-dumping cases.
For now, however, the association is looking to the U.S. government to bring China to the table and continues to work "to have open dialogue with our Chinese colleagues as well as our colleagues around the world," Brock said.
To be sure, some in the market say the oversupply in the market is due to years of overproduction by everyone, not just China. About 60 percent of the overproduction in past years has come from China and 40 percent from the rest of the world, according to Harbor, adding that the market overproduced in 11 years from 2001 to 2015.
'Stock Purposes'
"Although China has overproduced in the last 15 years, most of it has been absorbed by its expanding domestic upstream and downstream industries for working inventory and buffer stock purposes," Jorge Vazquez, Harbor's managing director, said in a telephone interview.
Allegations of aluminum transshipping are "groundless, distorting facts," China Nonferrous Metals Fabrication Industry Association said in a statement posted on the website of parent group China Nonferrous Metals Industry Association.
Last month, Cleveland-based aluminum-products maker Aleris Corp. agreed to be bought by Zhongwang USA, which is majority owned by China Zhongwang Holdings founder Liu Zhongtian. Sean Stack, chief executive officer of Aleris, said in an interview that the company doesn't anticipate any regulatory hurdles in getting the deal approved.
Source: U.S. Aluminum Producers Step Up Calls for China Policy Probe