By Bloomberg News
Chinese President Xi Jinping is putting more of the "state" in "state-owned enterprise."
Carmaker FAW Car Co., fiber producer Sinoma Science & Technology Co. and miner Tibet Mineral Development Co. have recently modified their bylaws to give Xi's Communist Party more oversight of management decisions. For example, company boards will now have an obligation to listen to internal party committees before making major decisions.
"Communist Party officials are stepping up intervention in day-to-day operations of state-owned corporations," said Xu Baoli, a senior researcher with the State-owned Assets Supervision and Administration Commission, the government's main SOE regulator. "There were cases in the past where the board would reject a proposal that had gone through the party. I doubt whether that will happen in the future."
While tightening the Party's grip on China's $18 trillion state sector with one hand, Xi and Premier Li Keqiang are carrying out pledges for more market-oriented reforms with the other. Such "conflicting objectives" may be at odds with increasing efficiency, according to Shen Jianguang, chief Asia economist at Mizuho Securities Asia Ltd.
The "national interest is still being prioritized over business efficiency," Shen wrote in a report this week. "The board of directors of SOEs may not be able to make personnel or business decisions under the party's leadership hierarchy."
Recent steps to merge SOEs suggest an emphasis on strengthening and expanding the companies and may not sustainably boost their profitability, he wrote.
'Central Role'
FAW Car and Tianjin FAW Xiali Automobile Co. have added a new section of "party-building" to their articles of association that give in-house party committees a "central role," according to recent company filings to the Shenzhen Stock Exchange. The committees will oversee work "related to the production and management of the company," and the board of directors should listen to their advice before making "decisions on major issues."
Both companies are listed units of China FAW Group Corp., which makes cars with Volkswagen AG and Toyota Motor Corp.
Other listed SOEs including Sinoma Science & Technology and Zhonghang Electronic Measuring Instruments Co. have also recently filed modified versions of their articles of association to reflect the party's leading role. The companies didn't immediately reply to faxes or calls seeking comment on Thursday.
The push comes as Xi calls for stronger and improved leadership of the party over state-owned enterprises. "SOEs are the major force to boost the comprehensive strength of the country and to protect the common interests of the people. We should make them bigger, better, and stronger with full confidence," the president told a gathering on SOE reform Monday in Beijing.
For a look at China's on-again, off-again embrace of markets, click here
Standard & Poor's and the International Monetary Fund have been among those warning that a slower reform pace clouds China's longer-term outlook as debt continues to pile up. What remains to be seen is whether the latest tightening of party control is used to force change through reluctant management, or whether the newly empowered party committees impede measures to cut capacity and boost efficiency.
At the SOE symposium Monday, Xi called for deeper SOE reforms, and linked the effort to another policy priority -- "supply-side reform," which aims to better match output with demand across the $10 trillion-plus economy.
Adding pressure to carry out such reforms, China has threatenedto punish regional governments for failing to close unneeded coal mines and steel mills. Provincial governments must set capacity reduction targets by July 15 and submit detailed phase-out plans by the end of this month, said Xu Shaoshi, chairman of the National Development and Reform Commission, the nation's top economic planner, according to a report by official Xinhua News Agency.
About 800,000 coal and steel jobs are expected to be cut this year, the Ministry of Human Resources and Social Security said separately on Friday.
Improving profitability of state-owned firms is key to reviving growth prospects for China, which this year is forecast to expand at the slowest pace in a quarter century. Their profitability has lagged private firms, and yet they continue to pile on debts as state-owned banks see them as a safer bet due to their government backing.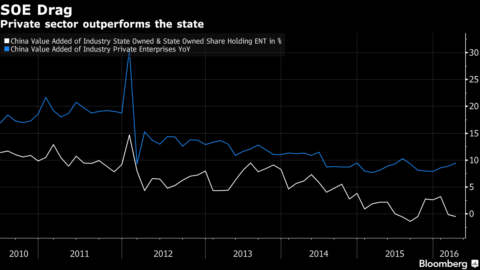 "We see little chance of a quick turnaround in SOE efficiency or swift deleveraging," Betty Rui Wang and Kelvin Lau, economists at Standard Chartered Plc in Hong Kong, wrote in a note this week. "Further measures are needed to ensure a fair competitive environment for the public and private sectors."
China's effort to reform its SOE sector dates back to the very start of the economic opening led by Deng Xiaoping in the late 1970's. While their role in the economy has been whittled down -- including in a late 1990's shake up that saw some 60,000 firms close and 40 million workers lose their jobs -- generations of leaders have retained state control over sectors considered strategically crucial, including defense, energy, finance and telecommunications.
By some measures, SOEs are actually expanding. State firms had total assets of almost $18 trillion at the end of last year, about 1.5 times the amount three years earlier.
Almost every state firm has a party committee, and in many cases the chairman of the company doubles as the party secretary. Many of the top executives of SOEs are picked by the Communist Party's organization department -- the personnel unit that vets candidates for the country's most prestigious positions.
Red Phones
Red phones that link to party officials via a special encrypted network sit atop the desks of the biggest state companies, while managers can be shuffled between SOEs with little warning. Officials including central bank governor Zhou Xiaochuan and the head of the party's disciplinary arm Wang Qishan have stints at state banks on their resumes.
Recent practice has seen company boards making key decisions, especially those related to business operations, without the obligation to report decisions to the internal party committee. The new articles of incorporation at car-maker FAW and other state firms suggests that's about to change.
— With assistance by Keith Zhai, and Yinan Zhao
Source: Xi Boosts Party in China's $18 Trillion State Company Sector